Perrie & Alex Take Their Relationship To The Next Level, But Is An Engagement On The Cards?
10 April 2018, 14:37 | Updated: 16 May 2018, 16:17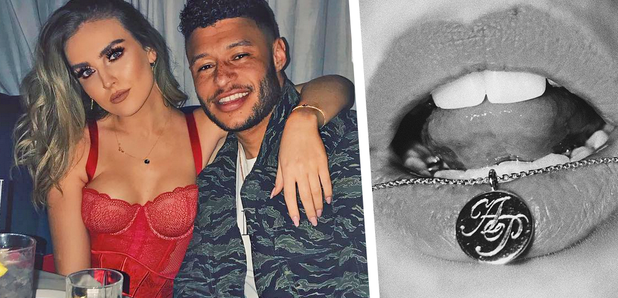 Is an engagement the next thing on the horizon for these two love birds?
When it comes to celebrity couples, Little Mix's Perrie Edwards and her footballer boyfriend Alex Oxlade Chamberlain are one of the hottest around!
They regularly share cute AF snaps of each other when they're hanging out on date nights and have both been super supportive of each others careers - with Perrie attending Liverpool matches whilst Alex was in attendance to support Pez at the BRITs.
> Perrie Edwards' Scarf Upset A Lot Of People As She Supported Her BF At The Football

Perrie teased that she and Alex had moved into a flat together back in January when she claimed, "It's moving in day and we're very very excited about it!" on Instagram Stories, but now they've officially taken the next step in their relationship - by getting couple's jewellery!
Taking to Instagram, Perrie shared a snap of her newly purchased necklace which showed that the piece had been engraved with the letters A & P, the couples first initials.
Fans were extremely excited by the pic and shared their thoughts in the comments. One user wrote, 'BEST COUPLE EVERRRRRR! Only Alex and Perrie. :)' whilst another added, 'Oh my heart. The bars have been set up high, can anyone beat it or will Alerrie stay at the top forever?'.
Even the official Little Mix Twitter got in on the act and shared Perrie's Instagram post alongside the caption A&P (was that you Perrie!?).
April 9, 2018
But what does this all mean for the Little Mix lady and her man? Seemingly madly in love, the superstar couple are at the top of their respective games right now and appear to be perfect for each other, so are wedding bells the next step?
Fans have been calling for the pair to tie the not for a while and seeing how loved up they are right now, who knows what might happen in the near future?
Being Boyfriend x Girlfriend is just step one, step 2 is lasting long, step 3 is Being proud of having each other, step 4 is moving in with each other, step 5 is getting engaged then getting married, Sooooo Perrie and alex better get engaged sooner or later.

— potato (@joelsbro) January 27, 2018
CAN PERRIE AND ALEX GET MARRIED ALREADY

— Teff (@Pezthegoat) January 27, 2018
I'm honestly ready for Perrie and Alex to get engaged. They're so perfect for each other and I approve. But Jade, Jesy, or Leigh-Anne try to get married I'm calling their mums. No.

— rach (@fIickersnjh) December 31, 2017
> Download Our Fancy New App For All The Latest Alerrie News!
Whilst you're here, check out Perrie keeping fans up to date with Little Mix's party antics in Japan...