Are Little Mix Secretly The Biggest Inspiration To K-pop?
29 March 2018, 12:35 | Updated: 16 May 2018, 16:13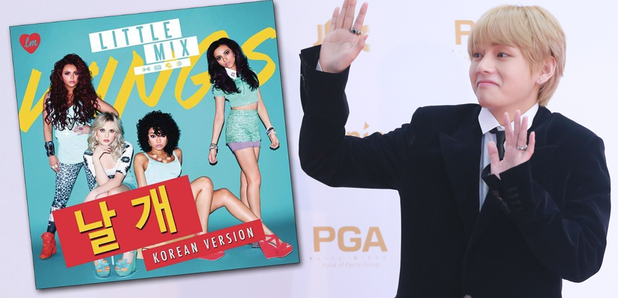 After looking at the evidence, we're lowkey convinced that Little Mix might just be K-pop's favourite non-Korean band!
We know that Little Mix are one of the most important groups on the entire planet giving us empowering and motivational songs that mean so much to fans around the world, but are they actually more important to the the much-loved genre K-pop than we realised?
With the biggest stars from the K-pop world raking in hundreds of millions of views on their music videos and building a huge fanbase across the globe, it's fair to say the genre is one of the fastest growing around.
> Every Little Mix Song EVER: Ranked

So what's this Little Mix link all about then and why are the ladies a potential inspiration to the biggest K-pop stars around?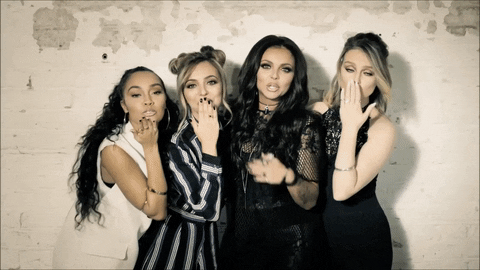 GIF: Giphy
Well here's all the evidence...
These K-pop Stars Have Used The Same Song Titles As Little Mix
We know that there are plenty of artists who have songs that are named the same as others, but it's not just one teack that we're talking about here, it's three.
Nine piece band Exo are one of the most influentail K-pop groups around, having released five albums over the years and even starred in their own reality shows.
Well it turns out they have a song titled 'Power', which was released on 5th September 2017, just four months after Little Mix released their song of the same name.
Fellow K-pop superstars BTS have also used the same song title as the Little Mix queens, releasing a track entitled 'DNA' back in 2017, which was five years after Little Mix's song odf the same name.
Making it a trio of tracks, relative K-pop newcomers NCT 127, (who only formed in 2016) dropped a single this month called 'Touch', which we all know as one of the most popular singles from the ladies' 2016 album 'Glory Days'.
BTS Gave Their Album The Same Name As A Little Mix Song
Ever popular K-pop stars BTS have released four albums so far, with another due in April 2018, but making this Little Mix theory even more interesting, they decided to name their second album 'Wings'.
Any Little Mix fan will tell you that 'Wings' was the name of the lead single taken from the bands' debut album and was their first single released after their X Factor winners song.
#방탄소년단 #BTS #WINGS Tracklist pic.twitter.com/wsRkOmR2lX

— BTS_official (@bts_bighit) October 5, 2016
Is that just a random coincidence or are the guys paying homage to their fave girl band?
Rising K-pop Stars Even Shared A Little Mix Cover
As one of the fastest rising all-female line ups in the K-pop world, Dreamcatcher have been picking up a real buzz and have already been on their first European tour even before they've released their debut album.
Proving they're huge fans of Jesy, Jade, Leigh-Anne and Perrie, the group covered Little Mix's much-loved tune 'Secret Love Song' and it's genuinely an incredible version.
Little Mix Even Recorded A Korean Version Of Their Hit Song 'Wings'
Just when you started to think the whole thing was lucky coincidences, it turns out that Little Mix actually recorded a Korean version of their debut single 'Wings'.
Singing in Korean, this is the ultimate proof that the link between Little Mix and K-pop runs deep...
We're not the only ones who noticed the connection either, as both Little Mix fans and K-pop fans have picked up the clues too...
some girls i work with we're talking about listening to dna and i yelled "DNA BY LITTLE MIX? I USED TO LOVE THAT SONG!!" and they were like ".... no bts.." and i was just like ",,, oh" sigh i got so excited

— red PINNED (@rubyadidas) March 24, 2018
EXO has a song called power, BTS has one called dna and now NCT 127 with touch? No offense but y'all listen to Little Mix???

— nki (@khairunnisanoor) March 14, 2018
my lil brother is listening to power by little mix while im listening to power by exo

— queenzai (@deardkys) February 26, 2018
nct 127 touch ... little mix is shaking

— JINSOUL SHAKUR (@blackthotpink) March 10, 2018
okay but imagine this: bts and little mix live mashup of their respective dna titled songs

— baby boy tae (@cyphrtae) March 14, 2018
So after all this evidence, what are your thoughts? Are all these Little Mix & K-pop crossovers totally random or is there something more to this?
Have your say on Twitter and Facebook now!
> Download Our Fancy New App For All The Latest Little Mix News!
Whilst you're here, check out what the Little Mix ladies got up to when they went to Japan recently...