Little Mix's Leigh-Anne Pinnock Suffers Injury On Demi Lovato's 'Neon Lights' Tour
12 March 2014, 12:19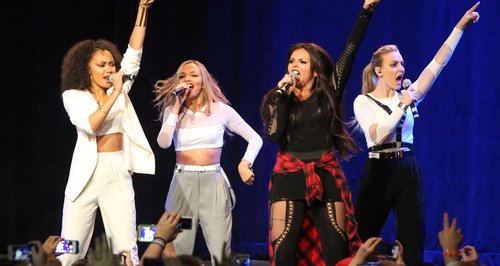 The 'Move' singer was hit by a falling stage prop during rehearsals for their US tour dates.
Little Mix have revealed band member Leigh-Anne Pinnock suffered a head injury recently while they support Demi Lovato on tour.
The 'Little Me' four-piece are currently travelling across the US on Demi's 'Neon Lights' tour, but say a freak accident left Leigh-Anne with a nasty bump and a cut lip.
"Leigh-Anne is the most dramatic person you will ever meet, but this time, bless her because honestly my heart went out to her," Perrie Edward told MTV News this week after the accident.
"Fifth Harmony have these things and obviously no one knew they were going to be wobbling like the way they were," she recalled. "We were just doing our own thing and the next thing you know, this thing just comes down and crakes Leigh-Anne on the head.
"I feel to the floor and the mic went into my nose," Leigh-Anne added. "I got a nice big lip but I didn't put any ice on it because I wanted it to stay plump.
"It's a miracle really!" she added.
Little Mix recently unveiled the music video for their brand new single 'Word Up'.