Justin Bieber Booed After Arriving On Stage At London's O2 Arena Two Hours Late
5 March 2013, 07:57 | Updated: 5 March 2013, 10:13
The 'Boyfriend' singer has been criticised on Twitter by angry fans and parents for the late performance last night.
Justin Bieber was booed on the first night of his London O2 Arena residency last night (4th March), after arriving on stage two hours late.
The 'As Long As You Love Me' singer took to the stage around 10.30pm with many fans forced to leave early to catch public transport or begin long journeys home.
Doors opened at 6.30 pm with some booing starting an hour before the Canadian eventually made his appearance.
Fans and parents have been taking to social networking platforms to criticise the teen star for the late showing.
The venue offered an apology on their social networking site," writing: "Justin Bieber is now on stage and apologises for the lateness of his show."
They also added: "Sorry to all the Justin Bieber fans for the lateness of his show tonight. The Tube will still be running when the show finishes."
The teen star has yet to respond but was in high spirits before his show after enduring the "worst birthday" of his life earlier in the month.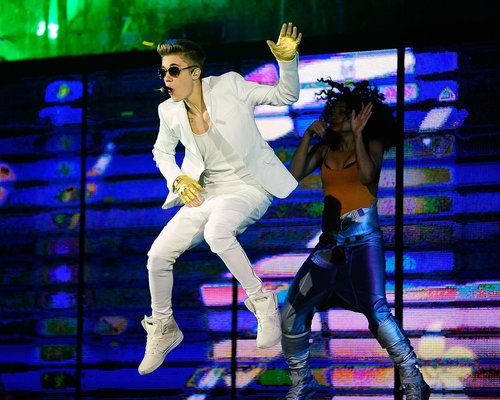 He wrote: "In a good mood. Got my friends and team with me here and ready for Day 1 at the O2. London get ready! #BELIEVEtour."
Justin will perform a further three nights at London's O2 Arena from tonight (5th March) before heading across Europe and Asia.