13 Reasons Why Season 3: Everything We Need Answering
30 May 2018, 15:41 | Updated: 7 June 2018, 10:52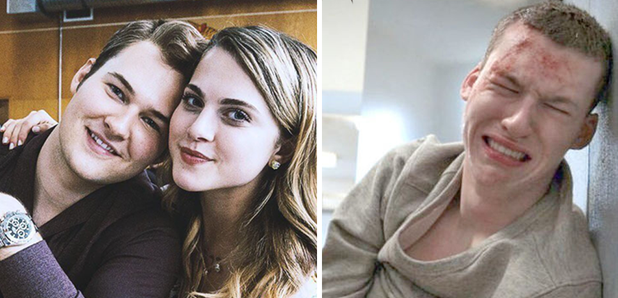 Is there going to be a 13 Reasons Why season 3? From Bryce Walker's new school to Justin and Jessica's affair, we've got so many questions about the Netflix show following the second series.
When season 2 of the brilliant 13 Reasons Why ended, we instantly needed to know if there would be a third series, afterall, we were left with a huge void in our viewing lives. We'd spent almost 13 hours watching the rollercoaster lives of the students at Liberty High and then it was all over.
After actress Katherine Langford recently hinted about Hannah Baker's future and the show's writers left us with plenty of unanswered questions, our prayers have been answered and a third season has FINALLY been confirmed! Yaaas.
Watch the very first teaser here, just to get you all sorts of excited.
> Where Is 13 Reasons Why Filmed? Real Life Set Locations Revealed...
Naturally, the teaser doesn't even begin to explain the millions of questions we have, so here are all the important things we need answering in 13 Reasons Why season 3...
Will Hannah Baker return for season 3?
According to Hannah Baker actress Katherine Langford, the decision as to whether Hannah will return in season 3 is still up in the air, although it sounds a lot like she won't be.
Taking to Instagram recently, Katherine wrote, '"Hannah...I love you...and I let you go" Those are the words I was able to say six months ago, and now can finally share with you...As most of you know @13reasonswhy was my first ever job and I am so grateful to have had the opportunity to tell Hannah's story so fully in season 1, and to be asked back for a season 2.'

She went on to add, 'Thankyou to @netflix @paramountpics @anoncontent , the incredible producers, creatives, cast and crew for making these last 2 years so special. And to all of you here - Thankyou for filling my life with love and light.'

'This show will always be a special part of my life, and regardless of whether Hannah is there or not, I know that I will continue to strive to do work that is meaningful and has a positive impact - whether that be in film, music, or any other form of art. There is a lot coming up this next year, and I can't wait to share it with you #hannahbaker'
Will Jessica Davis and Justin Foley start dating again?
Let's be honest, we all knew that Jess still had feelings for Justin, even after everything that had happened between them, so it was only a matter of time before they got back together. The locker room during the 'Spring Fling' though!? Did not see that coming!
Alex is undoubtedly gonna find out about their secret affair and after everything he's been through with his recovery and thinking that he's about to start a beautiful relationship with Jess, he'll be heartbroken.
Will Bryce Walker be back to trouble Liberty High?
When Bryce announced that he was moving schools following his 3 month probation, no one was really surprised. Whilst he still has some allegiances with the jocks in both the baseball and football teams, Zach and co certainly wouldn't have welcomed him back into the Liberty Tigers ranks with open arms.
That leaves open the possibility that Bryce will come head to head with the Liberty Tigers whilst playing for his new school, so will we get some on-field antics from an old nemesis desperate to assert his macho dominance in season 3?

GIF: Giphy
How will Clay Jensen and Justin Foley get on as step brothers?
Now that Clay's mum and dad are adopting Justin Foley, we're expecting to see much more about their relationship as new step brothers in season 3. We've already seen Clay's initial jealousy when Justin first entered the Jensen household, so we're looking forward to a bit more of that.
Will Justin confide in Clay about his feelings for Jess? Will Clay find out about Justin's ongoing heroin problem? These two are surely gonna be a big part of season 3!
Will Justin Foley kick his drug habit?
Whilst he appeared to be clean having gone through a brief detox hidden away in Clay's bedroom during season two, the final episode revealed that sadly he's still battling his heroin adiction and is actively using drugs.
He's managed to keep everything hidden so far, but given his budding secret relationship with Jessica and the tough realities of being in a new home with a new family, will Justin be able to kick the drugs?
What will happen to Tyler?
Watching Tyler and Cyrus practice their shooting out in the woods always appeared as though it was gonna lead to a shooting of some kind and the final scenes of season 2 were some of the most dramatic we've ever seen.
Thankfully Clay managed to talk Tyler out of commiting a terrible act and Tony was on hand to drive him off to safety before the Police showed up. The Police are bound to have a lot of questions about reports of a gun at the school, especially when they find Clay with a rifle in his hands, so will Tyler get away or will his actions get found out?
Then there's the whole bathroom incident. The harrowing scenes were a tough watch and clearly too much for Tyler to deal with, so will he open up about the attack or continue to hold it all in and lash out in a potentially deadly way once more?
Will Tony and his boyfriend Caleb stay together?
After Tony confessed the truth about his violent past, his boyfriend Caleb stuck around. When Caleb finds out about how Tony helped Tyler get away from the school though, will he stick around again or will the drama be too much?
Something is also telling us that Caleb might just have a few secrets of his own to reveal, so these two will surely become a main focus of season 3 moving forward.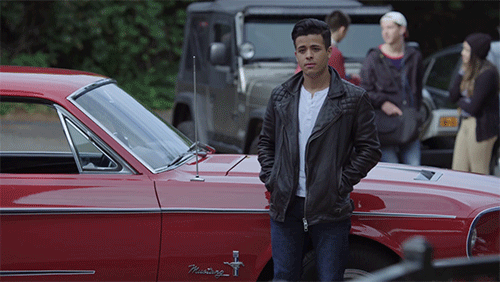 GIF: Giphy
Will Monty be punished for abusing Tyler?
Whilst he wasn't the only one in the bathroom when Tyler Down was brutally abused, he was the main perpetrator and has become a very important character in the ongoing story at Liberty High.
Anyone who watched the show will be desperate to see Montgomery de la Cruz get his comeuppance and we'll be cheering when he does, but we're still wondering why he has such a loyalty to Bryce Walker in the first place? All the jocks are pretty loyal to their former leader, but Monty is basically Bryce's right hand man.
Monty has been vocal about his evident homophobia throught season 2, so one theory could be that he's actually hiding that fact that he's gay himself and that he has other feelings for Bryce that he can't admit to himself - it's just a theory though.
Will Skye and Clay get back together?
The pair's difficult relationship ended when Skye was taken into hospital and she revealed to Clay that she'd be moving away shortly afterwards, so we think this one really is over for good.
That would give Clay the opportunity to find a new love interest, but with everything that's going on both at Liberty High and at home, we're not sure he's got the headspace for a relationship tbh!
Will Chloe stay with Bryce?
According to Bryce, the couple are set to jet off to the Amalfi Coast in Italy during the summer with his family, but with Bryce set to move schools following his prosecution for raping Jessica, will Chloe maintain a relationship with him?
She appeared unsure when Bryce mentioned the holiday to her at school and has been abused at the hands of her boyfriend a number of times before, so maybe she'll build up the courage to finally be honest about her relationship and end things once and for all.
Will Zach Dempsey become captain of the Liberty Tigers?
Given the fact that Rick Wlodimierz, coach of the Liberty Tigers, knew all about Bryce's actions in the club house and those of his teammates, it seems unlikely that he'd give the captaincy to someone who was so publicly outspoken against Bryce.
But Zach is determined to be a better person and there doesn't appear to be another natural leader in the team, so watch this space.
Will Seth come after Justin?
During the end of season 2, Justin Foley's mum's drug dealing boyfriend Seth can be seen watching through the window of Monet's as people attend the wake after Hannah Baker's funeral.
With Justin stealing a wad of Seth's cash before leaving his mum Amber to deal with the consequences, could Seth come back to haunt Justin in season 3 and will he prey on the youngster's ongoing battle with drugs? We need answers!
> Download Our Free App For Loads All The Latest 13 Reasons Why News!