12 'Inbetweeners' Cast Members That Prove They're Most Definitely Not Bus W***ers Anymore
24 January 2017, 15:51 | Updated: 10 December 2018, 10:44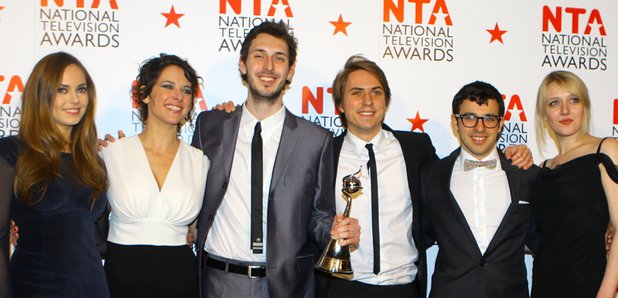 The very first series of The Inbetweeners premiered nearly TEN years ago, so what are they all up to now?!
YUP! You read that correctly. Will, Jay, Neil and Simon's misfortunes began a whole decade ago and we're still obsessed with them. But we wanted to know exactly what happened to the gang once the show finished. Actually, not just the Rudge Park Comprehensive foursome, but loads of the supporting cast too!
Some of these transformations are going to blow your mind btw (Donavon the bully, we're looking at you).
Will (played by Simon Bird)
Bird, now in his thirties has been happily married for over four years and welcomed his first baby back in 2016! He's had parts in several TV shows including the hilarious sitcom Friday Night Dinner as well as directing his very first short film 'Ernestine & Kit'. He also voices the ads for the transport company The Train Line.
Neil (played by Blake Harrison)
First things first, Blake is absolutely owning the beard right now. However facial hair aside, Harrison now voices the character 'Scoop' in the reboot of the children's classic Bob The Builder as well as taking on the role of Private Pike in the movie adaptation of Dad's Army in 2016.
Simon (played by Joe Thomas)
As we all know, Joe went on to star alongside Jack Whitehall in the Channel 4 hit comedy 'Fresh Meat' and recently became engaged to his Inbetweeners' co-star Hannah Tointon after four years of dating, woo!
Jay (played by James Buckley)
James has a LOT of different projects going on. Not only does he release a weekly football podcast with one of his mates, he voices an endless stream of adverts as well as launching a YouTube gaming channel called 'Completed It Mate'.
Donavon the bully (played by Henry Lloyed Hughes)
We never hated anyone more than we hated Rudge Park's resident bully Mark Donavon. However, obviously someone saw something special in actor Henry Lloyd Hughes as he was cast as Ralph in popular drama 'Indian Summers' as well as hollywood blockbuster 'Now You See Me 2'.
Will's Mum (played by Belinda Stewart Wilson)
Belinda took that little bit of classiness she showed in The Inbetweeners across the pond to star in 25 episodes of Disney's 'The Evermoor Chronicles' from 2014 to 2016.
Charlotte (played by Emily Atack)
We'll never, EVER forget the sex scene between Charlotte and Will....NEVER. Luckily for Emily, the awkwardness didn't continue as she continued to star in several British TV shows such as Dancing On Ice, The Keith Lemon Sketch Show and Celebrity Juice.
Jay's friend....oooh friend (played by Luke Norris)
Ooooooh friend. He may only have had a bit part in one of the most memorable Inbetweeners episodes of all time, however Luke Norris went on to star in fan-favourite Poldark as Dwight.
Neil's Sister Katie (played by Kacey Clarke)
Kacey quit her job as a teacher in 2016 to push forward with her film career. She recently revealed how students began to recoginse her from the show, "Everything was normal until one of the boys put his arm up and said 'are you Neil's sister', which was pretty funny."

Tara (played by Hannah Tointon)
Hannah continued her acting career, grabbing one of the lead roles in ITV drama Mr Selfridge. She also ended up getting engaged to Joe Thomas (yup, Simon!) after four years of dating!
Mr Gilbert (played by Greg Davies)
Already a veteran in the comedy world, Davies bagged his very own Channel 4 sitcom 'Man Down' playing, yes, you guessed it, a teacher!
Carly (played by Emily Head)
Any Emmerdale fans out there? Hmm. Well, Emily bagged a reoccurring role as Rebecca after years of playing Simon's long lost love Carly D'Amato.
You may also like...