Frankie Grande Credits Mac Miller As The Reason He Went To Rehab In Emotional Tribute
13 September 2018, 12:06 | Updated: 13 September 2018, 14:35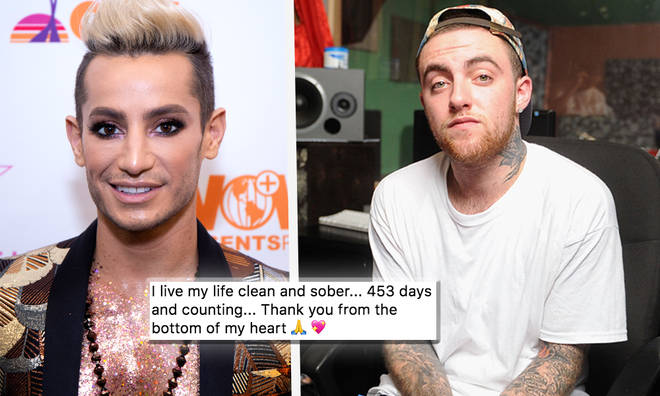 Frankie Grande has paid tribute to Mac Miller in a heartfelt Instagram post, thanking Mac for being the person who helped him get sober and raising awareness of addiction.
Frankie Grande has shared a heartfelt tribute to Mac Miller, saying he's 'heartbroken' over the 26-year-old's death, and thanking him for being the reason he went to rehab and is currently one year sober.
Mac Miller's Friend Gives Ariana Grande Credit For Making Sure He Was Sober
The YouTube star became close to the rapper during sister Ariana Grande's two year relationship and says the star helped him battle his addiction and was first to congratulate him on his sobriety milestones.
He wrote: "He was the reason I went to the rehabilitation centre where I was detoxed safely from all of the drugs alcohol and medications I was taking, when I couldn't imagine living without them."
"I remember when I would get 30, 60, 90 days clean and Malcom would be there with a gift and a card and words of encouragement... telling me that he knew how hard getting sober is and how impressed he was that I was succeeding."
Frankie is just one of the many celebrities who have spoken about how much of a great friend Mac was to them during his life and highlighting the dangers of drug addiction and mental health issues, such as Charlie Puth, J Cole, Kendrick Lamar and Halsey to name a few.
Frankie has admitted he turned to alcohol, drugs and medication after the Manchester attack to try and cope with the trauma, but is proudly over one year sober.
thank u my incredible sister. ur strength is what gave me the courage to ask u for help. & u selflessly were there for me the moment i asked, as u were for so many people during that difficult time. i love u. i can't thank you enough. i could not have done this without u. at all. https://t.co/WOCiOyKuqM

— Frankie James Grande (@FrankieJGrande) June 16, 2018
Mac was pronounced dead at his home in San Fernando Valley in America on the 7th September, 2018 from a suspected drug overdose.
>Download Our Brand New App For All The Latest Celebrity News