Video: Selena Gomez Surprised Fans At Their Hospital Prom And It Looked Like So Much Fun
27 June 2018, 11:34 | Updated: 27 June 2018, 11:38
Selena Gomez has once again proven she's probably the nicest human being on planet Earth by crashing a children's hospital prom and basically having the best time ever with them...
Selena Gomez is well known for being one of the kindest and most generous celebrities, whether its taking time to talk with fans outside a concert, or visiting hospitals, or being a UNICEF ambassador, she genuinely takes being a role model seriously and we have nothing but respect for our pop queen because of it.
This '13 Reasons Why' Actor Has Been Spotted In A Selena Gomez Music Video From 2011
So, it wasn't surprising to learn the singer stopped by The 17th annual Oncology Prom at a Children's Hospital in Orange County and spent the evening mingling, chatting and messing around with the guests.
The 'Back To You' singer got into the photo booth where she and one lucky guest posed for a hilarious series of snaps, and we can barely contain our envy!
Oh, and School Of Rock star Jack Black also reportedly made an appearance, which we totally wouldn't have freaked out about...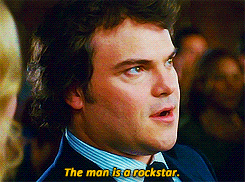 Picture: GIPHY
Download Our Brand New App For All The Latest Selena Gomez News