Grammy Awards 2015: Sam Smith Cleans Up Winning FOUR Awards In Total
9 February 2015, 07:01 | Updated: 9 February 2015, 07:17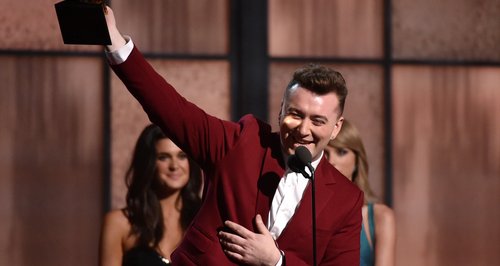 Find out EXACTLY what went down on the biggest night of the music industry calendar this year.
Sam Smith was the undisputed big winner at the Grammy Awards 2015 this year, taking home four awards at the event… and four of the BIGGEST ones at that!
Critical darling Sam was the star of the show at the 57th Grammy Awards, winning the highly coveted Record Of The Year Award for 'Stay With Me', as well as three other gongs throughout the night.
The show kicked off with an energetic performance of 'Rock Or Bust' and 'Highway To Hell' from legendary rockers AC/DC, before Taylor Swift headed out on stage to present Sam with his FIRST Grammy of the night… for Best New Artist!
The pair shared an adorable hug as Taylor presented her BFF with his first ever gong from the iconic awards show.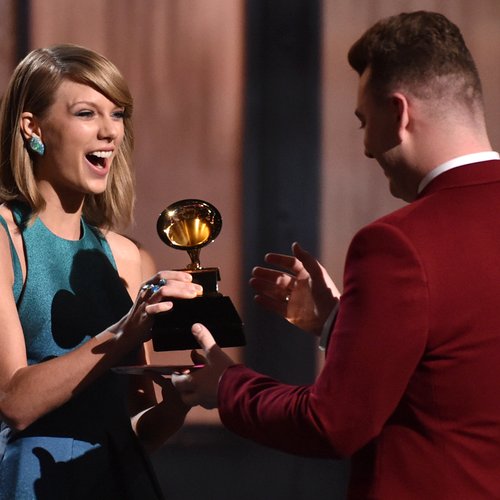 Next up it was time for Ariana Grande to make her Grammys debut, performing 'Just A Little Bit Of Your Heart' on the stage in a BEAUTIFUL gown.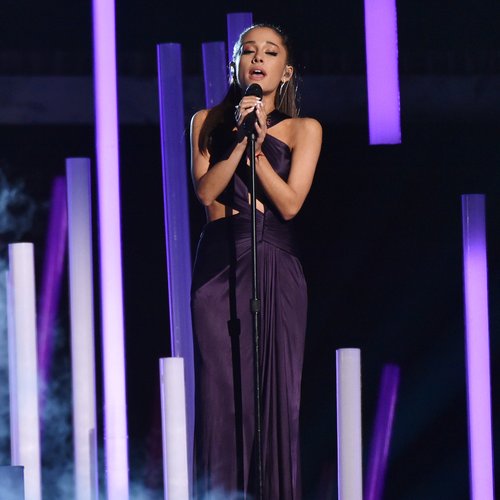 Pharrell made sure he put on a performance to remember when he celebrated his three Grammy wins by hitting the stage to sing 'Happy', dressed up in a bellboy outfit, with the obligatory shorts on of COURSE!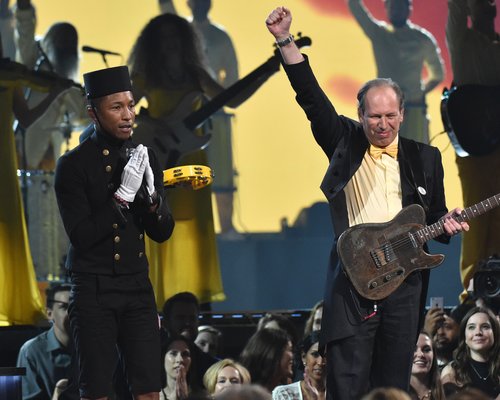 Jessie J turned a LOT of heads on the #Grammys2015 red carpet before she and legendary singer Sir Tom Jones headed out to perform 'You've Lost That Lovin' Feelin', with both stars obviously hitting their vocals out of the park!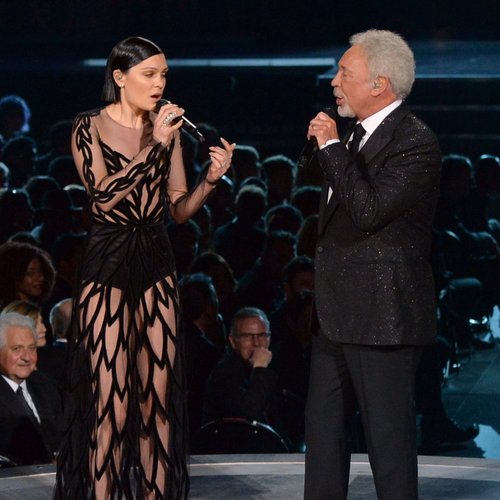 Country singer Miranda Lambert, another winner on the night, was the next to perform with her song 'Little Red Wagon, before Sam Smith returned to the stage again to pick up the Grammy for Best Pop Vocal Album.
Kanye West was the other show-stealer of the night at this year's Grammys when he sang recent solo hit 'Only One', after walking the red carpet earlier in the night with his wife Kim Kardashian.
Madonna made her return to the Grammys in true Queen Of Pop style, bringing 'Rebel Heart' to life with her song 'Living For Love', which saw Madge on fiery form and rounding off the performance by being lifted up into the arena rafters.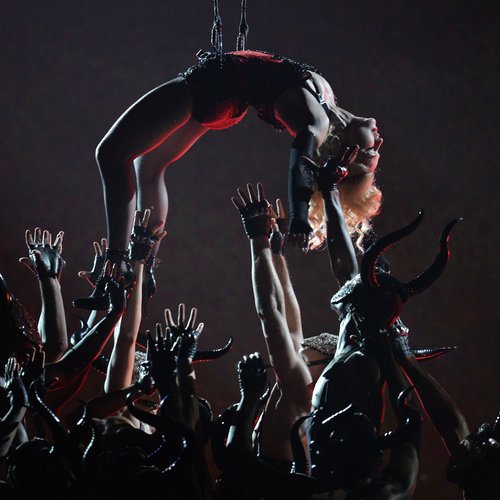 Beyonce was the next to pick up a Grammy Award when her hit with hubby Jay-Z, 'Drunk IN Love', earned her the prize for Best R&B Performance.
Ed Sheeran may not have walked home with any gongs this year but he was undoubtedly one of the stars of the show when he performed both 'Thinking Out Loud', and teamed up with Electric Light Orchestra for 'Mr. Blue Sky' and 'Evil Woman'. AMAZING!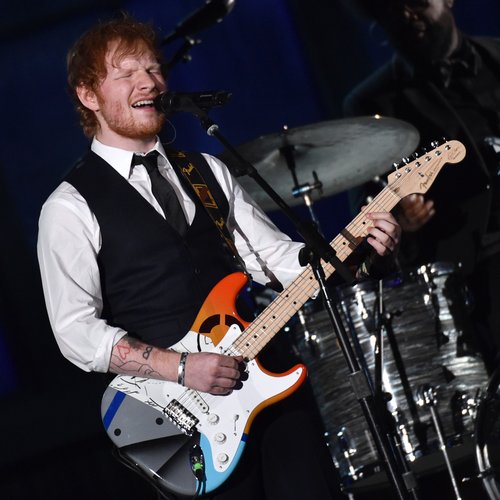 It was a TRUE moment for The Voice US judges Adam Levine & Gwen Stefani when they slowed things down with a moving performance of 'My Heart Is Open', after which critical darling Hozier & Annie Lennox sang 'Take Me To Church' and 'I Put A Spell On You', respectively.
Katy Perry's flowing dress made sure all eyes were on her when she brought her powerhouse vocals to 'By The Grace Of God', a true #Grammys moment for the ages.
And the pop star diva performances didn't stop there, as Lady Gaga brought her leading man Tony Bennett out to the stage to celebrate winning Best Traditional Pop Album with 'Cheek To Cheek'.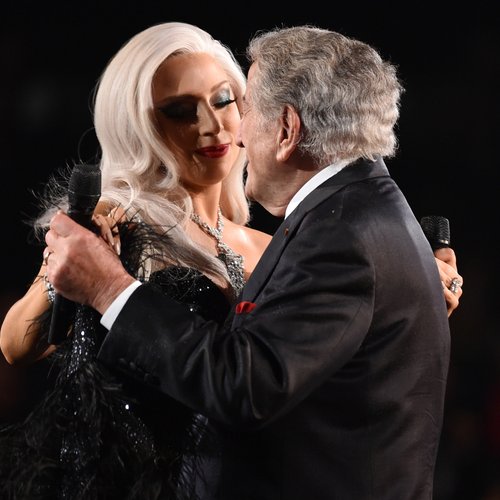 A true standing ovation moment late on in the show happened after Usher introduced Grammys legend Stevie Wonder to the stage to sing 'If It's Magic' with him, which brought a smile to everyone's face in the crowd.
For one of the night's most anticipated moments, Rihanna hit the stage alongside Kanye West and Paul McCartney to perform their recently dropped new single 'FourFiveSeconds'. From the trio's group hug at the end it was clear they were loving EVERY minute.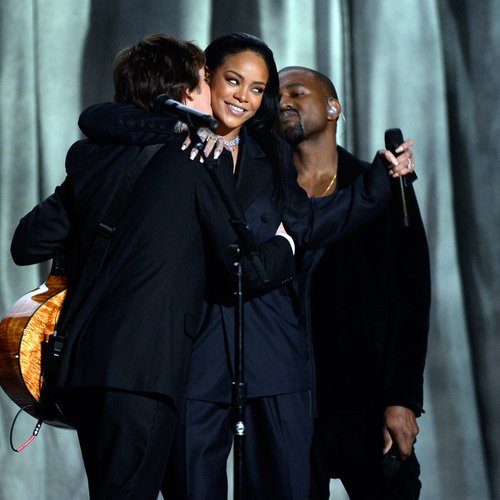 Star of the show Sam Smith brought along his favourite R&B diva Mary J Blige for a duet of his now-iconic single 'Stay With Me', showing off their powerhouse vocals!
A truly memorable moment came when Beck won Album Of The Year for his record 'Morning Phase', drawing shock across Twitter and causing Kanye West to ALMOST pull another 'Kanye' moment when he jokingly raced to the stage before dashing back to take his seat again. PHEW!
Sia managed to overshadow her own performance of 'Chandelier' when she included comedian Kristen Wiig in her dance-heavy rendition of the track.
Sam Smith's run of good luck continued as the show drew towards its final half hour with a win for Song Of The Year for 'Stay With Me', after which Chris Martin and Beck sang 'Heart Is A Drum'.
For the final award of the night Sam Smith was presented with the gong for 'Record Of The Year', thanking the man who broke his heart for helping him with the awards! You tell him, Sam!
The Grammy Awards 2015 drew to a close with one final set of performances with Beyonce singing 'Precious Lord, Take My Hand' and John Legend & Common singing their Grammy nominated song 'Glory'.
---
You may also like...