Grammys Fashion: Katy Perry, Rihanna & Ariana Grande Dominate The Red Carpet Arrivals
9 February 2015, 01:45 | Updated: 9 February 2015, 07:53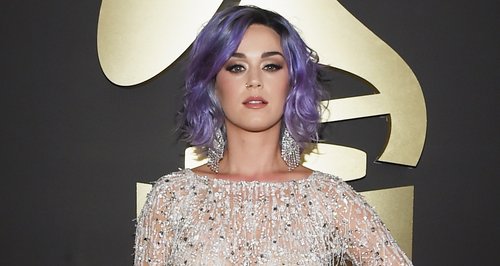 The Grammy Awards are ALWAYS the one event where the great and good of music get their glad rags on - and this year's fashion showing certainly didn't disappoint!
It's one of the biggest nights in the music industry calendar, where all eyes are on the hottest names in music - AND what they're wearing on the red carpet. No pressure…
The Grammy Awards always see the biggest, boldest and best dresses of any awards show - and this year was no exception. The great and the good of music, from Katy Perry to Ed Sheeran donned their finest black tie attire - and don't they look INCREDIBLE?!
Of course, there are always a few 'misses' too - we're looking at you Madonna, and your leather clad saloon girl shocker!
Katy Perry
Katy debuted her brand new lilac hairdo on the carpet - and absolutely KILLED IT in a stunning see-through and crystal encrusted calf-length dress. The perfect mix of sexy and revealing yet classy without showing too much - a difficult combo that Katy pulled off effortlessly.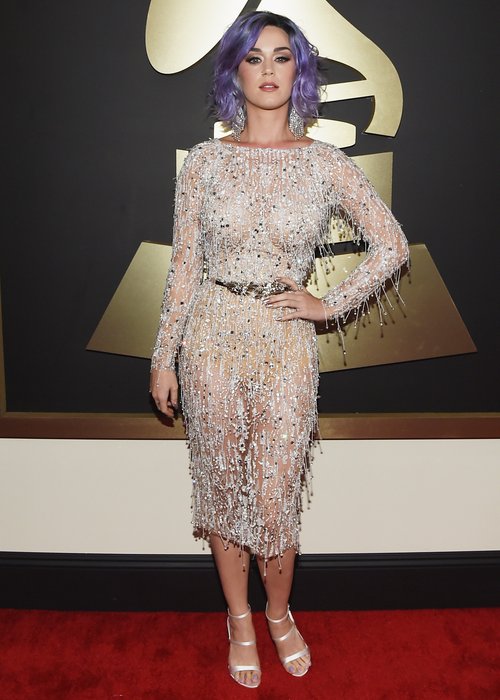 Ariana Grande
All eyes were on Ariana as the internet EXPLODED when she hit the Grammys. The pint-sized pop princess left the hot pants at home in favour of a gorgeous Grecian style white, floor length gown with a thigh split and silver accent as she posed on the red carpet with her boo, Big Sean. Top marks, Ms Grande!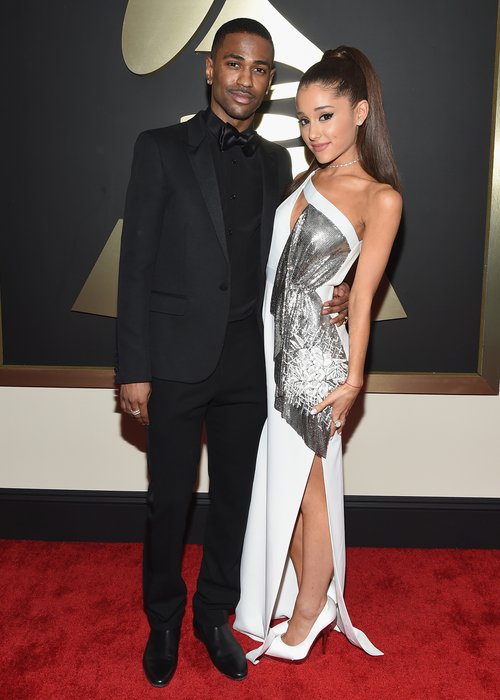 Madonna
Oh Madge, what WERE you thinking? Even the man in the background can't believe what he's clapped eyes on. The mish-mash of saloon girl and leather topped off with a matador hat is a look best left in the Wild West…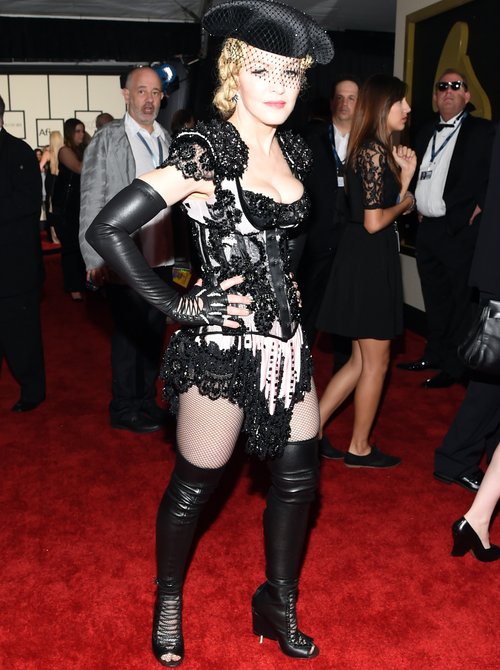 Kanye West and Kim Kardashian
Kimye arrived on the red carpet with their cleavage on show - and that's just Kanye! Kim donned a gorgeous vintage inspired bronze gown as she debuted her new, shorter hairdo while Kanye flashed a rare smile, and a bit of chest in his all black errrything outfit.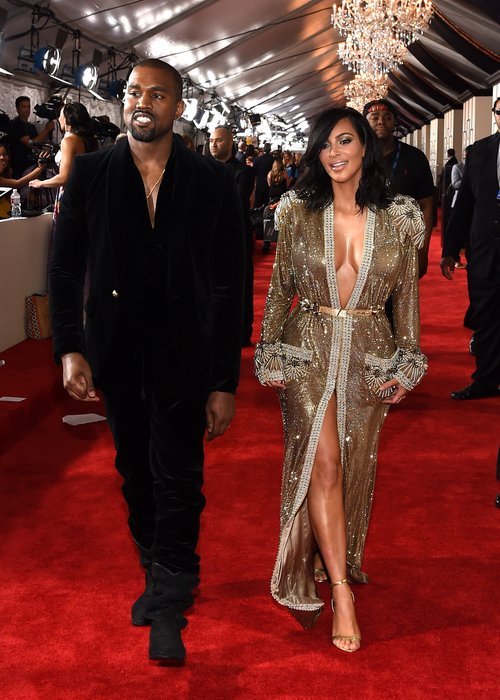 Rihanna
Oh WOW. If you ever want to steal the limelight on a red carpet appearance, wearing a dress bigger than the rest of the gowns combined is definitely the way to do it. RiRi's pink number is toilet-roll dolly chic, yet somehow she makes it work.
Lady Gaga and Tony Bennett
Gaga was definitely channeling old-school screen siren with this vintage inspired silver sequinned frock. Keeping it VERY demure for the lady who once arrived on the red carpet in an egg, Lady Gaga makes the perfect arm candy for legendary crooner Tony.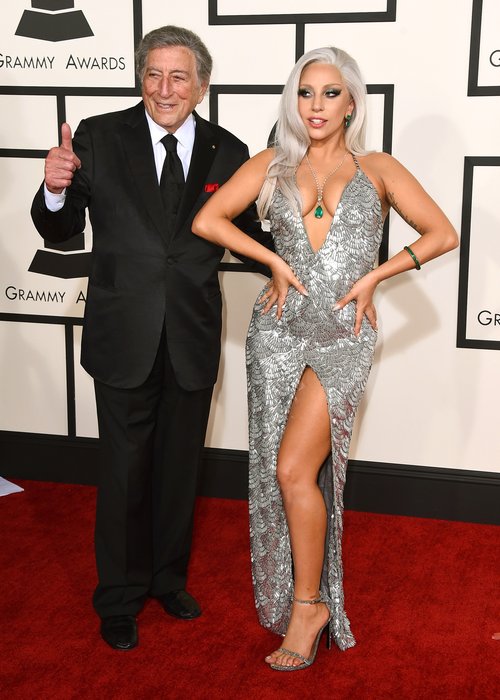 Pharrell Williams
Pharrell is no stranger to stealing the show on the Grammys red carpet - that Vivienne Westwood hat, anyone? - and he's definitely done it again. Never one to conform to fashion, Pharrell turned up in shorts and his girlfriend donned a tracksuit. Just because it's one of the music industry's most prestigious events doesn't mean you can't be comfortable!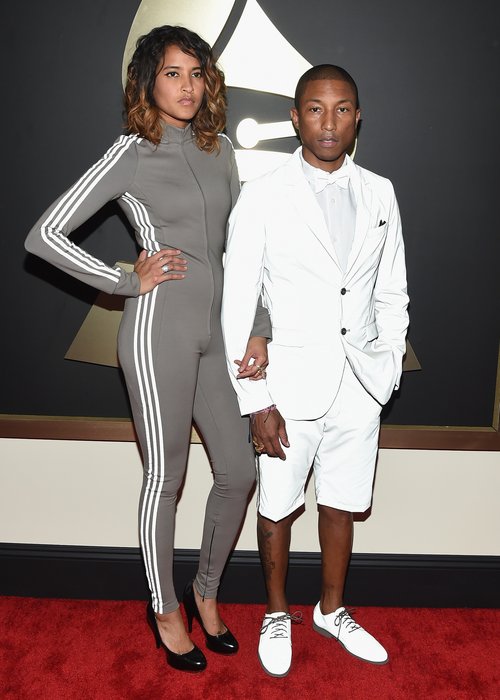 Rita Ora
Rita looked like a gorgeous glitterball with her floor length silver sequinned number. Silver was definitely the colour of the night, with Katy Perry and Lady Gaga also rocking the metallics.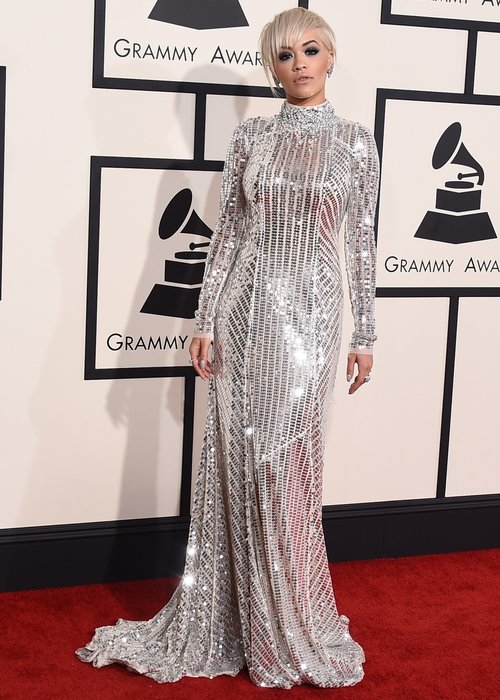 Taylor Swift
Tay Tay does teal! Ms Swift stunned in an ombre mullet dress for her turn on the carpet. She kept her hair simple but added contrasting heels for another pop of colour.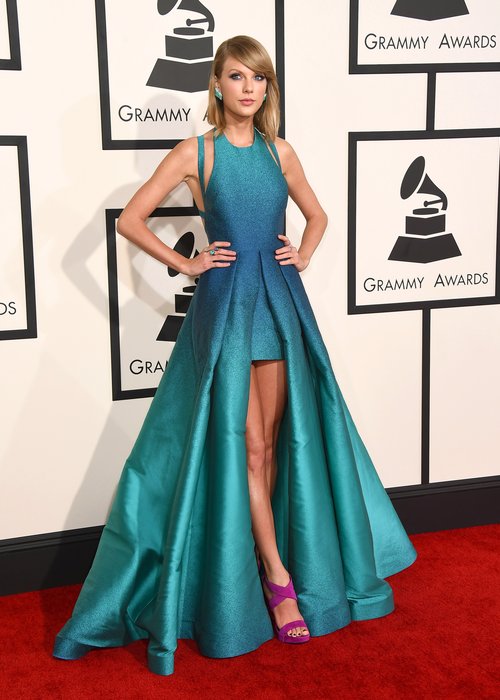 Sia
Sia rocked up with her mini-me, Maddie Ziegler, and the biggest hair we have ever clapped eyes on. A definite show stealer!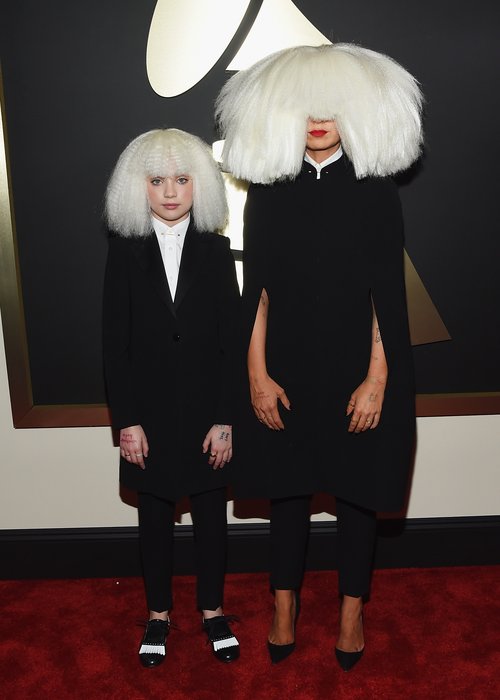 Beyonce
Never one to put a foot wrong in the fashion stakes, Beyonce kept to a stunning black lace dress with a deep V - there was definitely a theme to the gowns this year!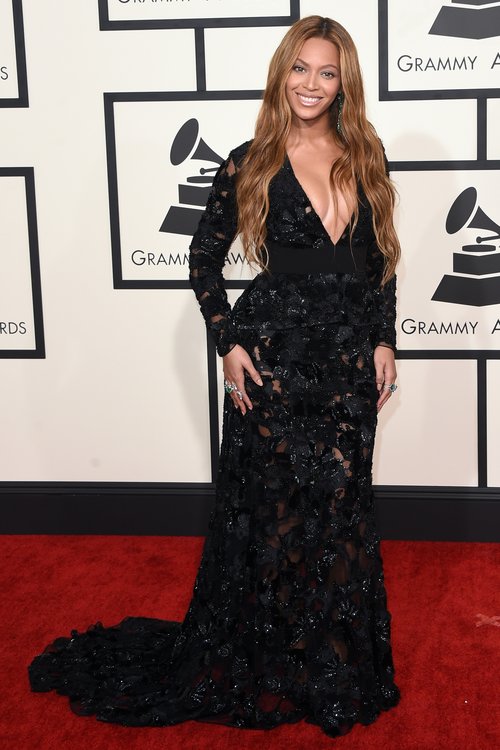 Iggy Azalea
It's all blue for Iggy, as she kept to the extreme V trend with a couple of classy peepholes. The combination of the gorgeous colour and the unusual up-do make this look a winner.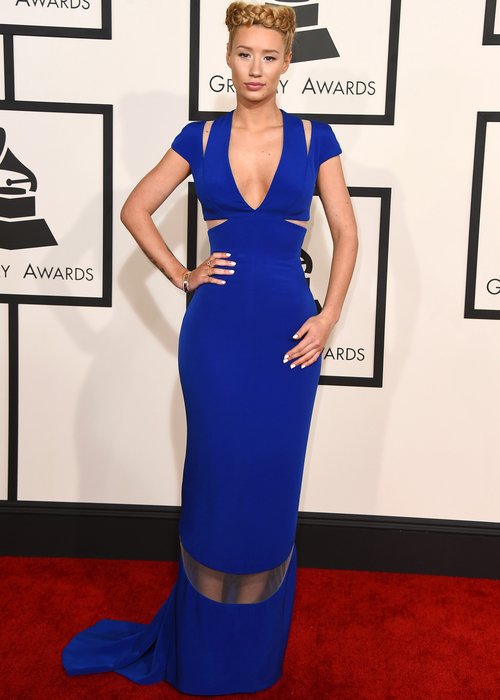 Ed Sheeran
Ed kept it casual with his rolled-up sleeves and even bucked the black-tie trend with trainers on the carpet instead of dress shoes. We LOVE that he gave his own twist to his look, rocking that 'Thinking Out Loud' outfit in true style.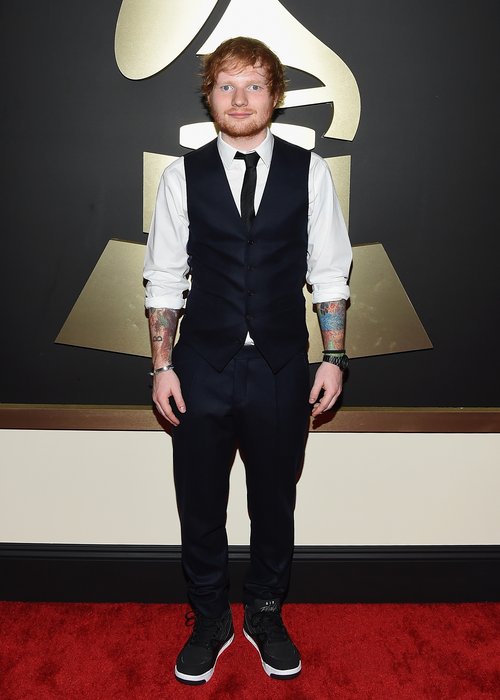 Nicki Minaj
Ooh la la, Miss Minaj! Nicki flashed a LOT of boobage in her black sequinned and tasselled number, but still managed to look rather delightful on her arrival. Never one to shy away from a bold fashion choice, this gown hugs EVERY curve!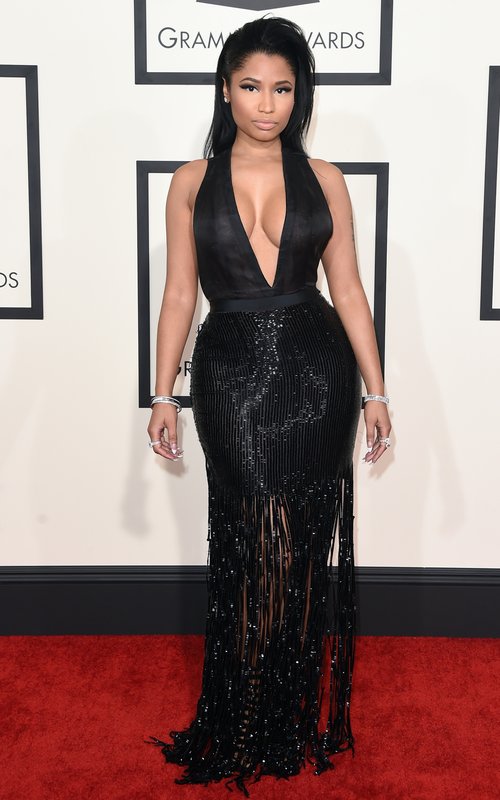 Jess Glynne
Who says red and green should never be seen? Jess Glynne rocked a simple green velvet suit - and looked classic and classy on the red carpet.
Sam Smith
Sam never sets a foot wrong when it comes to black tie, and the 'Stay With Me' singer played it safe with a classic tuxedo look. Very nice!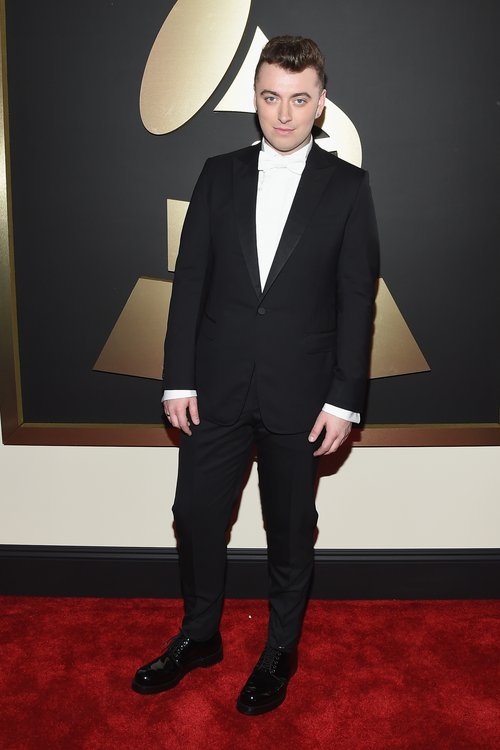 Chris Brown
Who cares if it's night time, if you're a music superstar and you want to rock those sunglasses at night, you ROCK those sunglasses at night. Nice touch of colour with the hat too, Breezy.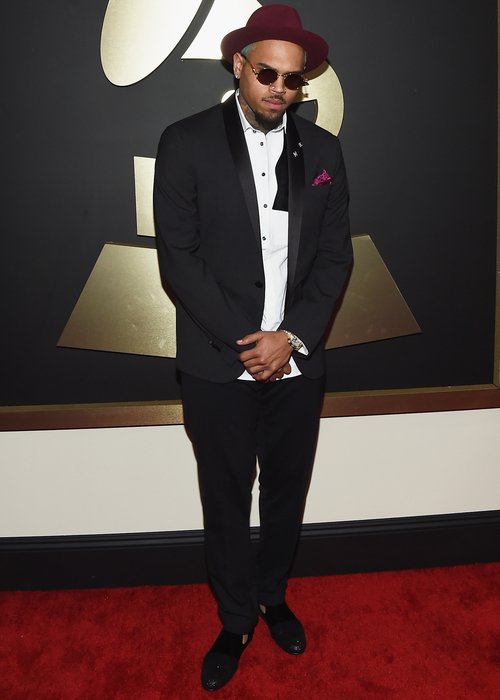 Jessie J
With a slicked-back 'do and a hit of sheer material, Jessie looked effortlessly sexy yet glamorous on her arrival.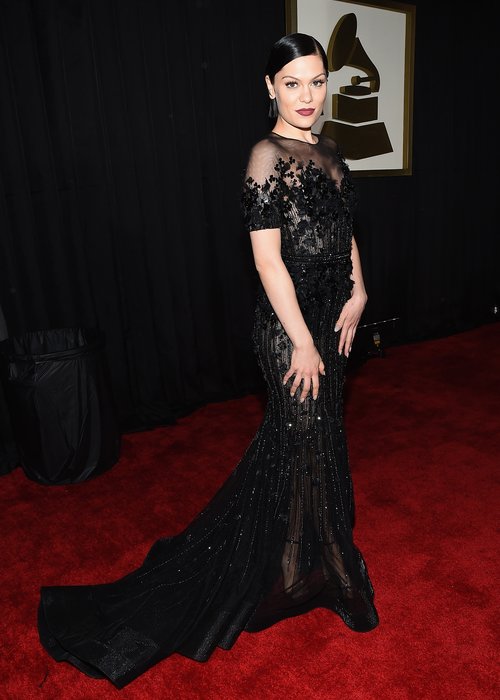 Miley Cyrus and Mike Will
Even in an LBD, Miley likes to sex it up with some strategically placed cutouts as she took to the red carpet with producer Mike Will. Nice bandana!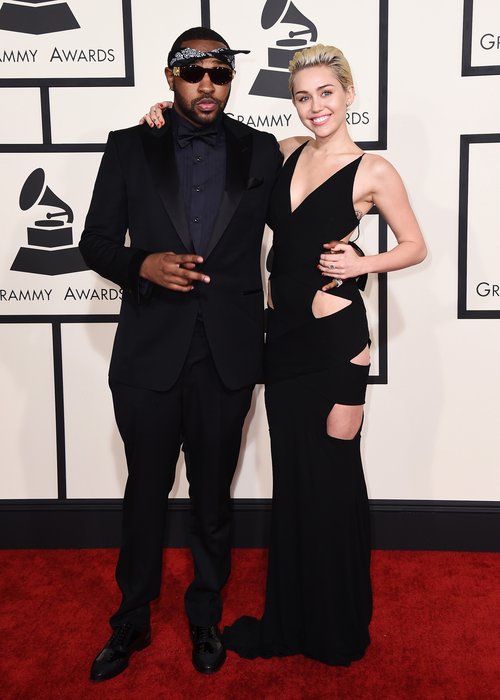 Meghan Trainor
WOW! That's one seriously sexy and sheer look from Meghan. Channelling old Hollywood with her hairstyle, Meghan kept it classy while flashing just a little bit of flesh.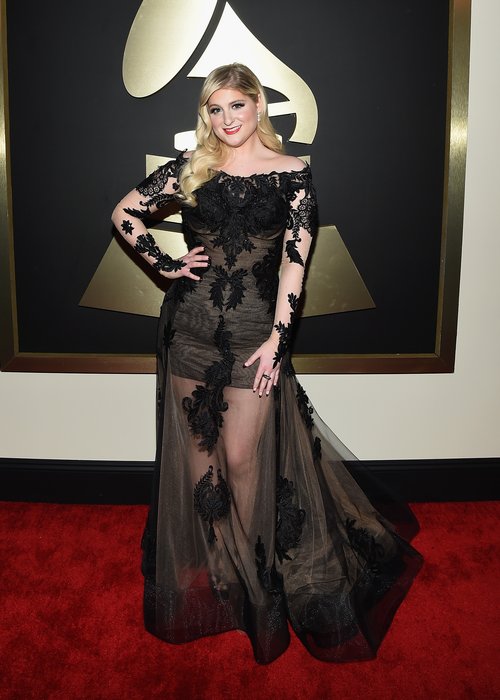 Nick Jonas
Nick's suit is looking sharp with a hint of colour, we're not sure about those shoes but we can ALMOST excuse them because he looks so darn delicious with his slicked-back hair.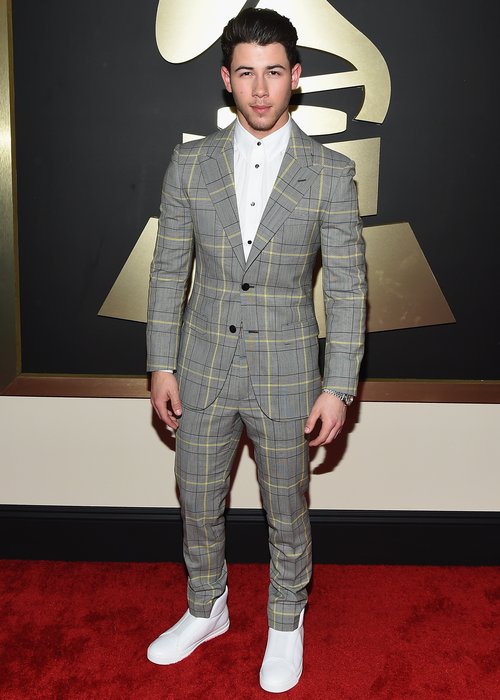 Charli XCX
There's got to be at least one lady in a tuxedo at every awards show, and Charli took the baton for the Grammys, turning up in this silky white number with an added fur. Talk about luxe!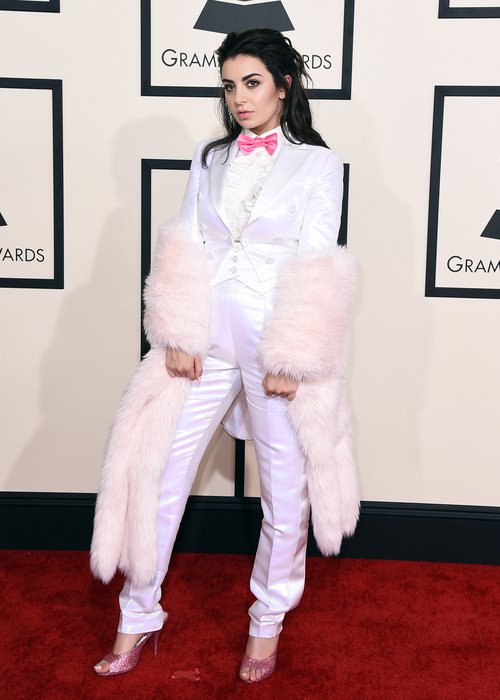 ---
You may also like...