One Direction's 'Live While We're Young' Fastest Selling Pre-Order Single In History
24 August 2012, 15:14
The track was made available at midnight and has already topped pre-order charts in 40 countries.
One Direction's new song 'Live While We're Young' has become the fastest selling pre-order single in history, it's been announced.

The band's new single was made available to pre-order from iTunes at midnight around the world and has already gone to number one in 40 countries.

These include the UK, New Zealand, Australia, Italy, Spain, France, Singapore, Brazil and Mexico.

'Live While We're Young' is set to be released on 30th September.

The track, written by the team behind One Direction's breakthrough single 'What Makes You Beautiful', is the first to be taken from their forthcoming new album, which is released in November.
One Direction announced 'Live While We're Young' in a video message for fans: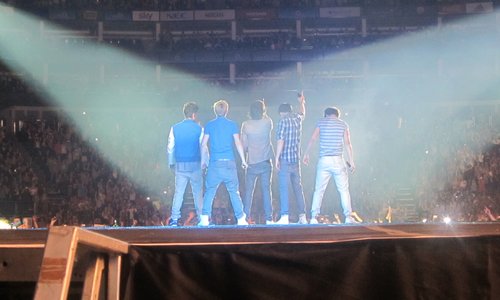 Although the track has yet to be heard, it has been described as "an immediate, energy packed song".
One Direction are currently putting the finishing touches to their new album and N-Dubz Fazer has told Capital FM that he hopes the band will record a song he has written for them.


'Live While We're Young' will be the first official single release from One Direction since 'More Than This', which followed 'One Thing' , 'Gotta Be You' and 'What Makes You Beautiful' as hugely successful releases from their 2011 debut 'Up All Night'