Tyga Forced To Admit His Hair Transplant After Nicki Minaj Exposed Him In Twitter Rant
15 August 2018, 15:22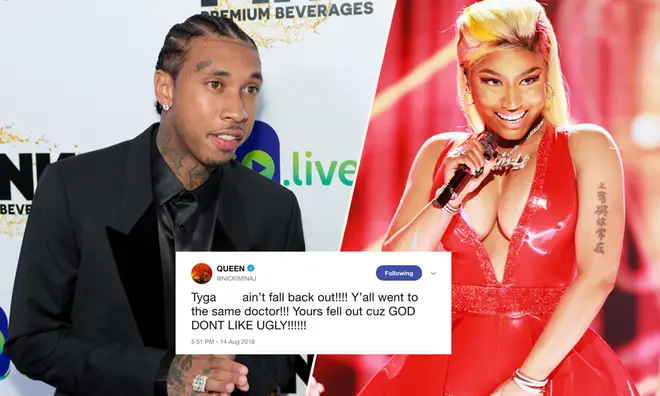 Rapper Tyga was dragged into scandalous hair-related drama when Nicki Minaj went on an epic Twitter rant at her ex-boyfriend Safaree and exposed him for having a hair transplant, poor guy.
If you've ever wronged Nicki Minaj, you'd better brace yourself, because the rapper's been coming for people left, right and centre in interviews and on social media, mostly her ex-boyfriend, Safaree, who she's been embroiled in a seriously bitter Twitter feud for the last few days.
If you've missed it, we seriously suggest you go and read it immediately, because it is nothing but pure, unadulterated drama.
Nicki Minaj Finally Releases 'Queen' Album
Amongst a whole host of accusations hurled out between the pair, from Nicki allegedly stabbing and nearly killing Safaree, to Nicki accusing him of stealing her credit cards- she couldn't help but take a moment to point out she paid for his hair transplant, which then fell out, unlike his hair transplant buddy's... Kylie Jenner's ex, Tyga.
Sorry Tyga.

After using Tyga's name as someone who's transplant was successful (see, it's not all bad Tyga), Nicki goes onto savagely suggest Safaree's didn't work because 'God doesn't like ugly'. Ouch.
Fortunately for T-raw, he handled the whole situation like an absolute boss, and had only this to say, and TBH, he's kind of right.
Safaree diffuses the rumour he and Tyga went to get matching hair transplants as they went on the same day to different doctors, Jheeze Nicki. He then continues onto accuse the rapper of starting beef to try and boost album sales of 'Queen' which was released a few days ago.
1st off Me and tyga didn't go to the same dr. We did it the same day. Diff doctors . Listen I don't know if this has to do with 1st week sales but you need to finish your zen. And don't talk about vh1 checks cuz the way you're acting it's like your auditioning to be on LHH

— @IAMSAFAREE (@IAMSAFAREE) August 14, 2018
>Download Our Brand New App For All The Latest Nicki Minaj News