Nicki Minaj Finally Releases 'Queen' Album
10 August 2018, 16:54 | Updated: 10 August 2018, 17:22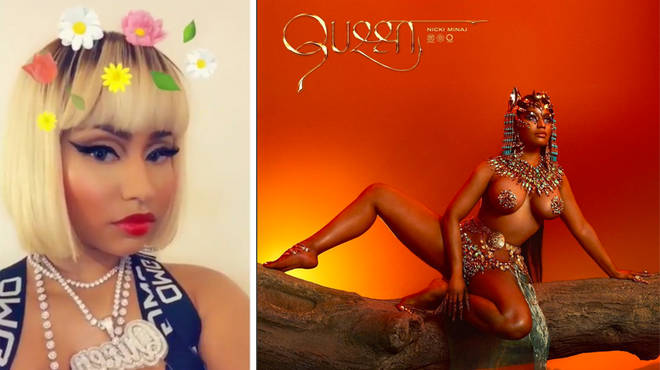 Nicki Minaj's 'Queen' album has finally been released - here's everything you need to know about it!
It's been a whole four years since Nicki Minaj released her last studio album 'The Pinkprint', but she's back with brand her brand new record 'Queen' and we've got the lowdown on everything you need to know!
> What Is The Sample On Ariana Grande & Nicki Minaj's 'The Light Is Coming'?
What songs are on Nicki Minaj's 'Queen' album?
1. Ganja Burns
2. Majesty ft Eminem & Labrinth
3. Barbie Dreams
4. Rich Sex ft Lil Wayne
5. Hard White
6. Bed ft Ariana Grande
7. Thought I Knew You ft The Weeknd
8. Run & Hide
9. Chun Swae ft Swae Lee
10. Chun-Li
11 LLC
12. Good Form
13. Nip Tuck
14. 2 Lit 2 Late Interlude
15. Come See About Me
16. Sir ft Future
17. Miami
18. Coco Chanel ft Foxy Brown
19. Inspirations Outro
After revealing the initial track list for 'Queen', Nicki Minaj then changed the order of the tracks, moving a couple of songs around and informing fans via Twitter of the song order changes...
Changed the order so disregard the way I described them before. #7 is Now #3 🙈 and #17 is now #15

— Chun-Li (@NICKIMINAJ) August 10, 2018
Who features on Nicki Minaj's album 'Queen'?
As you can see from the tracklisting above, there are a number of artist who feature across 'Queen' and Nicki had previously made some big claims about some of them.
Ahead of the album's launch, Nicki revealed that she was working with the best rapper alive on the project and with the likes of Eminem, Lil Wayne, Foxy Brown and Future all making it onto the release, she certainly did bring in some huge supporting stars.
Rae Sremmurd rapper Swae Lee, British star Labrinth and The Weeknd also made the cut on the final release of 'Queen', whilst Ariana Grande's feature 'Bed' was released as a lead single from the project ahead of release.
What's the Nicki Minaj 'Queen' album artwork?
Nicki took to Instagram to share the artwork for 'Queen' and it sees her channeling Ancient Egyptian Queen Cleopatra as she poses on a log in a very daring pose.
What a masterpiece!
Are Drake and Tekashi 6ix9ine on Nicki Minaj's 'Queen' album?
Nicki released her song 'FEFE' with Tekashi 6ix9ine ahead of the release of her 'Queen' album and as she was the featured artist on the single it wasn't included on the album.
Nicki had shared a video with Drake just days before the album released which had plenty of fans suggesting that he may appear on the final release of 'Queen', however despite collaborating many times before there wasn't any sign of a song together on 'Queen'.
Does Eminem admit he's dating Nicki Minaj in his 'Majesty' verse?
The lyrics to Eminem's verse on Nicki Minaj's song 'Majesty have certainly got fans talking about a potential relationship between the two.
In the song, Eminem raps the lyrics, "Let me keep it one hundred, two things shouldn't be your themes of discussion/
The queen and her husband, last thing you're gonna wanna be is our subjects, yeah" and it's fuelled all the dating rumours.
Nick previously replied to a fan o nInstagram who asked whether she was dating Eminem and the 'Queen' rapper simply wrote 'yes'.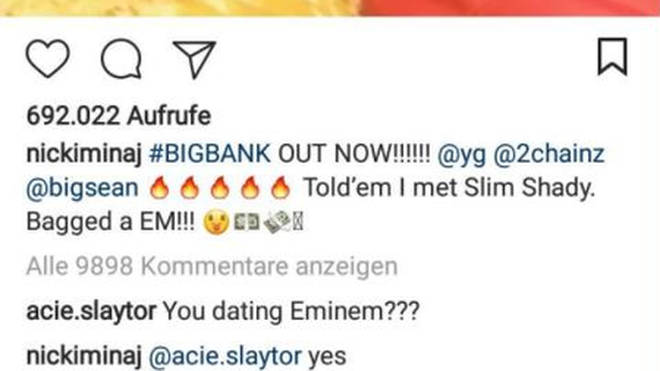 > Download Our Free App For All The Latest Nicki Minaj News!