"We Still Pick Ourselves Apart" Little Mix Open Up On Insecurities & Being Shamed For Their Outfits
13 September 2017, 12:06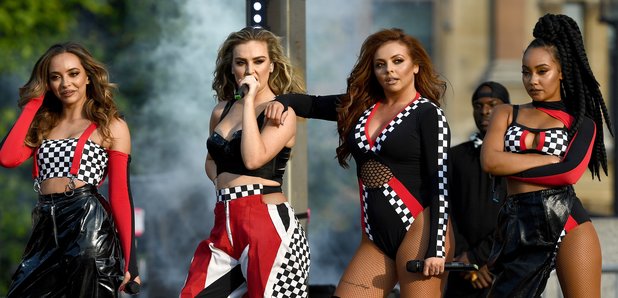 The girls have been criticised for their sexy stage costumes.
There's no denying Little Mix look UNREAL on stage, but the girls have often come under criticism for their sexy stage costumes, and the girls have now hit back and revealed that they still suffer from insecurities just like everyone else.
The girls stuck up for their 'revealing' outfits, explaining that they need costumes they can perform their hour-and-half high-energy live shows in, that not only allow them to dance but that aren't too constricting or hot.
Jade Thirlwall told the Daily Mail, "I don't think we're sexing ourselves up. We're sweating our t**s off on stage and we want to wear leotards! It's comfortable to dance in and we're doing an hour and a half set, we're not going to come on to the stage in a tracksuit - it's just not practical. It's because we're performing. We're not going to walk down the street in [a leotard], are we?!"
Perrie Edwards added, "We could wear a frickin' bin liner on stage and people complain. We could wear a full bodysuit! We've been in the industry for six years, we're tired of it all now and all the comments. We want to wear what we want to wear and we want to tell women to wear what they want to wear and be comfortable."
And despite looking totally incredible, the girls have admitted they have insecurities just like the rest of us – but that they support each other and compliment each other all the time.
Leigh-Anne Pinnock admitted, "We've all been through a stage where we don't like things about ourselves, and if I'm honest, it still happens now. We still pick ourselves apart.
"The difference is we've really learnt to love the skin that we're in because we're all made this way and we're all different for a reason. We're a really good support for each other too and we always really compliment each other."
Being photographed 24/7 only serves to make you more conscious about your body hang ups, but Jade insists that the girls try and live normal lives despite this, "I think it's difficult for all women in the industry, just because you are constantly scrutinised to look your best.
"We are human, we don't all diet 24/7 and exercise every single day, we're normal girls. It's fine to have a cheat day!
"In the beginning we were all insecure because we were so not used to being talked about by the way we look and as the years have gone one, we've learnt not to really care anymore. It doesn't really matter what anyone else thinks."