Perrie Edwards Has Had A Bit Of A Mare On Social Media This Week & Fans Are Worried
18 April 2017, 15:06
The star temporarily deleted her Instagram after sending messages to fans.
While most of us were in a chocolate coma from eating all our Easter eggs in one go, Perrie Edwards was doing all kinds of bits on social media which left her followers seriously confused – including temporarily deleting her Instagram account.
Over the long weekend, photos emerged of Perrie Edwards and her Little Mix bandmate Jesy Nelson on the beach together during a break from touring with Ariana Grande and Perrie apparently messaged fans asking for them not to tag her in the images.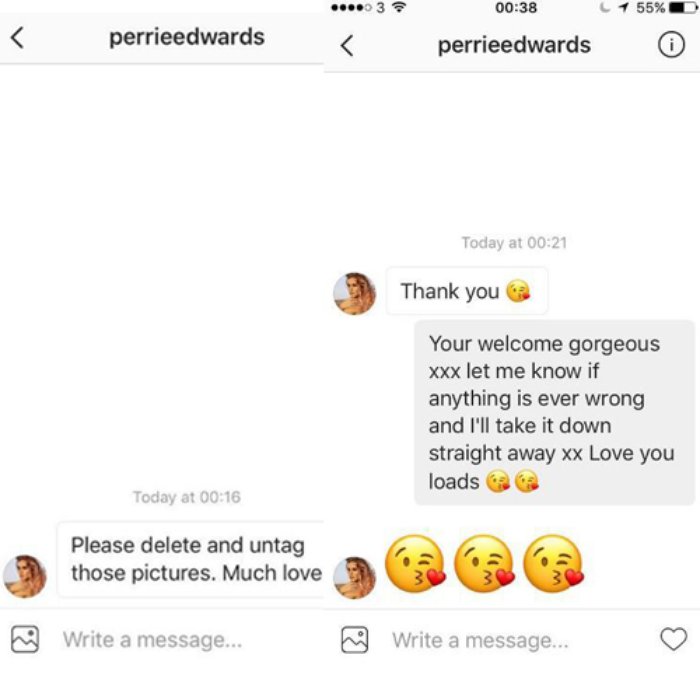 While nobody knows why she didn't want to be tagged in the images, fans were quick to spot that Perrie temporarily deleted her whole Instagram account – though it wasn't for long as she quickly reinstated it.
Perrie's Instagram seems to have been hacked/deleted pic.twitter.com/p9Z02br3la

— LITTLE MIX UPDATES (@UpdatingLM) April 14, 2017
But Perrie's deleted Insta wasn't the only controversy she faced this weekend – her ex, Zayn Malik's mum appeared to throw shade at Perrie by liking comments that appeared to slate her.
Zayn's mum, Trisha Malik, posted a snap of a bunch of flowers that Zayn and his new girlfriend, Gigi Hadid, had sent her captioned "From my sonshine and gigi" and liked a few comments from fans on the post.
Unfortunately one of the comments appeared to be slating Perrie and comparing her to Gigi, which caused quite a reaction from Little Mix fans.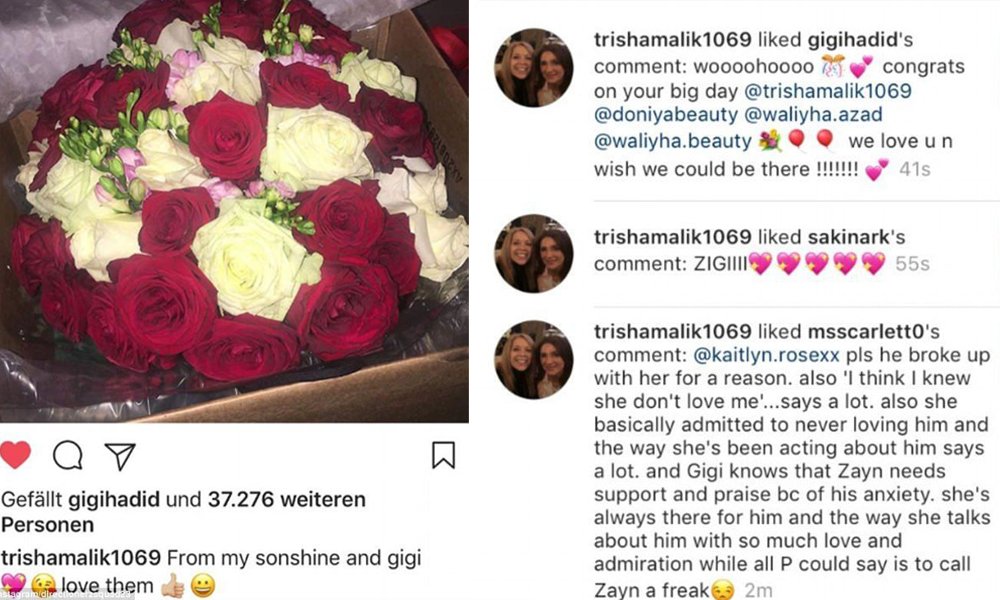 Trish, however, denied that the shade was intentional and claimed she had liked that particular comment by mistake and that she has no issue with Perrie and the backlash was exactly the reason she tends to stay away from social media.
[Tradução] Trisha Malik (Mãe do Zayn) curtiu esse comentário falando mal da Perrie. Em seguida, ela disse que havia curtido acidentalmente. pic.twitter.com/wazomJy7Ba

— Mafia Little Mix BR (@MafiaLittleMix) April 15, 2017
Well, that certainly was an eventful weekend for our Pez – here's hoping that she won't be deleting any more of her accounts anytime soon!