People Are Only Just Realising That Drake Was In Justin Bieber's Music Video For 'Baby'
20 April 2018, 16:14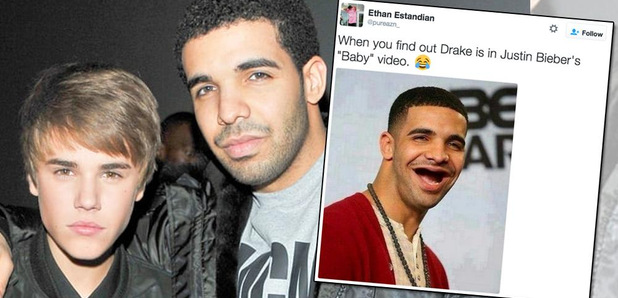 Yep, turns out people had no idea this was a thing!
After all these years, Justin Bieber's 'Baby' is still such a guilty pleasure for a lot of us. We've sung/screamed along to it thousands of times and it's got BILLIONS of views on YouTube.
But whilst we've watched it plenty of times and contributed to that hefty YouTube viewing figure, it turns out a lot of people have no idea that Drake is actually in the video!

> Every Justin Bieber Song EVER: Ranked

GIF: Giphy
Just incase you missed that, yes, it's *actual* Drake:

If you're sat there absolutely baffled, you're not the only one...
Wait. I just figured out that Drake was in Justin Bieber's Baby video. Wtf.

— ringmaster of the shitshow (@osnapitsmarlo) April 20, 2018
Nor are you the only one wondering why you've only JUST realised this...
Why am I only noticing now that Drake was in Justin Bieber's Baby video ..

— (@daniellestojkov) November 13, 2015
You're not the only person who can't quite believe it...
Is that Drake in Justin Bieber's "Baby" video?! pic.twitter.com/pLLuCorDi7

— Stacey Murillo (@Tety2131) April 8, 2016
People literally just didn't know...
Was watching the music video for "Baby" by Justin Bieber and DRAKE IS IN IT!? WHY HAVEN'T I NOTICED THIS BEFORE!?

— Ashley Taylor (@ashleyntaylorr) April 18, 2018
Same mate, same...
When you find out Drake is in Justin Bieber's "Baby" video. pic.twitter.com/0XpteD2ncY

— Ethan Estandian (@pureazn_) January 19, 2016
Now after you've had your moment of 'OMG IS THAT DRAKE?!', next comes a very important question...
serious question why is drake in bieber's baby video...

— Rachel Mackay (@RachelMackay91) November 20, 2015
Could this be a possible explanation?
Wait, Drake is in the Baby video with Justin Bieber. Does Canada have like twelve people?

— Julian McCullough (@julezmac) November 18, 2015
It's also worth mentioning that Tinashe and Lil Twist also popped up at the bowling alley too...
So there we have it, one of the most disliked videos on YouTube not only features Justin Bieber but Drake as well.
Great work guy!
GIF: Giphy
> Download Our Free App For The Latest Justin News!
Whilst you're here, check out what happened when Justin helped out with his mate's vlog...