Ed Sheeran Granted A 6 Year Old's Dying Wish Before A Gig & It Was So Emotional
26 April 2017, 12:24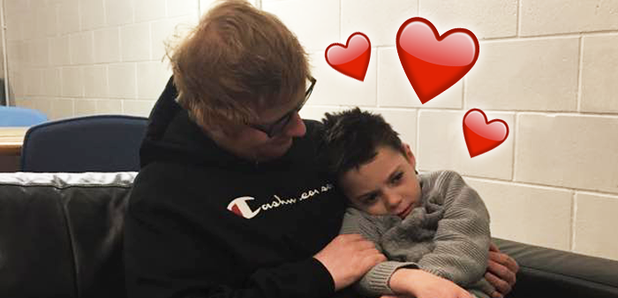 Ed Sheeran proves once again he's genuinely one of the best human beings on the planet.
Being a superstar songwriter comes with its benefits, that's a given. Yeah, they can afford fancy homes, get into all of the exclusive parties and drive the most expensive cars. However, true happiness is surely when they see those smiles on the faces of their fans.
That's exactly what happened this weekend when Ed Sheeran invited 6 year old Ollie Carroll backstage at his Manchester gig.
Ollie's parents had launched a campaign to get Ed to meet their son on Facebook and it finally paid off!
The parents revealed, "As soon as Ed walked into the room yesterday and spoke, Ollie's eye lit up and a smile spread across his face.
This image was priceless."
They added, "Ed is one of the loveliest guys we have ever met, he asked us to explain Batten Disease and Ollie's Army. He was truly saddened by our journey - To us last night Ollie wasn't meeting a star he was meeting HIS star, he was meeting the man that taught him the power and love of music."
PIC: Facebook/Ollie's Army Battling Against Battens
As the true gent he is, Ed took time out to take selfies not just with Ollie but with the entire family. Mike and Lucy Carroll, captioned their photos with a truly heartwarming status: "As parents we can not thank Ed, his team and every single person who shared Ollie's video, and emailed Ed's management team enough. We never thought this would happen and through the power of social media it has."
You may also like...