"It's F***in' Awesome" - Ed Sheeran Claps Back At Bullies Who Trolled Him Over 'Game Of Thrones' Cameo
20 July 2017, 10:23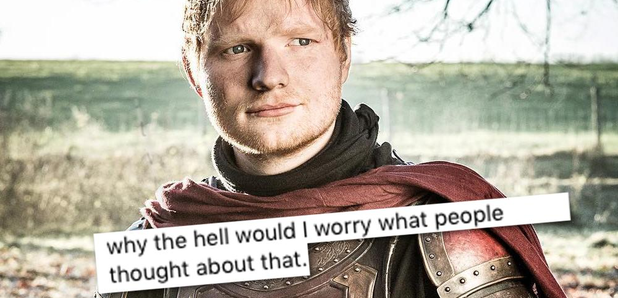 We're kinda rooting for him to take the Iron Throne now.
Ed Sheeran is a global sensation who's won many awards, including two GRAMMYs, so he's kinda been in the limelight for a while, y'know?
Although, after his cameo role in 'Game Of Thrones', the 'Shape Of You' singer has faced his harshest critics to date - online trolls, who slated his appearance on the HBO fantasy drama.
> Game Of Thrones Defend Their Decision To Cast 'Lovely Guy' Ed Sheeran After Fans Slate His Performance
Following the harsh comments he received on Twitter, Ed Sheeran sharply deactivated his account, which many believed to be as a result from the trolls.
However, Ed's recently uploaded a snap, to Instagram, of him and his manager "riding off into the sunset together", with a full explanation as to why he's no longer on the social media platform, as well as responding to the hatred he received.
"Last i'll say on this. I came off Twitter Coz I was always intending to come off Twitter," said the 'Castle On The Hill' hitmaker. "had nothing to do with what people said about my game of thrones cameo, because I am in game of thrones, why the hell would I worry what people thought about that.
Continuing, he wrote "It's clearly f***in' awesome. Timing was just a coincidence, but believe what you want. [sic]"
> Download Our App, And We'll Keep You In The Loop With Everything Ed Sheeran-y!
He has since, however, returned to Twitter, and regained 14.1m followers. After all this, we'd like to see Ed's character join forces with Tyrion and Daenerys now, tbf. ;)
If Jamie Foxx is on board with what Ed Sheeran's up to, some of these so-called "fans" should be too, right?