Here Is The Worst Abuse Ed Sheeran Received On Twitter For His Game Of Thrones Cameo & It's So Not Cool
18 July 2017, 17:03 | Updated: 18 July 2017, 17:30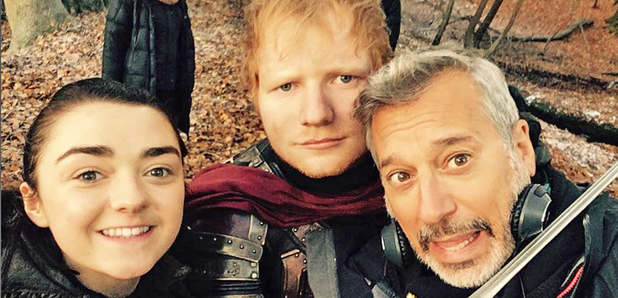 Turns out GoT fans have absolutely zero chill.
If you're a fan of Game Of Thrones, you'll know just how exciting the build up to the beginning of season 7 has been.
Winter has finally come to Westeros and it turned out Ed Sheeran was also inside the place, making a cameo alongside fan favourite Arya Stark.
> Kit Harington Slams Fans Who Leak Spoilers As 'A******s' In Feisty Rant About New Game Of Thrones Season
Let's remind ourselves of that very moment...
However it seems that many GoT fans weren't too happy with Ed's appearance in their favourite show and decided to write some pretty harsh stuff about him on Twitter, which has led to Ed deleting his account.
It's never nice to see celebs receive abuse on social media and Ed has clearly decided that he's had enough of it. Many people are probabaly thinking 'how bad could it really have been?', well here are some of the harshest tweets...
Top Three Characters I've wanted to see murdered on Game of Thrones
3. Joffrey
2. Ramsey
1. Ed Sheeran

— Ol' QWERTY Bastard (@TheDiLLon1) July 17, 2017
Next week on #GameOfThrones, "A long lost direwolf eats Ed Sheeran's face" ... and I'm OK with that. pic.twitter.com/iQlf1rSWqt

— Dale Brewer (@HPBrewer) July 17, 2017
Ed Sheeran appearing on game of thrones but not being brutally disemboweled was very disappointing

— Brandy Jensen (@BrandyLJensen) July 17, 2017
I respect and like Ed Sheeran. Who else wanted him to die as soon as you saw him? #GameOfThrones #Spoilers

— KY John (@KyleTho59694269) July 18, 2017
Ed sheeran you're the worst and I hate that you've wasted so much of my precious GoT time I wish arya murdered your weird ass

— Anne (@assistant2RM2) July 17, 2017
After 6 magical seasons, Ed Sheeran ruined Game of Thrones in 3 minutes.

— Ari Alexander (@AriA1exander) July 17, 2017
Ed Sheeran's bizarre and distracting cameo on GoT was worse than all the forced celeb cameos on Entourage combined. My week is ruined.

— Chris Hassel (@Hassel_Chris) July 17, 2017
There's no denying the Ramsay rape scene was the worst thing the GoT writers ever did but Ed Sheeran's cameo is a close second #GoTS7

— Laura Cullen (@Lo_Cull) July 17, 2017
Remember, tnis is only a handful of the tweets posted since the episode aired.
Whilst there was a lot of hate, or at least enough to make Ed quit Twitter, there were also positive comments too...
I ship Arya Stark and Ed Sheeran #GameofThrones #got7 pic.twitter.com/HdmGxQxWy6

— franz hernandez (@franzhernandez) July 17, 2017
ED SHEERAN OMG I KNEW THAT VOICE #GameofThrones

— bells deluca (@BellaDeLuca13) July 17, 2017
ED SHEERAN WAS SO PROUD TO BE ON GOT AND YALL FUCKIN RUINED IT FOR HIM AND MADE HIM DEACTIVATE I HATE U ALL THIS IS WHY PPL HATE US pic.twitter.com/CrvPNhA5tt

— jenna (@emiliasclrks) July 18, 2017
Why does everyone hate Ed Sheeran now? He hasn't ruined anything #GoTS7

— Bianca Moga (@BiancaMoga3) July 18, 2017
So what did you think of Ed's cameo? Were you a fan or do you never want to see it again?
We've got so much more GoT goodness to look forward to, so remind yourselves of what's to come by checking out the trailer below...