Game Of Thrones Defend Their Decision To Cast 'Lovely Guy' Ed Sheeran After Fans Slate His Performance
19 July 2017, 11:14 | Updated: 19 July 2017, 11:20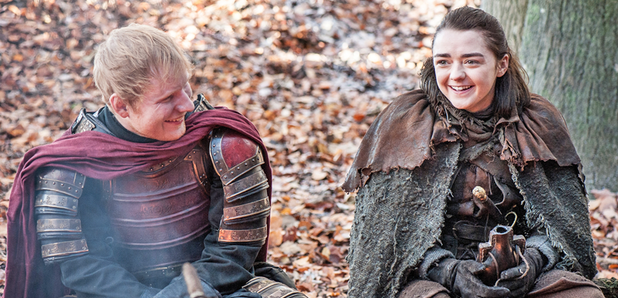 The episode's director wasn't happy with the criticism Ed faced after his cameo aired.
You may have noticed that Ed Sheeran disappeared from Twitter for a while recently after he faced a strong backlash from Game Of Thrones fans following his cameo in the opening episode of season 7.
Thankfully Ed decided to return to the social media platform, although he's removed many of his tweets and it seems as though he won't be using it too much in the near future.
> Here Is The Worst Abuse Ed Sheeran Received On Twitter For His Game Of Thrones Cameo & It's So Not Cool
If you haven't seen the much talked about cameo yet, check the video out below...
Well after Ed returned to Twitter, the man who directed his Game Of Thrones episode, Jeremy Podeswa, was quick to speak out against the people who criticised the singer's performance and had nothing but kind words to say about the star.
Speaking to Newsweek, Podeswa claimed, "He was appropriate for the part because he needed to sing. If people didn't know who Ed was, they wouldn't have thought about it twice."
"The hoo-ha seems to be from things that are outside of the world of the show. In the world of the show he did a lovely job, and he looks like he belongs in that world."
Ed has always been a humble star and has stayed close to his roots, maintaining a small circle of friends he's known since school and Podeswa emphasised how down to earth he really is.
"He comes with no entourage. There's nothing connected with him that's in the least bit self-aware or self-conscious," he revealed, before adding, "The only thing I don't feel great about is that Ed is such a lovely guy and really genuine and down to earth. He came into this with only lovely intentions to come and do a good job and sing well. So I think that's the only drag."
After many fans commented that Ed's cameo distracted them from what was going on in the scene and some even claimed his inclusion took them out of the fantasy world the show has so succesfully created, Podeswa was keen to dismiss people's negative reactions.
He hit back saying, "I think people interrogated it too much, they're bringing so much of his [superstar] presence into the thing which is far beyond what anybody was thinking going into it."
"He is known to the producers of the show and some of the cast, and he's a gigantic fan of the show. As everybody knows, the show really eschews stunt casting—it's never, ever done that."
With Ed now back on Twitter, things seem to be beginning to get back to normal. Let's just hope the negativity hasn't ruined Ed's experience of being part of one of his favourite shows!
Did you know that Ed had previously appeared on a New Zealnad TV show alongside Riverdale hearthrob KJ Apa?! Check out his cameo below...