Fans Are Hilariously Schooling Bruno Mars After Finding Out He's A Legit Social Media Amateur
21 August 2017, 07:55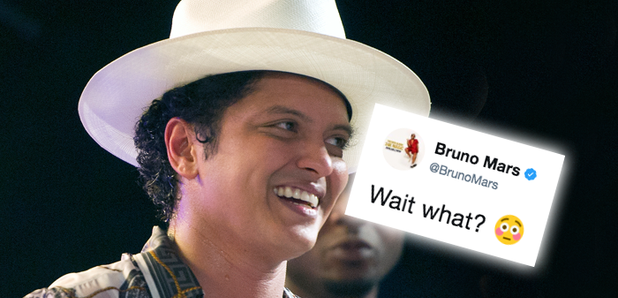 To be fair, we even struggle to keep up sometimes.
We get it...every other week there's a new app or social media platform popping up however this weekend we all found out that Bruno Mars is light years behind EVERYONE (not gonna lie, it's actually kinda cute).
> You know we have an app that let's YOU control the radio right? GET ON IT!
It all began when the '24K Magic Man' tweeted out a photo of a Chicago Blackhawk jersey and referred to it as a collage...
My collage skills are gettin pretty epic! Chi Town night 2 #24KMagicWorldTour pic.twitter.com/CoaARRjWfF

— Bruno Mars (@BrunoMars) August 19, 2017
One savvy fan was quick to point out how glorious the moment Bruno discovers you can upload more than one pic to Twitter at a time is going to be...
y'all wait until @brunomars learns he can add more than one pic in a tweet pic.twitter.com/vlDPDLdbDm

— shauna (@nycdevotee93) August 19, 2017
> WATCH: We've Set Dua Lipa The Task Of Interrogating Bruno Mars And His Mystery Man, Julio
Bearing in mind Bruno has 32 MILLION followers, he actually tweeted the #Hooligan back and his response made everyone's day:
Wait what? https://t.co/RulvD6LuZR

— Bruno Mars (@BrunoMars) August 19, 2017
At this point, Twitter went all hands on deck with the friendly trolling and it was hilarious...
you can add 4 pic.twitter.com/yAa5xSmbr7

— cella (@uptownknowles) August 19, 2017
bruno is shook im screaming he was so proud of his collage skills https://t.co/Txs9nSutkx

— raya (@jaxandmiles) August 19, 2017
it's ok B your fans are here to help

— Dreeee (@privateagntmars) August 19, 2017
That's how I imagine Bruno pic.twitter.com/CLtwMKVEEh

— utani☾ (@utanistyles) August 19, 2017
Ahem...have you seen Zendaya absolutely SIZZLE in Bruno's 'Versace On The Floor' video yet?!