Ariana Grande Posts Worrying Tweets Following 'Disgusting' Pete Davidson Comments
28 September 2018, 11:14 | Updated: 28 September 2018, 16:02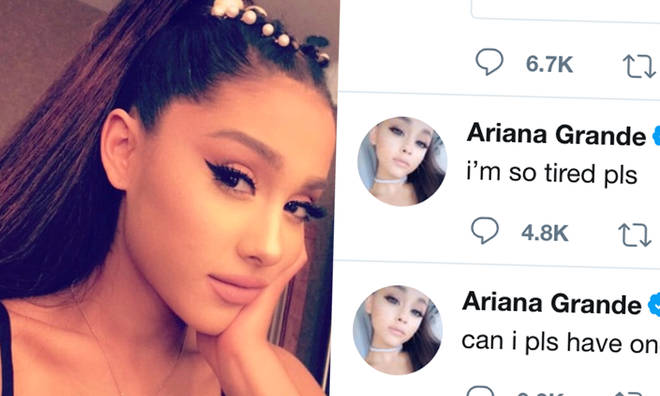 Ariana Grande fans were left worried after she posted a string of emotional tweets shortly after 'disgusting' comments made by her fiancé Pete Davidson were revealed.
Ariana Grande shared a flurry of tweets that left fans concerned after she spoke about being tired and not being worthy of her fans' love, just hours after her fiancé Pete Davidson made surprising comments on American radio.
> Ariana Grande's Confirmed An Amazing Immersive 'Sweetener' Experience Is Coming
Writing messages like 'can i pls have one okay day. just one. pls.' and 'ty for loving me sm i do not deserve it', Ariana's fans flooded her social media with positivity and attempted to remind the 'Sweetener' star that things would get better.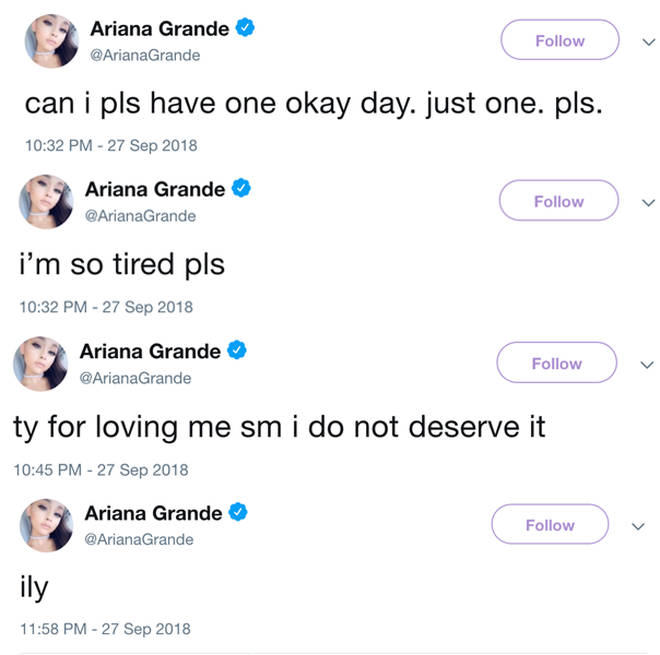 Appearing to try and explain her emotional outburst, Ariana told one fan, 'ur angels in my life. it's just been a tough month. i'm trying to get my work done and get back to normal and it's hard and i'm human and tired. sorry i let u in or worried u. i shouldn't have tweeted. i kno better.'
Ariana's tweets came just hours after an interview with her fiancé Pete Davidson went viral due to some surprising comments he made about the 'God Is A Woman' star.
Speaking to Howard Stern about Ariana Grande's much-publicised treatment at Aretha Franklin's funeral earlier this year, Pete said he had "never been prouder" of former President Bill Clinton for "eyeing" Ariana during the service and also said that he "feels bad for that guy"when speaking about the Bishop who appeared to touch Ariana inappropriately.
Fans labelled Pete's comments as 'disgusting' and slammed the comedian for speaking about Ariana in such a way, whilst at the same time they sent Ariana a tonne of love and support following her flurry of tweets.
Ariana hasn't confirmed whether her tweets were a result of Pete's comments, but fans were worried that the two were connected and are looking to protect her at all costs.
> Download Our Free App For All The Latest Ariana Grande News!