Ariana Grande Posts Sassy Response To Fan's Male Version Of 'thank u, next'
15 November 2018, 12:40 | Updated: 15 November 2018, 13:14
Ariana Grande hit back with a fierce response after a fan shared his own version of her new song 'thank u, next' for all the men out there.
With Ariana Grande's brand new single 'thank u, next' sitting pretty in the number one spot on the Official Vodafone Big Top 40, fans have been posting their own versions of the song, however Ari wasn't too happy with this male version.
> Ariana Grande Slips During 'thank u, next' Performance On Ellen
Taking to Twitter, an Ariana fan and rapper named Izzy shared his own version of the song alongside the caption 'Thank u, next? @ArianaGrande Fellas, it's our turn...' and Ariana shared a powerful response to it!
Izzy's version of 'thank u, next' opens with him saying "Shout out to all my fellas out there that got an ex girlfriend that's been singing this song a tad bit too loud lately".
He then goes on to rap lyrics such as "Go ahead and play that role but rwally I'm the victim, these females lying out their teeth but I'm just talking wisdom, sometimes we gotta cur the ties cos y'all be realy trippin, we hate to be without our girls but know we can't be with 'em".
After watching the video, Ariana decided to share a sassy response to Izzy and wrote, 'i'm sure this felt great but ...... u missed the WHOLE point. i hope you're ...... okay' alongside loads of loudly crying emojis.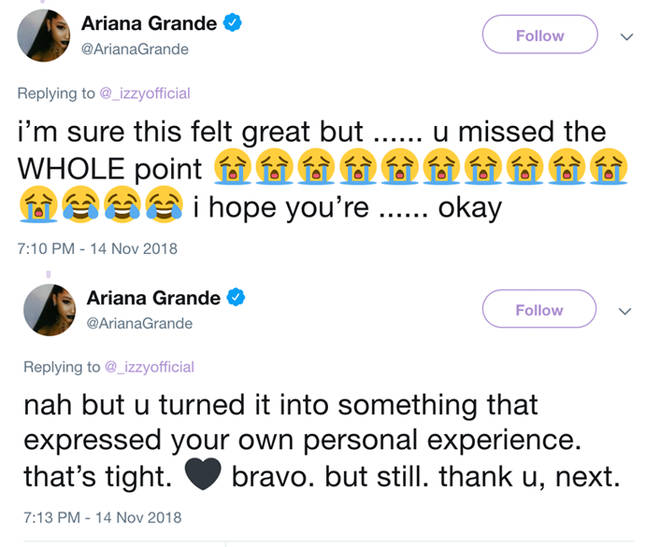 The 'God Is A Woman' star the followed up with another reply, telling Izzy, 'nah but u turned it into something that expressed your own personal experience. that's tight. bravo. but still. thank u, next.'
Ariana's fans were quick to respond following her tweet and backed up her thoughts about Izzy missing the point of the song, with one fan writing 'I knew at least one dude was going to miss the point of this song. I just didn't think it would be this cringy'.
Having released her latest album 'Sweetener' a few months ago, Ariana Grande then dropped 'thank u, next' a few weeks later and shocked everybody, although the song went straight to number one.
> Download Our Free App For All The Latest Ariana Grande News!