Fans Are Defending Pete Davidson's Mental Health After Ariana Grande Break-Up Meme
24 October 2018, 11:05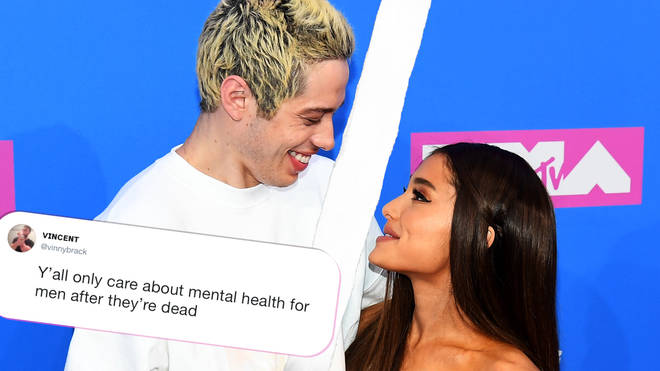 After being trolled post-break-up from Ariana Grande, fans have had to defend Pete Davidson.
After Saturday Night Live star, Pete Davidson split from his fiancée, Ariana Grande, many followers of their relationship have taken this time to create memes from the situation.
However, after one - which showed Ariana Grande looking positive following the break-up, while Pete was looking sad - one fan questioned the trolling and the effect it would have on Pete's mental health.
> Pete Davidson Pulls Out Of Comedy Gig Following Ariana Grande Split Due To 'Personal Reasons'
In the original post, which was simply captioned "ariana vs pete post breakup", the 'God is a woman' singer can be seen happily strolling, as if she is pleased to be rid of Pete Davidson, while he is looking devastated.
Vincent, a Twitter user, then shared the original post, saying "Y'all only care about mental health for men after they're dead [sic]".
Many other followers took to social media to say that while they see fans often promote positivity around mental health, especially following Mac Miller's death, this seems like bullying towards Pete Davidson.
> Want Tickets To Capital's Jingle Bell Ball Before Anyone Else? Download Our App Now To Access Pre-Sale!