Pete Davidson Hits Back After Ariana Grande's Criticised For Wearing His Dad's 9/11 Chain
16 July 2018, 12:11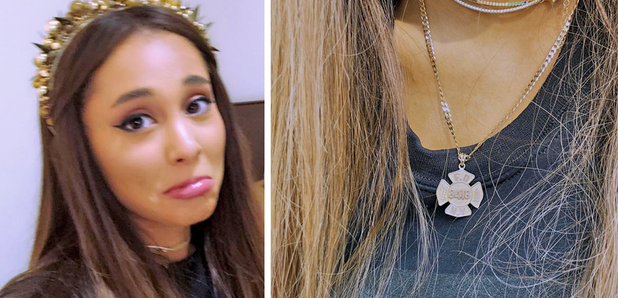 Pete Davidson and Ariana Grande have been engaged for a few weeks now, but some people still think he shouldn't let her wear his late dad's 9/11 chain.
Ariana Grande and her fiancé Pete Davidson have been engaged for a number of weeks now following a whirlwind romance, but some people are still not happy with them sharing their most treasured possessions with each other.
Taking to Instagram, Pete shared a picture of Ariana wearing his late father's chain and it's angered quite a few people - Pete's dad was a firefighter who died in the 9/11 terrorist attack and this is the chain that he wore showing his firefighter number.
> Ariana Grande Defends Justin Bieber's Quick Engagement After Fans Claim It's Down To Scooter Braun
Posting a picture of the chain around Ariana's neck, Pete clearly wanted to share his most important items and memories with his fiancé, but a number of comments underneath the picture were less than positive.
One commenter wrote, 'No girl should ever wear your dads chain. So disrespectful.' and it clearly hit a nerve with Pete as he hit back, claiming that Ariana is not just 'some girl', she's his fiancé!
Pete wrote, 'for ur information that's not just some girl. that's my fiancé. she's the greatest person i know. i gave it to her because she has my heart and that is the most precious thing i own. my dad would be so happy and love her so much. (sic)'
Shortly after the exchange on Instagram, Ariana commented on the picture writing 'i love u more than anything'.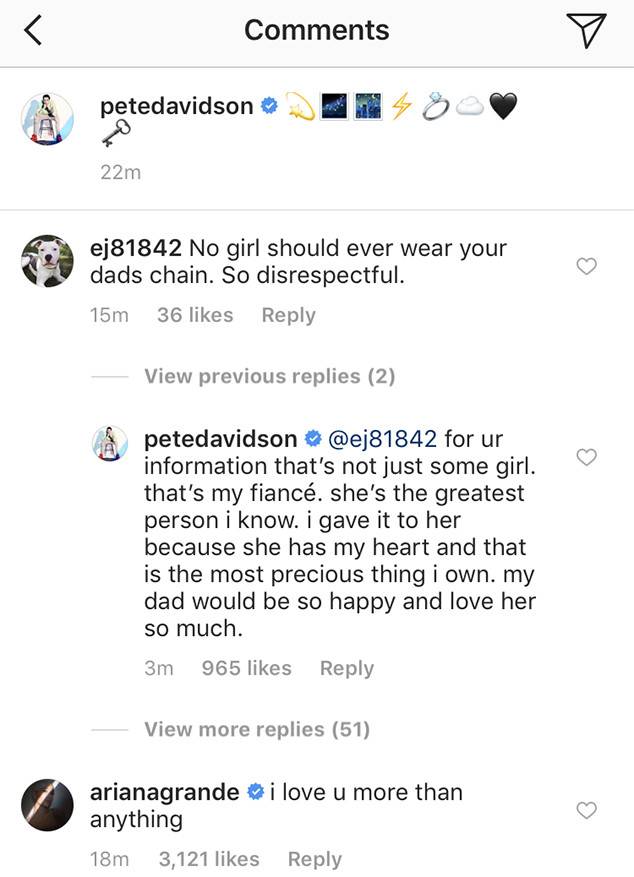 Whilst the fact that Pete has given Ariana his dad's chain caused a bit of a stir on Instagram, other fans have noticed that it's actually not the first time he's given the chain to someone he's dating.
As you can see from the picture below, Pete's ex Cazzie David appears to be wearing the very same chain in a picture that she posted to her own Instagram account back in December 2017 when the pair were reportedly still together.
Commenting under that picture, fans wrote, 'Same chain he gave to Ariana his dads fire department one' and 'The same necklace Pete gave Ariana', however it's not fully clear as to whether it is the exact same chain.
> Download Our Free App For All The Latest Ariana Grande News!