Ariana Grande And Pete Davidson Quit Instagram: What Exactly Happened?!
24 July 2018, 07:23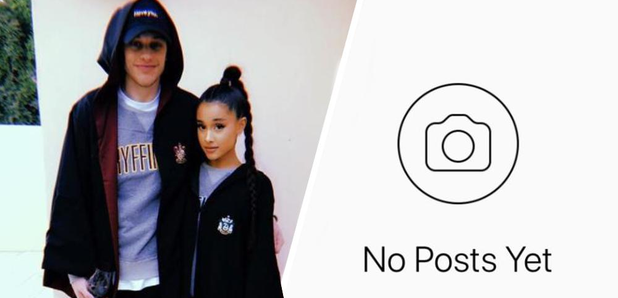 Pete Davidson recently got into a row with some of Ariana Grande's fans on Instagram, and now the pair have decided to take a break from their social media.
Pete Davidson has recently been getting in a few debates with some of Ariana Grande's, his fiancée's, fans, after the 'God Is A Woman' singer shared a photo of her granddad on Instagram.
Now, the pair have decided to take a break from Instagram and Twitter, following "negative energy" and "negative s*** that really can bum u out [sic]".
> Pete Davidson Hits Back After Ariana Grande's Criticised For Wearing His Dad's 9/11 Chain
It all started when Ariana Grande posted a photo of her late grandfather on Instagram, captioning the image as "miss n love u forever my best friend #4years".
The Saturday Night Live comedian, Pete, then commented on the post saying "omg what a cutie", to which some of the millions of Ariana stans replied, saying the likes of "stop sticking your nose in everything" and "wrong timing", after many thought it was insensitive, seeing as the post was a tribute to her grandfather who died of cancer several years ago.
Eventually, Pete Davidson responded to the flack he was getting on Instagram, saying "are you guys all insane? i was talking about how cute her grandpa is. what's wrong with that? you guys will really look for anything to attack people. it's sad".
> Ariana's 'Sweetener' Merch Is Here, And There's One Very Unusual Item For Sale
Shortly after; whether it was to protect Pete or her fans, Ariana disabled commenting on her Instagram posts. It wasn't long, however, until Pete Davidson took it one step further, and deleted all posts - including every photo he took of himself and Ariana - from his Instagram leaving it totally blank.
After Ariana took to Twitter to say "the energy u put out is exactly what u get back, please create a beautiful life for yourselves", many fans jumped to the conclusion that the pair had broken up.
In light of the possibility of Ariana Grande and Pete Davidson's breakup, we are starting a kickstarter to purchase their soon to be for sale apartment. It totals to 16 million, so if we can get a group of 2000 to split it we would all only have to pay 8000. Rt if interested.

— addison (@addisoncduke) July 24, 2018
However, most of her fans assumed that she disabled her comments to protect Pete Davidson from hurtful haters.
can people just let ariana and pete enjoy their relationship, them having to make their instagrams basically comment free is so sad. some people disgust me, keep your rude comments to yourself

— kayla (@criednotears) July 23, 2018
Pete Davidson then returned to Instagram to share a statement via his IG Story, saying "no there's nothing wrong. no nothing happened. no there's nothing cryptic about anything." He continued to say that he simply didn't want to be on Instagram anymore, as the internet didn't "make [him] feel good".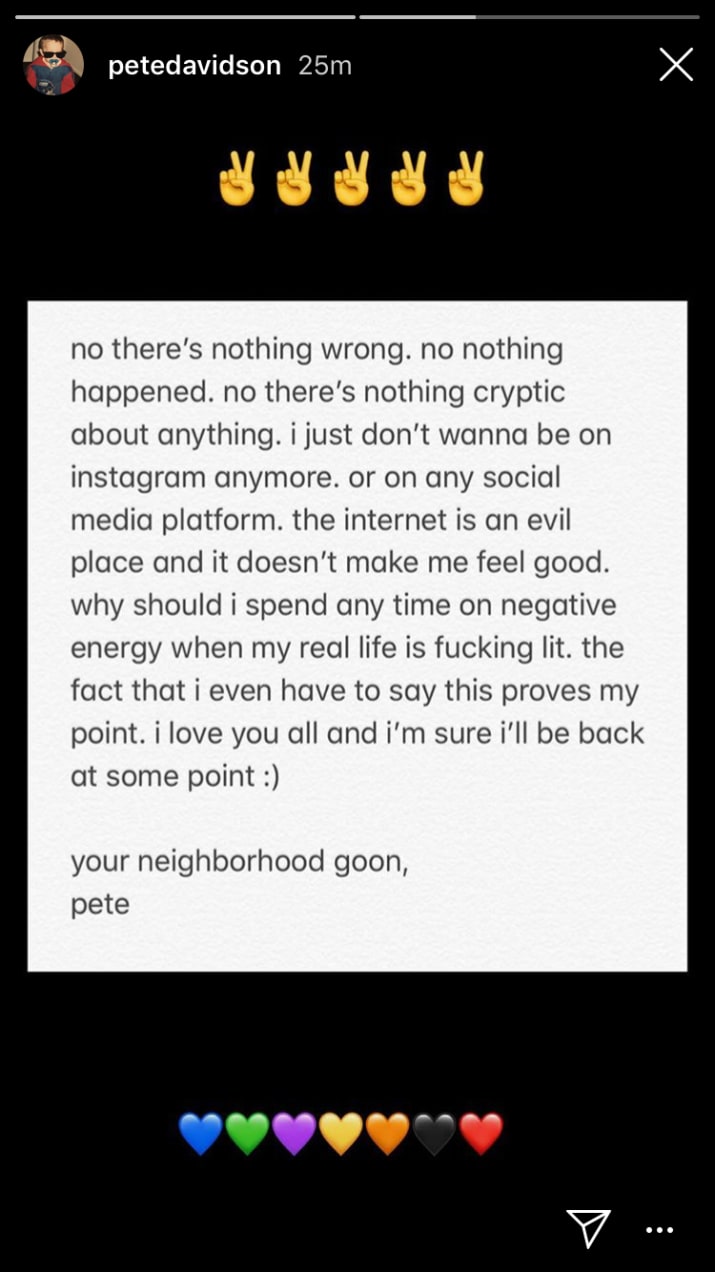 Pic: Instagram
> Download Our App For The Latest News On Ariana Grande And Pete Davidson's Relationship
Ariana Grande also joined Pete in taking a break from social media, after she responded to a fan who shared photos of her, and wrote "yeh ! i'm prolly gonna post on der for a little while & take a breather from twitter & ig for a little. just sometimes can't help but bump into some negative s*** that really can bum u out and it's not worth it honestly. [sic]"
yeh ! i'm prolly gonna post on der for a little while & take a breather from twitter & ig for a little. just sometimes can't help but bump into some negative shit that really can bum u out and it's not worth it honestly. promised i'd always tell you. i love u sm ! be well & happy

— Ariana Grande (@ArianaGrande) July 23, 2018