WATCH: Pete Davidson Reveals The Shocking Death Threats He Received For Dating Ariana Grande
25 September 2018, 10:49 | Updated: 25 September 2018, 11:15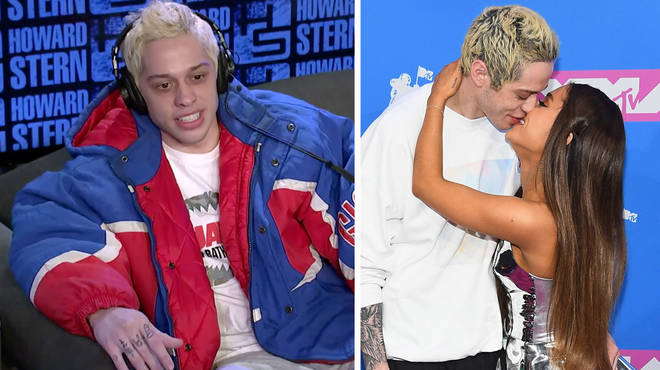 Ariana Grande's boyfriend received a shocking response to his relationship with the pop star.
It's not easy being a celebrity – as well as the great stuff that goes along with fame, there's also the darker side too, as Pete Davidson reveals he received actual death threats after he started dating Ariana Grande.
Ariana Grande Has Taken In Mac Miller's Pet Dog, Myron, After His Death
Pete spoke to Howard Stern about how he started dating Ariana, and revealed the abuse that led to him coming off social media.
He revealed, "It makes me feel weird about myself. If you want to find bad stuff about yourself you can, very easily. I got a death threat. Someone wanted to shoot me in the face. Because she's so hot. You know how insane that is? It's like, am I that ugly that people want to shoot me in the face? They're like, 'no, f**k this guy'. What did I do?"
Pete also revealed some very cute stories about how he met Ariana and how he thought he had made a terrible impression – meanwhile she went home and told her friends he was the man she was going to marry!
Pete revealed the couple got together after both breaking up with their long-term partners around the same time, "Timing, I feel like, is everything. We were both in a similar situation at the same time."
Pete revealed the first time he ever met Ariana in a writers meeting for her appearance on Saturday Night Live – but he felt like he made a fool of himself.
He revealed what happened, "Oh, dude, when she left, I was like, What a f**king idiot I am. 'Oh, good joke you pitched!' I don't even remember [what it was], I was just like staring at her."
Pete also revealed that it was Ariana's manager, Scooter Braun who had got the pair of them together, and describes dating Ari as, "I can't even not smile, it's like the weirdest, coolest thing that's ever happened.
"I feel like some people are meant to be together and some aren't, even if they are good people or not, some people just aren't good in relationships together and I just think we're supposed to be together."
Pete also revealed that he didn't understand why Ariana would choose him, explaining, "I tell her [that she's too good for me] every day. Before we started dating I literally scrolled through a list of really hot guys on the internet and I was like 'Are you sure, here's all of One Direction, are you sure?' I scrolled through everybody."
>Download Our Brand New App For All The Latest Ariana Grande News