Ariana Grande's New Album: 16 Things To Know... Including The Newly Released Tracklist
18 April 2016, 10:46 | Updated: 6 December 2018, 11:26
Your ultimate preview to what Ari's got in store on her BRAND new album 'Dangerous Woman', coming on the 20th May 2016.
Ariana Grande is officially back and ready to kickstart her new album campaign for her brand new album, after dropping the record's first single 'Dangerous Woman' and getting the #Arianators VERY excited about what's to come.
More and more details about from Ariana's third studio album have made itheir way into the light and we've put together every nugget of info you just HAVE to know.
1. It WAS called 'Moonlight'… but now Ariana's renamed it... 'Dangerous Woman'!
Originally Ariana was set on naming her new record after her favourite song but now she's revealed she's decided to change it to the name of ANOTHER song on the album that we had no idea about before!
Taking to SnapChat Ariana revealed it'll now be called 'Dangerous Woman'! Eeek, what do you think Arianators?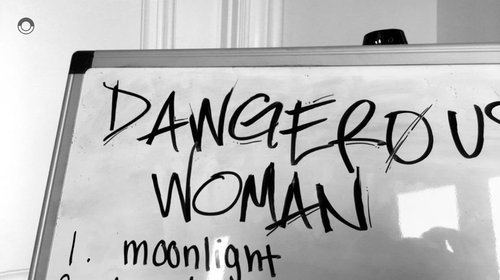 And guess what? The title track's video is SUPER STEAMY!
2. The official 'Dangerous Woman' tracklist has been released.
1. Moonlight
2. Dangerous Woman
3. Be Alright
4. Into You
5. Side To Side feat. Nicki Minaj
6. Let Me Love You feat. Lil Wayne
7. Greedy
8. Leave Me Lonely feat. Macy Gray
9. Everyday feat. Future
10. Sometimes
11. I Don't Care
12. Bad Decisions
13. Touch It.
14. Knew Better/Forever Boy
15. Thinkin Bou You
Ari released the news on her official Instagram page:
3. So, when is the album ACTUALLY being released?
After months of speculation from Ari's army:
Update- Ariana MoonLight rumored is to be released around early January 2016

— Ariana MoonLight (@SelqueenAri) November 10, 2015
i hope the rumors about Ariana's album moonlight coming out in January next year is true

— grace (@irwinthegrande) November 9, 2015
i hope that rumor that moonlight is coming out in january is true i wanna listen to ariana's masterpiece

—(@crystalsbutera) November 9, 2015
The date was finally set at 20th May 2016.
4. There are some absolute gems when it comes to hot collaborations.
Rap sensation Future, the legendary Lil Wayne, Macy Gray and last but DEFINITELY not least Nicki Minaj! The pair had previously collaborated on Jessie J's Vodafone Big Top 40 No.1 'Bang Bang'.
5. Expect some HUGE pop anthems along the lines of 'Problem' and 'Break Free'
Because Ariana's back working with superstar songwriter Savan Kotecha, the man behind both of her big 'My Everything' singles. Which is DEFINITELY a good thing. Watch this space...
6. The cover art for 'Dangerous Woman' is everything you'd expect from the new Ari.
First of all...where can we get our hands on our very own leather bunny mask, that thing is special. However you have to wonder how on earth she gets it on her noggin!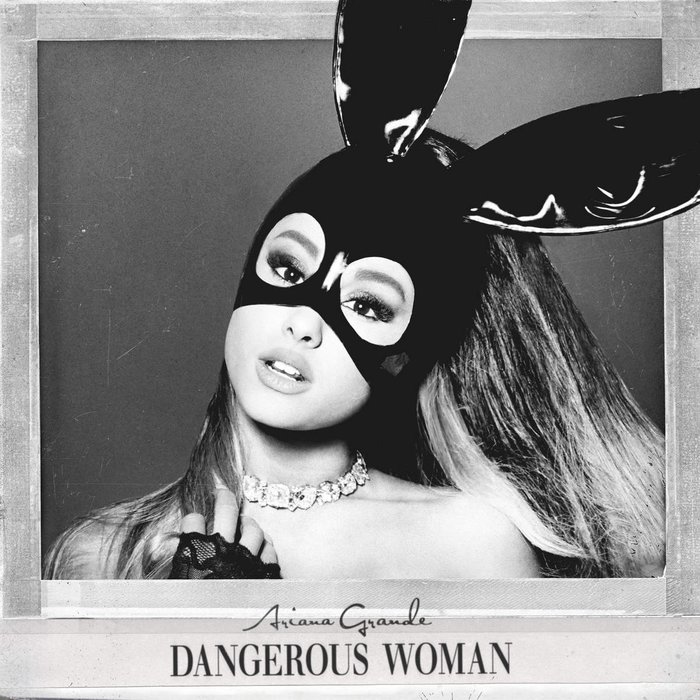 7. Ari's voice is still as epic as usual.
Miss Grande released this breathtaking a-cappella version of the title track 'Dangerous Woman' and it gave us SO MUCH LIFE.
8. Ariana will NOT be rushed. And we don't blame the girl!
"I'm going to take my time and make it the best I'm capable of. Sit tight, my babies," Ariana tweeted in earlier November.
I'm going to take my time and make it the best I'm capable of. sit tight, my babies. https://t.co/GhowSIl0ZH

— Ariana Grande (@ArianaGrande) November 2, 2015
9. We've got our fingers crossed for an anthem for the ladies out there!
Especially after she AMAZINGLY called out some interviewers recently for seemingly sexist comments. Don't cross Ariana!
10. Things are about to get VERY personal!
"'Moonlight' is very honest and special to me, I feel like this is the most personal music I've made, by far," Ariana told V Magazine. "I'm very proud of it and i'm very excited. It's scary, it's vulnerable and kind of terrifying."
11. The album DOESN'T all sound like 'Focus'… it was a "transition" track
"I feel like 'Focus' is the perfect transition record from the last album to the new album, because it sounds like 'Problem' 2.0," she told ET. "It sounds like the goodbye to the last album and hello to the new."
12. Plus be on the look out for which track Ari might nab Tom Felton for to star in the video!
They're about to become BFFs and we're SO on board with that.
I will 100000000000% take you up on this. https://t.co/rKdxwTJIwy

— Ariana Grande (@ArianaGrande) October 27, 2015
13. Don't expect Ariana to talk about her relationship with Big Sean… the star's in a happy place right now!
"You know, people found out [about it] quite a while after it actually happened," Ariana told V Magazine. "By the time I was writing the new album I had kinda moved on, it's not going to be captured on the album too much. I'm in a happy place.
"There aren't any break-up anthems because I had moved on," Ariana added. So there!
14. The lady's got secrets up her sleeve…
So watch this space #Arianators!
now you wonderin what else I've got up my sleeve? https://t.co/8fyTksqGNi

— Ariana Grande (@ArianaGrande) October 22, 2015
15. It's going to be even BETTER than 'Yours Truly' and 'My Everything'!
"It's my best album yet, it's like an evolution!" Ariana revealed to Access Hollywood in the summer. "It's like a progression and it feels very me, but it feels like a more evolved version, it's a little more forward."
16. 'Focus' is actually NOT on the album but its one hell of a song!
Ariana announced her return with this absolute banger of a track, guaranteed to get you on the dancefloor. Oh, and she's changed things up by rocking bright white hair in the video! But don't expect to see this on the actual album...'Dangerous Woman' will be the lead single.
You may also like...