"I Will Always Be There For Jeremy" Stephanie Davis Opens Up In Stunning New Twitter Rant
29 March 2017, 11:55 | Updated: 4 December 2017, 11:10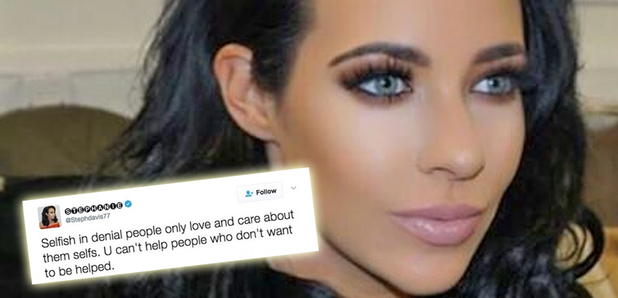 She made her feelings about the whole situation very clear...
Whilst the pair are not allowed to speak to each other directly due to the ongoing investigation into Jeremy McConnell's alleged assault of Steph Davis, the former Hollyoaks star won't be silenced and she's taken to Twitter to share a piece of her mind.
The Tweets were later deleted, but the star obviously had some thoughts that she wanted to share with people and they caused quite a stir on social media.
In her latest revealing outburst, Steph exclaimed, "You can only turn your life around when you want to be saved and be better for your self if not,live ur own vile selfish life & be unhappy."
"Selfish in denial people only love and care about them selfs. U can't help people who don't want to be helped. He had made the choice to block me after saviour paranoia (sic) and that's his choice not mine. But u can't help someone who needs to help them selfs! I will always be there for Jeremy. But he now needs to help himself."
Given the current status of their troubled relationship, admitting that she'll always be there for Jeremy is quite a big statement from Steph. She also addressed the recent reports that Jeremy had been dropped from Ex On The Beach following his recent arrest.
Writing to her followers, Steph went on to tweet, "I won't have anyone say anything bad about him. He has his own Desmond's to deal with. He decided not to fo ex for me and Caben."
'I wish him well despite blocking after his u forgivable behaviour. When he gets hel (sic) Help he will see that. He hasn't family left bar us. And he treats me like this. Devastating but I'll deal with it. As always."
Steph continued, writing, "U may call me a mug, but when u love someone your there for them. I may be worthless the way he's treated me but I believe he can be a Better person. I'll love him always and always be there but sometimes u have to be cruel to be kind. I hope he comes back the person I fell in love with [sic]."
She went on to quickly delete the flurry of tweets, but the content gives us a real insight into Steph's mindset right now. With the pair waiting to find out what will happen with the assault investigation, let's hope they manage to get their situation sorted out for the sake of their family.
You may also like...