The 21 Sexiest Music Videos Of 2015! Capital Turns Up The HEAT!
8 December 2015, 09:49 | Updated: 6 December 2018, 15:50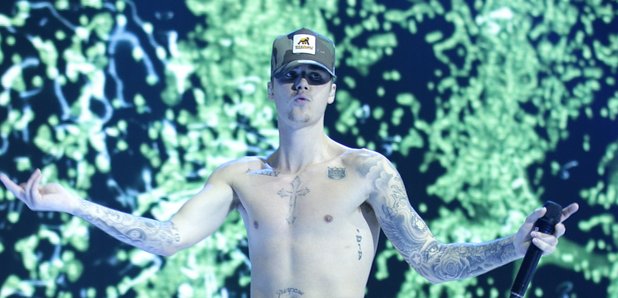 Winter's here, so we need to get hot with some of the steamiest music videos of the year so far.
Things are definitely hotting up in the Capital universe recently, and we're not just talking about the broken air conditioning in the office.
Block out your diary and take a look at 20 of the sexiest music videos to come out of 2015 so far.
Justin Bieber - 'What Do You Mean?'
So 2015 is officially the year that Beibs made his comeback and turned another billion people into Beliebers!
Dodgy deals, motel rooms and steamy scenes make 'What Do You Mean?' make this one of Justin's sexiest videos yet!
Pia Mia – 'Touch'
What innocently starts off as the 19-year old stroking her pet pooches ends with her and her scantily clad girlfriends raving in the middle of the street. And the lyric "So touch me" doesn't hurt, either.
Nathan Sykes – 'Over and Over Again'
Who can honestly say that they would want the 'Kiss Me Quick' singer to serenade them in a twinkling forest, while playing the piano?
There's something so sexy about Nathan's dating approach - from teaching a girl how to fish, to trips to the cinema… Not to mention the steamy topless scene!
Download 'Over and Over Again' on iTunes
Ariana Grande – 'Focus'
With legs like Ariana's, what music video of hers ISN'T sexy? You know it's going to be hot when the clip opens with close-up shots of her lips and the odd wink. Things only get better when the chorus hits and she's joined by her six equally-sexy backing dancers.
David Guetta Feat. Sia & Fetty Wap - 'Bang My Head'
The French DJ may not be the first icon you think of when talking about sex symbols, but David certainly turns up the heat in his latest video. Donning a suit and channelling his inner-James Bond, his AMAZING hit is dangerous and seductive. Awesome.
Download 'Bang My Head' on iTunes
Jason Derulo - 'Want To Want Me'
He's the man with abs of steel and charisma that just won't quit, so it's no surprise that Derulo's made the list. Just take a look at the video for appearances from "Topless Jason", "Suited-and-Booted Jason" and even "Getting It On Jason". Someone crack a window!
Download 'Want To Want Me' on iTunes
Rita Ora Feat. Chris Brown - 'Body On Me'
She's back, and she's brought a slice of RnB sex god with her! Rita's summer collaboration with Chris Brown, 'Body On Me', isn't just a sensual song, the music video is a steamy little number too!
Download 'Body On Me' on iTunes
Alex Adair - 'Make Me Feel Better'
Alex Adair mustn't have the same confidence in the sexiness department as Jason Derulo, so he's enlisted some female help in his debut video.
Not only do these ladies ooze sex appeal, they don't leave much to the imagination with their outfits - come on, just LOOK where those hands are touching!
Download 'Make Me Feel Better' on iTunes
Flo Rida feat. Sage The Gemini - 'G.D.F.R.'
Revealing top? Dripping sweat? Slow-mo moves? The sex appeal isn't lacking in the video for 'G.D.F.R.', and that's just Flo himself! Throw in his usual harem of honeys going down (for real) in skimpy outfits and showing off their full-contact basketball skills, and you've got us VERY hot under the collar.


Ne-Yo - 'She Knows'
Ne-Yo's another one that never fails to hide his adoration of the female form - and the video for 'She Knows' is no exception. Now we don't know exactly where he buys his groceries, but in Ne-Yo's universe supermarkets have pole dancers down every aisle. We've not seen down our local Morrisons!
Download 'She Knows' on iTunes
Sia - 'Fire Meet Gasoline'
Considering how much she disguises herself during public appearances, you'd be surprised to see Australian singer Sia in this list - but just watch her video for 'Fire Meets Gasoline'.
Supermodel Heidi Klum takes centre stage in the most intense music video romance we've seen since Megan Fox and Dominic Monaghan in Eminem & Rihanna's 'Love The Way You Lie'.
Download 'Fire Meet Gasoline' on iTunes
Demi Lovato - 'Cool For The Summer'
We're quite grateful for British summers being notorious for the odd downpour, because we definitely need hosing down after seeing Demi writhing around like that. Phew.
Download 'Cool For The Summer' on iTunes
Iggy Azalea & Jennifer Hudson - 'Trouble'
There's something sexy about women in power, so Jennifer Hudson in a policewoman outfit is definitely one to fulfil your uniform fetish! Just wish we could say the same for the male prisoner.
Ellie Goulding - 'Love Me Like You Do'
We couldn't make a list of sexy videos without including the lead track from the raunchiest movie of the year. Ellie's track was taken straight from the Fifty Shades Of Grey soundtrack, so it's no surprise there's some 'special' scenes from the movie right in the video.
After all, Rihanna said it best... "Whips and chains excite me!"
Download 'Love Me Like You Do' on iTunes
Pitbull & Ne-Yo - 'Time Of Our Lives'
This is where we know our lives are VERY different from Pitbull's & Ne-Yo's. When we get to the end of the month and can't afford rent because we over did the Prosecco on payday, we either dig out the credit card or call the bank of mum and dad.
In their alternate universe, they throw a raging house party with scantily clad women shaking EXACTLY what their mama gave them to get tips and pay the rent. We might have to try that next month (after a few more Zumba classes).
Download 'Time Of Our Lives' on iTunes.
Tough Love - 'So Freakin' Tight'
Normally a bloke walking around in a pair of budgie smugglers wouldn't make our list, but after the rise of the 'dad bod', how could we NOT include 'So Freakin' Tight'?
Download 'So Freakin' Tight' on iTunes
Natalie La Rose feat. Jeremih - 'Somebody'
The '90s were infamous for down and dirty RnB, and Natalie La Rose's video for throwback is giving us some serious Brandy vibes!
We don't know whether it's the denim jeans and cropped jumper combo, or seductive dance moves, but there's definitely SOMETHING that makes us think Natalie is one to watch in 2015!
Download 'Somebody' on iTunes.
Pep & Rash - 'Rumors'
So what starts off as a seemingly sophisticated masquerade suarée soon turns into a raunch-fest. Expect animal masks, lace underwear and some serious grinding. Sign us up!
Nick Jonas - 'Chains'
Remember the days when Nick Jonas was a purity ring-wearing, innocent Disney kid? Well those days are definitely gone!
After a number of topless modelling campaigns, Nick is turning in to one of our go-to hunks when we hit hump day. His video for 'Chains' has proves that he's no longer BFFs with Mickey Mouse, as he much prefers the company of women who definitely know how to flaunt it (and wear as little as possible!).
Zedd & Selena Gomez - 'I Want You To Know'
Another former child star who's successfully shaken her innocent image. Selena came 7th in our list of the sexiest pop stars of 2014, and she's not afraid to flaunt it in her collaboration with Russian-German DJ, Zedd.
Ms Gomez leaves little to the imagination as she shakes what her mama gave her on the dance floor. Luckily for Selena (and any guys watching this), there's no awkward scenes of the pair together. It's like she KNEW they'd be breaking up not long after it was filmed (so yes, guys, she's available!)
Download 'I Want You To Know' on iTunes
Tove Lo - 'Talking Body'
If Kanye West and Kim Kardashian have taught us anything, it's that riding on a motorbike is SEXY! So Tove Lo's 'Talking Body' isn't quite as raunchy as 'Bound 2', but it's a start. Maybe Swedish people are a bit more reserved than their American counterparts?
Download 'Talking Body' on iTunes.
You May Also Like...