Royal Wedding: Who Is Performing For Meghan Markle And Prince Harry?
16 May 2018, 06:27 | Updated: 17 May 2018, 14:28
Meghan Markle and Prince Harry's royal wedding is upon us but who are performing for the royals? From Ed Sheeran, to the Spice Girls and even Stormzy, here is the rumoured line up for the big date.
Meghan Markle and Prince Harry's highly anticipated royal wedding is here and one of the important details is who is performing for the new Mr and Mrs.
Sure to be one of the biggest performances of their career, artists including Ed Sheeran, the Spice Girls, Adele and many more have been rumoured to be a part of the royal wedding day.
Here's who could be performing for Meghan and Harry on May 19.
> Create An 8 Song Playlist & We'll Tell You If You'll Ever Get Married
Spice Girls
As you can see in the vidseo above, Mel B appeared on American show The Real and was asked whether she knew anyone attending the royal wedding, replying, "Yeah, I'm going... I don't know if I should've said that!" Quizzed on whether she knew if anyone else was going, she admitted, "Well us five Spice Girls... why am I so honest?"
When talk turned to a possible performance by the ladies, Mel responded, "This is where I'm just like... I need to go. I'm going to be fired!"
Royal Wedding Performer Likelihood: Pretty Much Confirmed
Ed Sheeran
If you believe everything you read, Ed Sheeran is guaranteed to play the royal wedding this year. Of course we can't be 100% sure that he will, but he seems the most likely so far.
One source even told Us Weekly that, 'Prince Harry has personally requested Ed perform at his wedding' and when Ed was directly asked about playing the wedding whilst he collected his MBE, the singer responded by saying, "Yeah, why not."
Royal Wedding Performer Likelihood: Strong Chance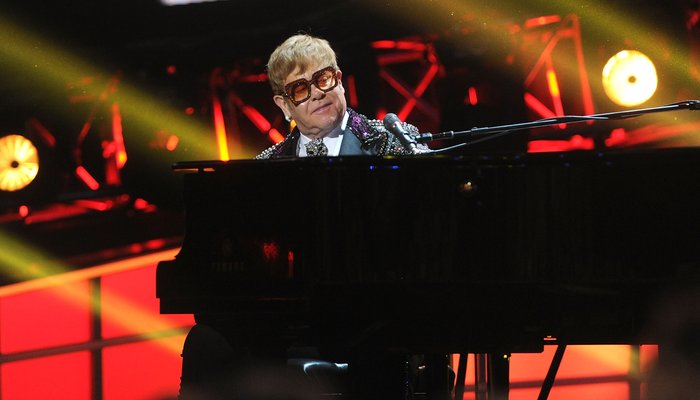 PIC: Getty
Elton John
According to new reports, Elton John will be performing to Meghan and Harry's wedding guests.
The news has yet to be confirmed by the singer – who performed at Princess Diana's funeral – but he has cancelled two scheduled Las Vegas gigs leaving him totally free for the wedding.
Royal Wedding Performer Likelihood: Strong Chance
Adele
The 'Hello' star turned down the opportunity to perform at Harry's brother William's wedding to Kate Middleton, but would she be able to refuse again if she was asked to perform at the royal wedding?
Adele retired from touring only last year in order to spend more time with her family, so performing may not be high on her agenda. Then again it is only one day!
Royal Wedding Performer Likelihood: Could Be A Front Runner
Stormzy
In the past it's been claimed that Prince Harry is a big fan of Dubstep, so with a clear love for contemporary music, who else would get the call to perform at the royal wedding other than the man of the moment, Stormzy!
As the people's champion, Stormzy would be a popular choice amongst the public and would be a bit of a surprise for the royal family. 'Blinded By Your Grace (Part 2) would deffo go down a treat for the first dance though.

Royal Wedding Performer Likelihood: Outsider's Favourite
Ellie Goulding
As a close friend of the royal family, Ellie Goulding would be a great bet to perform at the royal wedding. She performed 'Your Song' for Prince William and Kate Middleton's first dance though, so Harry and Meghan might not wanna repeat the same thing.
With a host of total anthems in her locker, there's nothing stopping Ellie from performing one of her other classics, so we're not completely ruling out an appearance.
Royal Wedding Performer Likelihood: Probably Not Tbh
Harry Styles
He's got the wardrobe to pull off a royal wedding suit. He's got an album full of songs to call upon. Harry Styles actually sounds like a great choice!
Having the same name as the groom could affect his chances though as Prince Harry won't want any confusion on his big day, so that could see any hope of a Styles' appearance crushed.
Royal Wedding Performer Likelihood: Don't Count On It
Sam Smith
He's written and performed a James Bond theme, so the next logical step for Sam Smith is to perform at a royal wedding, right!?
When asked about performing on the big day, Sam told a tabloid that he'd love to before adding, "I'd have to wear a dress and a crown, though!", so who knows what might happen!
Royal Wedding Performer Likelihood: Pretty Likely
Cardi B
With an American bride, could we expect to see an American rapper serenading the happy couple on their big day?
When asked about performing at the royal wedding, 'Bodak Yellow' star Cardi B revealed, "I'm a fan of their whole story. I'm a fan of the fact that it's just like people still stuck to that tradition of royal kingdoms and everything. That doesn't happen in America. I'll just do it, 'cause it's like, 'Oh snap!'"
Royal Wedding Performer Likelihood: Don't Bet On It
> Download Our Fancy New App For All The Latest News & Gossip From These Royal Wedding Hopefuls!
Whilst you're here, check out this little story about the happy couple...