KSI's Gym Routine: The YouTuber's Impressive Transformation Ahead Of His Logan Paul Fight
18 July 2018, 12:53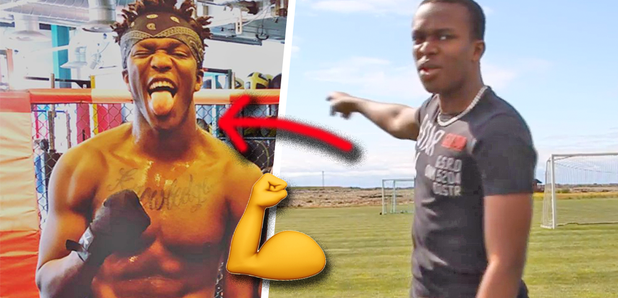 KSI vs Logan Paul is scheduled to be one of the most exciting events in internet history and the British YouTube star has certianly been on an impressive journey to make sure he's victorious!
The upcoming KSI vs Logan Paul boxing match on the 25th August at the Manchester Arena will be the biggest event in YouTube history and will certainly overtake the 1.6 million viewer count of the Weller vs KSI fight back in 2017.

Whilst most people have been focussing on the current state of the two fighters and how they shape up now, most people aren't aware of the journey that KSI's come on to get to the incredible physical condition he's currently in.
> KSI & Logan Paul Are Set To Face Off At Their UK Press Conference TODAY
It's a known fact that Logan Paul has been an athlete since a young age and has also had some experience in the fighting side of sport from his old wrestling days, however the transformation KSI undertook in the 4 month wait for the Joe Weller fight certainly shows his determination and his passion to always be a winner and come out on top.
As a YouTube star in the early days, KSI spent most of his time either in front of the camera or editing his content and as someone who started off his career as a gamer, gym time may have been a difficult thing to bring into daily life.
However, as soon as the Weller fight was official, he knew that in order to become a champion he'd have to work the hardest he'd ever worked himself before - 4 months is not a long time to cut down and tone up in the way that he did!

In an interview with Coach Magazine, KSI explained how he went from not really caring about his workout life to being in a state of mind where, if he didn't work out, he would become self-conscious and even feel down about missing out.
KSI revealed, "It makes you feel better about life, that's the main thing. If I don't work out I just feel depressed and start looking at my belly…".
In the interview KSI also revealed his workout routine, claiming he does around 2000 metres on the rowing machine, a session of weights and then finishes off with skipping for about 300 skips, rating himself at a 6 on a fitness scale of 1 – 10 at the time.

During his earlier YouTube days, KSI showed a clear passion for football, becoming a well-known FIFA player and sharing a decent number of videos playing football with the Sidemen on his channel and it's clear that his passion of for the last 18 months or so has certainly been boxing.
A key element to his training routine ahead of the Joe Weller fight was the involvement of explosive exercises that are tailored to improving the fitness of a boxer, including HIIT training (High Intensity Interval Training).
HIIT Training mimics the intensity of a boxing match as opponents don't fight at a constant rate but in more explosive pockets, battling each other for the duration of the rounds and matches.
It's the perfect style of training for KSI to greatly improve his fitness and to get himself into the explosive fight mentality and from the videos he's posted online in 2018, it appears he's entered an even more intense workout ahead of the Logan Paul fight.
> Download Our Free App For All The Latest KSI vs Logan Paul News!