People Praise Kim Kardashian For Being 'Real' After Unairbrushed Pics Of Her Emerge
25 April 2017, 11:40 | Updated: 4 December 2017, 11:10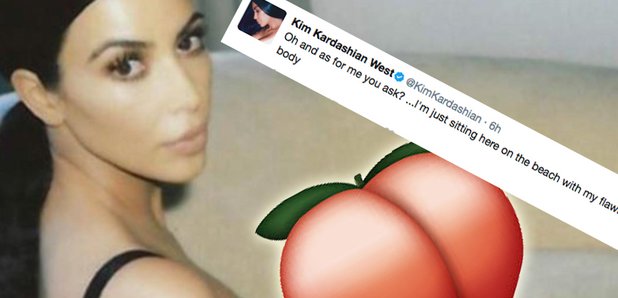 News flash… the Kardashians aren't immune to cellulite just like us normal people.
It's fair to say Kim Kardashians body is probably the eighth wonder of the world, but even her iconic booty doesn't come without its haters – and her fans have praised her for being 'real' after unairbrushed photos emerged of her on the beach.
The snaps show Kim with some cellulite – just like every normal woman, however skinny, has – and the star also revealed that one of her friends who she was on holiday with had 'fat shamed' her for wanting to have an Oreo milkshake.
. @jenatkinhair spiked my Oreo shake to try to get me to not eat it because she's fat shaming me

— Kim Kardashian West (@KimKardashian) April 25, 2017
Oh and as for me you ask? ...I'm just sitting here on the beach with my flawless body

— Kim Kardashian West (@KimKardashian) April 25, 2017
mood #FuckYouJenAtkin pic.twitter.com/fR5AFAvyAe

— Kim Kardashian West (@KimKardashian) April 25, 2017
Fans were quick to rally around Kim for showing the unedited side to herself, and owning the fact that even her body isn't 'perfect'.
Yall are shocked that Kim Kardashian is human and can also have cellulite or?

— Saved Flower (@Mizzpeehkay) April 25, 2017
@YassssBitchhh @KimKardashian What's imperfect about that? Anyone with curves like her is bound to have cellulite and she rocks it, bore off

— Megan (@megswojcik) April 25, 2017
@arabianmonsta @KimKardashian stop reaching she's a woman for god's sake she can have cellulite and be flawless

— adrien (@celinefw13) April 25, 2017
Kim Kardashian is still 20x time more banging than all these trolls on my Facebook slating her for having cellulite GOD FORBID

— Sophie (@Sophie_LScott) April 25, 2017
@finna_suicide @YassssBitchhh @KimKardashian Shocker someone with no kids, "skinny" with cellulite don't see why it's wrong for her to have some. The skinniest can have it

— Nubia. (@Lovenubii) April 25, 2017
Hats off to Kim kardashian showing her cellulite offf. There is a god. Time they stopped photo shopping show us real women.

— joy (@rennojo) April 25, 2017
@KimKardashian Who doesn't have a bit of cellulite, FFS get over it people...... bet the queen has some as well. Body shaming anyone is low

— Natasha Ricketts (@bouncingbunny) April 25, 2017
Aside from the fact that cellulite is totally normal and practically impossible to avoid, we reckon Kim still looks fantastic – and the haters are clearly jealous of her world-famous figure!