Demi Lovato Hits Back After Claims She Copied Cara Delevingne For Her New Lion Tattoo
27 April 2017, 12:48 | Updated: 4 December 2017, 11:10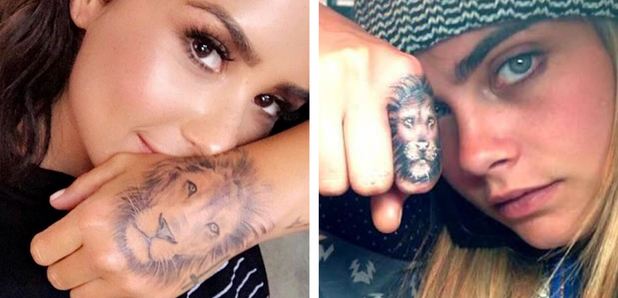 Cara even replied to her!
Ok so let's set the scene. Demi Lovato gets a tattoo - nothing new there. Demi's got a few other pieces of ink decorating her body already, so it's not a surprise that she's got another one.
However, that new tattoo that Demi has got is of a lion. Check out the picture below...
@ddlovato pic.twitter.com/1eBRY9Ot13

— XO (@IamHR2512) April 26, 2017
Looks pretty cool right?
Well it turns out that both Justin Bieber and model/actress Cara Delevingne also have lion tattoos (along with millions of other people across the planet), but people have been claiming that Demi has copied the pair. The singer got so annoyed with the whole thing that she felt the need to speak out about it and took to Twitter...
You can't get a tattoo these days without someone saying you've copied someone or you're "matching" someone. That's not the case folks.

— Demi Lovato (@ddlovato) April 26, 2017
After Demi had her say on the whole thing, Cara quote tweeted Demi and backed up her thoughts on the situation...
I agree! Being inspired is a positive thing x https://t.co/m5UDl0anzr

— Cara Delevingne (@Caradelevingne) April 26, 2017
Why would Demi Lovato copy both Justin Bieber and Cara Delevingne on purpose? She's always had her own style and has lived her own life, so to suddenly decide to copy two other celebs intentionally wouldn't make sense at all. Demi also has a song called 'Lionheart', so surely she's more than qualified to have a lion tattoo!
Fans were quick to hit back at people saying that Demi had copied anyone and stuck by their idol...
@ddlovato How dare you breathe, sleep, eat, drink water? Stop copying the world smh, I'm tired of you always copying people. Be original smh pic.twitter.com/2dHXt17wv9

— (@demiftzustin) April 26, 2017
@ddlovato I'm in love with your new tattoo to be honest and I don't think you copied someone at all. that's ridiculous people are just bored

— natalia. (@myshamelessdemi) April 26, 2017
@ddlovato I loved your new tattoo, you should ignore the enemies. pic.twitter.com/f56slDU7rr

— ste loves demi (@lovesdewetria) April 26, 2017
So next time a celeb gets a tattoo that slightly resembles another celebs' ink, maybe leave them to it, ok?
You may also like...