Charlotte Crosby's Forced To Deny Being Banned From Discussing Ex Gaz Beadle To Save Her Relationship
30 August 2017, 14:48 | Updated: 4 December 2017, 11:10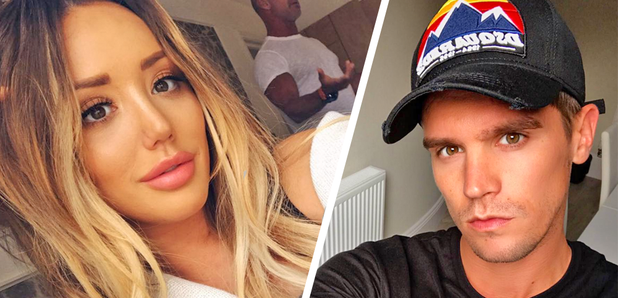 "Ever day I read a new LIE"
In the last few weeks, Charlotte Crosby and Stephen Bear have been on a bit of a rollercoaster.
After they both posted various social media messages about splitting up and then seemingly getting back together, news emerged today that Bear had reportedly banned Charlotte from talking about her ex Gaz Beadle in order to save their relationship.
> Charlotte Crosby Shares First EVER DMs With Stephen Bear & They're Hilariously Brilliant
Speaking to one tabloid, a source apparently claimed, "Part of the reason they're back together is that Charlotte's agreed not to speak about her ex, Gaz, either on TV or in private. Bear gets SO jealous and has real issues about Charlotte's exes."
"It makes him insecure every time Gaz is bought up, despite the fact Gaz and Charlotte have moved on and she'd never do anything to hurt Bear. He just hates when her past is bought up – it really makes him upset."
But the reality star has now hit back to deny the claims that she has these new rules placed on her if she's going to stay with Bear.
In a tweet, Charlotte lashed out at the stories reporting the story and appeared to claim the whole thing was fake news.
She wrote, 'Every day I read a new LIE. You have a chheek to call your self a newspaper...More like joke book mate (sic)'...
Everyday I read a new LIE
You have a cheek to call your self a newspaper.....More like joke book mate

— Charlotte Crosby (@Charlottegshore) August 30, 2017
Current Geordie Shore star Zahida Allen was quick to jump to Charlotte's defence and claimed the content of the stories written about her was 'embarrassing'...
So embarassing for the person who's wrote the article & called it an "EXCLUSIVE" .. it says her name on the top of the article. What a mug

— Zahida Allen (@xZahida) August 30, 2017
Charlotte's followers also jumped to her defence and stated that they know 'the truth' about the couple's situation...
The people who really care about you and Stephen don't believe that ridiculous stories anyway

— bearandchar (@bearandchar) August 30, 2017
We still love you girl

— O N F L E E K ! ! (@breffini_m) August 30, 2017
Just like Chinese whispers truth can only come from the source

— Billie (@BillieMitrovic) August 30, 2017
So far Bear is yet to speak out on the whole thing, but Charlotte has made sure the reality of their situation is firmly out for all to see!
The rollercoaster rides on it seems.
Whilst you're here, remind yourself of the time Charlotte took us on a tour of her incredible pad...
Head on into the Capital app for all the latest celeb gossip and all the biggest music hits!