From Ariana Grande To Will Smith - Here's EVERYONE Taking Part In 'Carpool Karaoke: The Series'
23 August 2017, 12:16 | Updated: 4 December 2017, 11:10
With stars ranging from WWE wrestlers to Game Of Thrones' actors, there's not a single episode you'll want to miss.
The first thing we know about the new series is that it is going to be EPIC. Just looking down the list of celebrities that are due to feature on the show is enough to make your eyes water with excitement.
We even have a lengthier clip of the incredible Ariana Grande and Seth McFarlane doing their thing in the now-famous car. They're basically BFFs & we want to be in their squad!
> WATCH: James Corden Got The Surprise Of His Life With A Sweet Reunion In The Back Of A Cab With Roman Kemp!

Following a recent trailer, whereby pretty much every A-lister raves to 'Get Up Off That Thing', we get a glimpse of all the faces we can expect to see on 'Carpool Karaoke: The Series' include - *deep breathe* - John Legend, Alicia Keys, Ariana Grande, Metallica, Shaq, Miley Cyrus, Will Smith, Chelsea Handler, Miley, Noah, Billy Ray and the entire Cyrus family, Shakira, Trevor Noah, WWE star John Cena, 'Game of Thrones' stars Sophie Turner and Maisie Williams, Queen Latifah, Jada Pinkett Smith, Seth MacFarlane, Billy Eichner, Blake Shelton, Michael Strahan, Jeff Gordon and Taraji P. Henson.
And then some.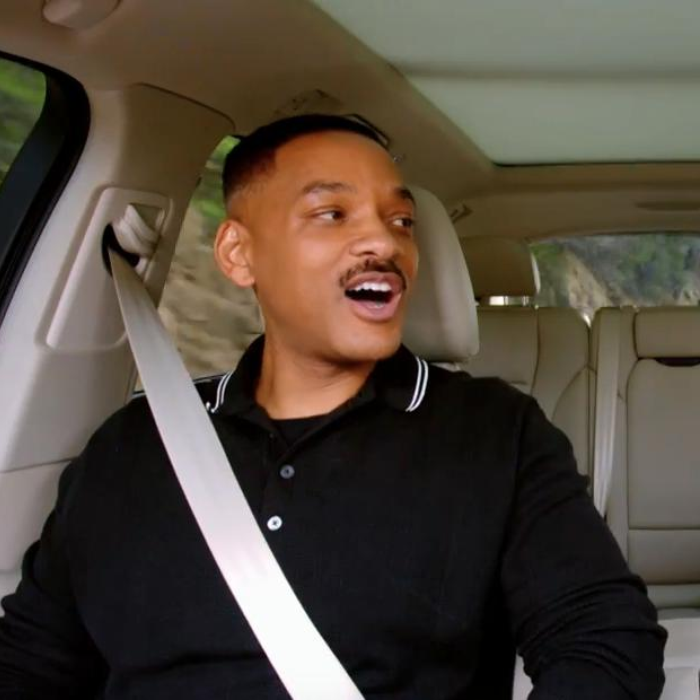 PIC: Apple Music
Recently 'Game Of Thrones' icons Maisie Williams and Sophie Turner confirmed their appearance. The pair posted the clip on the show's official Twitter page.
STARKpool Karaoke? Lane of Thrones?@SophieT and @Maisie_Williams from @GameOfThrones are shooting a #CarpoolKaraoke for @applemusic! pic.twitter.com/hmJjRqBlnc

— Carpool Karaoke (@CarpoolKaraoke) March 12, 2017
The show will be made available exclusively on Apple Music and YES, it will star the man who co-created the show, James Corden! The first full-length trailer dropped on 12th February 2017 and has left us wanting more!
> WATCH: James Corden Ditches Carpool Karaoke And Gets Random Strangers To Join Him In A Huge Conga Line
The show, of course spawned from the most viral segment in TV history from James Corden's 'Late Late Show', where pretty much every star in the world has appeared.
> Imagine Cruising With Your Fave Tunes Blaring Out Like Your Own Carpool Karaoke. Well, You Won't Need To Imagine It With Our App, FYI.
The show's official Facebook page states, "Each episode of the series will be its own event, featuring two new celebrities each week. We will tap into every area of celebrity and pop culture life, featuring drivers and passengers who want to jump in a car and hit the road to talk about their life and loves. This series will also incorporate the best elements of a road-trip, as our pair drive around town, stopping at locations that are important, meaningful or just plain fun to them."
Adding, "Crucially, each artist will bring their personal playlists along for the ride as they sing their hearts out to their favorite tunes, past and present." We can't wait to find out what Will Smith has on his playlists (deffo Men In Black).
And if you liked Bruno Mars' Carpool Karaoke, you kinda have us to thank. Just sayin'.