Blac Chyna Slammed For Promoting 'Whitenicious' Skin Lightening Cream For $250 A Tub
20 November 2018, 10:54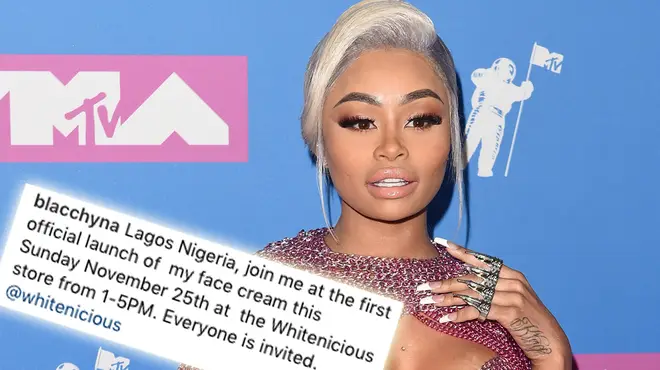 Rob Kardashian's ex is promoting the launch of the product in Nigeria and has come under fire from fans for encouraging people to try and change the colour of their skin.
Blac Chyna has come under fire from fans for promoting a skin lightening cream to her followers from Nigeria.
WATCH: Khloé Kardashian Struggles With Cheating Revelations After True's Birth
Rob Kardashian's ex posted on Instagram encouraging people to join her at the launch of her new skin lightening cream 'Whitenicious X Blac Chyna Collection Diamond Illuminating & Lightening cream', but faced backlash for promoting "skin bleach".
The cream costs $250 per Swarovski crystal encrusted 100g tub, and is apparently something Chyna has used to get rid of pigmented patches on her skin.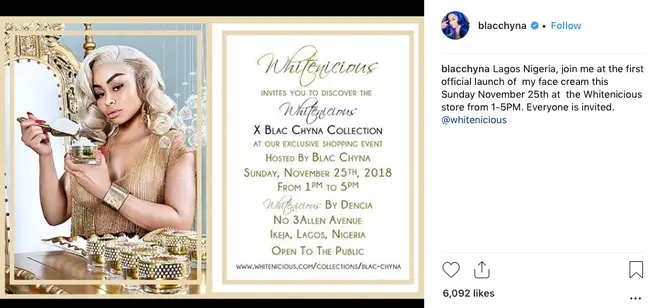 Her reps told TMZ, "Blac Chyna has been using Whitenicious dark spot corrector for a few years to deal with her hyperpigmentation. She felt this was a good deal for her because a lot of women of colour suffer from skin issues."
Fans were quick to voice their opinions about her latest deal, as skin lightening creams have come under fire for promoting lighter skin as being more desirable.
The fact @BLACCHYNA is going Africa to sell bleaching cream makes me sick. People like her is whats wrong with the world. No morales *disgusting* call yourself WhiteChyna at this rate

— Meeks (@MeeksCandiace) November 20, 2018
So Blac Chyna is going to Nigeria to promote a bleaching cream, wow. All the comments are turned off lol. I would really have loved to read them all.

— Princess (@ElmaGyan) November 20, 2018
Why's blac chyna going to Lagos to sell/promote bleaching cream.... is she ok? That better be a sick joke

— Jessica 👑🇬🇭 (@jwalkincloset) November 20, 2018
I love how #BlacChyna is going to Africa to sell her stupid ass lightening cream. That shit is poison, Africans need to wake up. You don't look cute walking around looking like a damn leopard. Smfh

— ✨𝕰𝖉𝖒3✨ (@Deeyaloo) November 20, 2018
Lol Blac Chyna has become a bleaching cream ambassador. Oh you broke huh?

— alice (@PoptartsXO) November 20, 2018
blac chyna selling bleaching cream? like... gross.

— Ms Universally Specific (@Gota_de_L1uvia) November 20, 2018
@BLACCHYNA Ssooo this bleaching cream you're doing to lighten your skin.... News flash YOU CAN'T BE CALLED BLAC'CHYNA NO MORE!! YOUR BLACK CARD IS REVOKED SMH JUST FAKE EVERYTHING FOH #TRADED

— ItsTwinTwin (@ItsTwinTwin) November 20, 2018
Blac Chyna is having a skin bleaching party in Nigeria. How very problematic!

— Princess Ash (@StoneColdAshley) November 20, 2018
disgusted blac chyna has done a whitening cream but not surprised.

— 💎Vanessa Bling/Gaza Slim💎 (@bethanylydia_x) November 20, 2018
Chyna has yet to comment on the controversy directly, but posted, "So my children aren't supposed to live the same lifestyle as their fathers etc etc ha?
"As a single mother, I provide for them and give them the luxury lifestyle they deserve…. WOW" two hours after her original post, seemingly defending her actions.
> Download Our Brand New App For All The Latest Kardashian News