This Is 100% The Greatest Harry Potter Tattoo You'll Ever See...And We're Not Kidding
9 March 2017, 15:45 | Updated: 4 December 2017, 11:10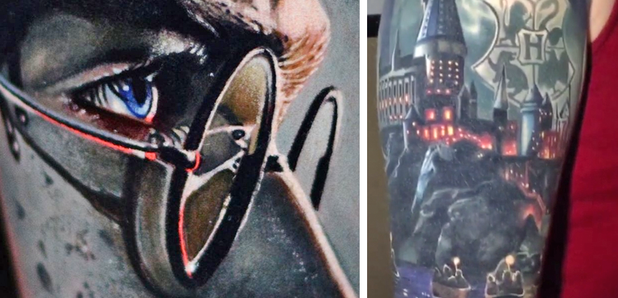 Yeah...so this is the best thing we've ever seen. EVER!
Tattoos can be a thing of beauty, or they can be really, really crap.
If you go to the right tattoo artist though, you can potentially get a work of genius inked into your bod and that is exactly what one Harry Potter fan now has on his entire arm.
Heather Brown is a major Potter fan and she decided to get a homage to the wizarding world tattooed onto her arm, but we can bet she never imagined it would turn out this well!
How insanely incredible is that!?
The tattoo was designed and inked by supremely talented Ben Ochoa, a tattoo artist who works with Black Anchor Collective in LA. He's designed and worked on some pretty amazing pieces over the years, but this magical piece is our favourite by far.
Heather has posted regular updates of the tatt on her Instagram page showing the process of it being created - a process which began 32 weeks ago and apparently isn't even finished yet!
Check out some of the other tattoos Ben has worked on in recent times...
This guy is an absolute Tattoo G.O.A.T!
So if you thought your mate had the best Harry Potter tattoo around, you might want to think again.
You may also like...