All The Frame-Worthy Photos From Inside The Met Gala 2023
2 May 2023, 16:28 | Updated: 5 May 2023, 16:01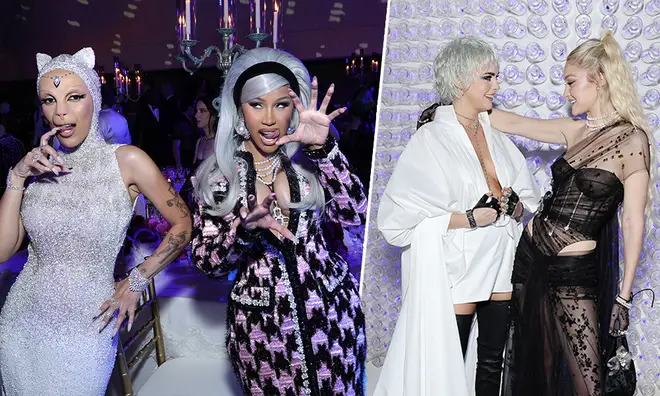 A look inside the star-studded Met Gala 2023 after the high-profile guest list walked the red carpet.
A string of the biggest names in music, fashion and TV graced the Met Gala 2023 with some jaw-dropping looks on the red carpet.
But what happened after they posed on those iconic stairs? Well, the fun certainly carried on after the likes of Rihanna, Kylie Jenner, Kim Kardashian, Lizzo, Doja Cat, Lil Nas X, Jenna Ortega and many more walked the red carpet and headed into the event.
Every Time Rihanna Has Stolen The Show At The Met Gala Over The Years
All Of The Met Gala 2023 Looks That Left Us Absolutely Speechless
The star-studded guest list proved that they work hard and play harder as they appeared to be having the time of their lives at this year's annual fundraiser gala, which this year, honoured the late Karl Lagerfeld with the theme 'A Line of Beauty'.
Let's take a look at what went down at this year's Met Gala and all of the pictures going viral from inside the event…
Former couple Kim Kardashian and Pete Davidson caught up at the Met Gala whilst chatting away to Usher

Kim Kardashian, Pete Davidson and Usher at the Met Gala 2023.

Picture: Getty

Kendall Jenner and Gigi Hadid recreated their iconic red carpet hand-hold from the Met Gala 2021

Kendall Jenner and Gigi Hadid at the Met Gala 2023.

Picture: Getty

Doja Cat and Cardi B tapped into their feline energy at the fashion event

Doja Cat and Cardi B at the Met Gala 2023.

Picture: Getty

All eyes were on Rihanna and A$AP Rocky even after their red carpet entrance

Rihanna and A$AP Rocky at the Met Gala 2023.

Picture: Getty

Gigi Hadid and Lizzo had the time of their lives dancing the night away

Gigi Hadid and Lizzo at the Met Gala 2023.

Picture: Getty

The Kardashian sisters posed for pictures with Jared Leto, who honoured Karl Lagerfeld's cat, Choupette

Kim Kardashian, Kendall Jenner, Jared Leto and Kylie Jenner at the Met Gala 2023.

Picture: Getty

Cara Delevingne and Gigi Hadid got lost in conversation at the Met Gala

Cara Delevingne and Gigi Hadid at the Met Gala 2023.

Picture: Getty

Robert Pattinson and Suki Waterhouse made their Met Gala debut as a couple

Robert Pattinson and Suki Waterhouse at the Met Gala 2023.

Picture: Getty

Jimmy Fallon, Gigi Hadid and Karen Elson were cracking up at the event

Jimmy Fallon, Gigi Hadid and Karen Elson at the Met Gala 2023.

Picture: Getty
> Here Are All The Ways You Can Listen To Capital