9 Best Super Bowl Halftime Show Performances EVER - From Beyonce To Katy Perry & Bruno Mars
2 February 2017, 16:20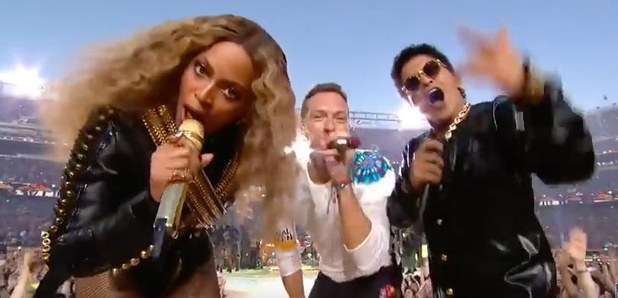 It's one of the most iconic events in sports and music - so why not relive the best ever Super Bowl Halftime Show performances!
It's one of the biggest shows of the year, when the worlds of sport and music combine and it's always unmissable - the Super Bowl Halftime Show has brought some of the most incredible performances of all time... so let's take a look back, shall we?
When Katy Perry introduced the world to 'left shark'
Kicking off her performance at 2015's event. Katy rode in on the back of a giant mechanical lion and brought out special guests in the form of Lenny Kravitz and Missy Elliott... but the show was really stolen by none other than 'left shark', one of her costume-clad dancers who just could NOT keep in time and became a viral superstar.
Coldplay brought Beyonce AND Bruno Mars out for their turn on the stage
With one of the most uplifting openers to the Super Bowl, Coldplay brought colour to 2016's show - and even managed to bag not only Bruno Mars but BEYONCE to join them on stage too.
Beyonce's set was never going to be anything less than amazing - and Destiny's Child came out too!
Performing some of her most iconic hit songs, Beyonce KILLED IT in 2013, and she couldn't have performed Destiny's Child songs without the help of Kelly Rowland and Michelle Williams, of course!
As well as his own HUGE hits, Bruno Mars brought out Red Hot Chili Peppers for a mash up too!
They're both superstars of music in different ways, but when you combine Bruno Mars AND the Red Hot Chili Peppers, you get something TRULY magical!
The Black Eyed Peas got futuristic for their performance
Arriving from the sky, the BEP kicked off 2011's show with their hit song 'I Gotta Feeling' and lit up the night sky with the band & their dancers' light up costumes!
Madonna brought all her hits to 2012 show
Of course the Queen of pop got dragged in on a throne by hundreds of topless gladiators - as well as her most famous hits, there was some SERIOUS acrobatics when Madge took to the stage.
Prince brought his legendary guitar skills to the biggest sports show on earth
Arriving in a blast of flames and lightning, Prince put on one of the most talked about halftime shows ever in 2007 - and it's no wonder, given that he was a legendary entertainer.
Justin Timberlake & Janet Jackson's infamous nipple baring incident happened at the Super Bowl 2004
Was it an accidental wardrobe malfunction or was it al on purpose? It was the subject of much debate, but Janet Jackson & Justin Timberlake's performance will always be remembered for THAT one moment.
2001 saw a medley of HUGE stars, from Aerosmith to Britney Spears, N'SYNC, Mary J Blige and Nelly taking the stage together
'Walk This Way' is a legendary track in its own right. let alone when you have a host of hit music stars performing it at the Super Bowl!
So what will Lady Gaga bring to 2017? We'll just have to wait and see but one thing's for certain - it's going to be MASSIVE!