#CapitalSTB 2017 Line-Up - Bruno Mars, Little Mix, Liam Payne & MORE Are Coming To The Ball!
11 May 2017, 07:52 | Updated: 8 June 2017, 08:34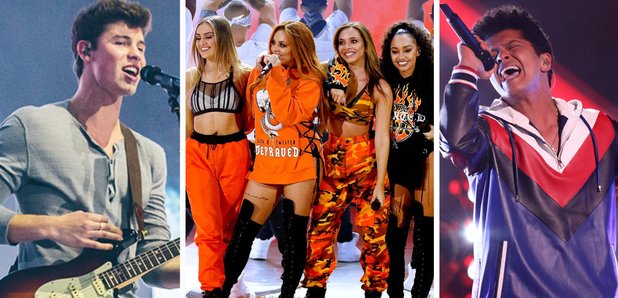 Capital's Summertime Ball with Vodafone is gonna be BIG!
You guys have been Tweeting us in your thousands, and this morning we've revealed two more HUGE name for Capital's Summertime Ball with Vodafone... none other than Liam Payne and Sigala!
With a host of the biggest stars in pop, 80,000 hit music fans and hours of world-class entertainment, you know the Summertime Ball is the ONLY place to be this summer... especially when you hear who is going to be performing for you!
We've been adding some MASSIVE stars to this year's line-up... and here's who you'll get to see at this year's show:
Capital's Summertime Ball with Vodafone 2017 line up:
Shawn Mendes
Zara Larsson
Stormzy
Clean Bandit
Charlie Puth
Jax Jones & Raye
Little Mix
Rag'n'Bone Man
Julia Michaels
Zedd
Louisa Johnson
JP Cooper
Sean Paul
Olly Murs
Anne-Marie
James Arthur
Martin Jensen
5 After Midnight
Dua Lipa
Niall Horan
Bruno Mars
Liam Payne
Sigala
The first names added to the line-up were none other than Shawn Mendes and Zara Larsson! Shawn told us he couldn't wait to take to the stage, "I'm very excited about it, I'm very, very happy to be there, I can't wait! I've never even seen so many people in front of me! I'm very excited. I've watched the videos a hundred times so I can't wait to play there!"
Charlie Puth was also super hyped to be performing his new track for you on the day, "This is my first Summertime Ball, I'm so happy the new song 'Attention' has been so well received and the fact that I get to play that song in front of 80,000 people now is wild to me, it's incredible."
On Tuesday, we announced that the world's biggest girl band, Little Mix, would be returning to the Ball - and Twitter pretty much went into melt down when they were revealed!
Louisa Johnson also buzzing to perform at Wembley, revealing, "I'm so excited! I feel like Wembley is my home recently, I've been there a lot! It's everyone's dream to play Wembley, just to even sing there and soak up the atmosphere is amazing. It's so cool."
Another star that couldn't wait to get the UK fans dancing was Sean Paul, and it's safe to say he had the weirdest rider requests so far...
Anne Marie put in some funny rider requests for her dressing room... some of these are easier to sort than others!
Dua Lipa revealed that she's ready to rock all 80,000 of you on the day - and that's a lot of people saying 'mwah' in unison!
And Twitter pretty much imploded when we revealed Niall Horan would be taking the stage for his debut solo performance at Wembley - yaaaaasss!
Tickets sold out in record time - just 90 minutes - so now your only way in is to win! Make sure you keep it Capital for everything you need to know about the UK's biggest summer party 10th June 2017 at Wembley Stadium... and keep on top of all the action by downloading the Capital app right here.
We're going to be there, your fave hit music stars are going to be there - so YOU have to be there too! We can't wait to see you guys at Wembley on 10th June!