Katy Perry Went Full Eclipse At The MTV VMAs & Brutally Shaded Taylor Swift & Justin Bieber
28 August 2017, 10:49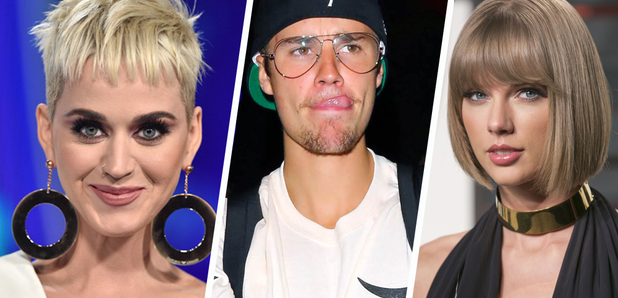 She does know the eclipse was last week right?
When you're hosting the MTV VMAs, all the power is in your hands. If you've got beef with someone then this is your time to air it out in front of the world; if you're in love with someone, this is the time to shout it from the rooftops.
For 2017 host Katy Perry, the former was too irresistible to avoid and the internet has gone wild for it.
> MTV VMAs 2017 Winners: Check Out The Full List Of Winner's From This Year's Awards
Firstly, Katy's long-running feud with Taylor Swift was thrust into the public spotlight once again during the opening of the show.

Pic: PA
After Katy descended from the rafters wearing a space suit, she chucked it off and looked through some outfits for her first costume change of the night. However it was a seemingly subtle dig at Taylor that had everyone talking.
When picking which outift to wear, Katy exclaimed, "Should I wear a choker and some ripped jeans? Maybe some Yeezys?" and people flipped out.
SOME YEEZYS?! With Taylor's much-talked about drama with Kanye reportedly the subject of her comeback single 'Look What You Made Me Do', was this Katy stating that she's team Kanye?
Omg Katy Perry with the subtle yeezy shade #vmas

— gabriela alejandra (@gabrielanine) August 28, 2017
Katy Perry just suggested she costume change into some Yeezy's! Direct jab at Taylor Swift! #2017VMAS#Shade

— Kevin Jeffcoat (@kevjeff0907) August 28, 2017
My dad just used the phrase "throwing shade" while describing the origins of the Katy Perry/Taylor Swift beef

— Jake Polinsky (@jake_polinsky) June 18, 2017
Are y'all catching all the shade from Katy Perry towards Taylor Swift in the last 8 mins?! I'm gagging!!! "Hootie and the Blowfish"#VMAs

— David Estes (@D_Harmonizer) August 28, 2017
But it wasn't just Taylor who was in the line of fire - Justin Bieber was in for a jab too.

Pic: PA
During the show, Katy had a baby doll with her on stage to try and get more likes on Instagram (DJ Khaled's son Asahd totally won in the cuteness stakes though) and she made sure that her new child helped her get a dig at JB.
Whilst speaking to the audience on stage, Katy hilariously joked that her new baby "knows all the words to 'Despacito', unlike some other babies I know."
Feel the burn Justin...feel the burn.
Katy Perry pokes fun at Justin Bieber : "My baby knows the lyrics to Despacito unlike some other babies I know." pic.twitter.com/EhBUcRKqDq

— Shady Music Facts (@TheShadyFacts) August 28, 2017
Omg @justin_biebah09 did you just see the diss Katy Perry made and Justin Bieber because he didn't know the lyrics to despacito

— Belieber4evr (@tracyMthiel) August 28, 2017
did katy perry just shade justin bieber

— carly (@lovelytruce) August 28, 2017
Dang Katy Perry throwing Bieber shade

— Sara (@Es_Kay924) August 28, 2017
With the eclipse taking place last week, it seems that Katy was competing for most shade thrown this year and given the fact that the internet is now proclaiming her as the queen of shade, we think we have a winner!
Whilst you're here, check out this teaser for KP's track 'Swish Swish' featuring loads of your fave TV stars...
Jump into the Capital app right now for all the latest news and gossip from the MTV VMAs!