Which Festivals Are Affected By Coronavirus? Parklife And Lovebox Among Cancellations
27 March 2020, 15:36 | Updated: 27 March 2020, 15:51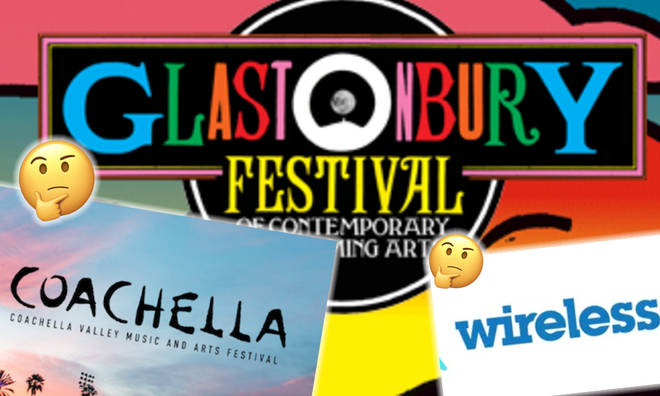 As Coronavirus spreads and is the only thing on the global agenda, which music festivals have been affected so far, including Glastonbury?
Coachella announced its delay from April to October in an unprecedented move and Glastonbury's 50th anniversary special has been cancelled, but which other music festivals have been affected the outbreak of the coronavirus?
Visit the NHS site for the latest information and advice about Coronavirus (COVID-19).
7 Things To Do At Home During Isolation That Don't Involve Watching TV: From Spa Days To Getaway Planning
From large scale events such as Glastonbury, to London festivals such as BST and Lovebox, and Manchester's Parklife – here's the latest information on their status..
Coronavirus has officially started affecting everybody's lives, whether you're working from home, washing your hands like never before (which we hope you are), or cancelling holidays, there remains confusion around what will be happening in the coming months, including tours and music festivals.
Whether it be the event deciding it isn't safe to continue, or having to cancel to artists pulling out over safety fears, there are a plethora of reasons these music events could be pulled before the summer arrives, and we'll keep you up to date with all the latest news.
So, which music festivals have cancelled, which have postponed, and which are yet to announce any change to their event, let's take a look...
Parklife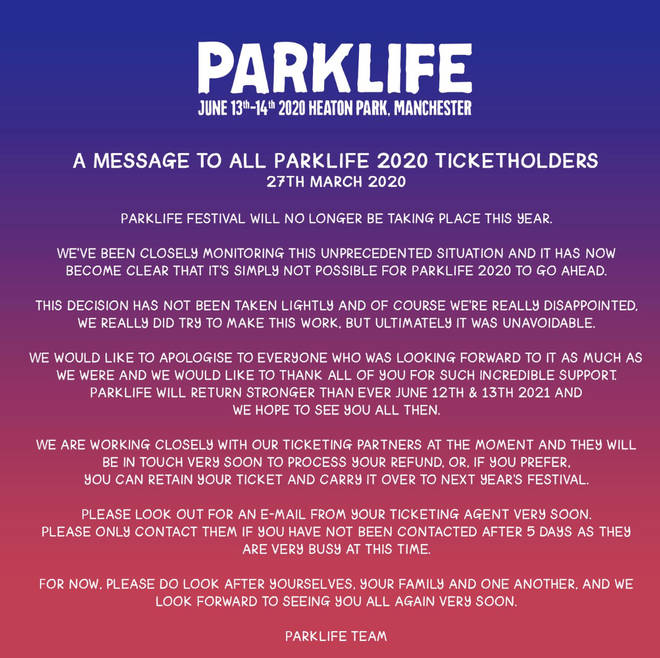 Parklife had a huge line-up planned for 2020, saying they "really tried to make this work" but have no other option but to cancel the festival due to take place on 13th and 14th June this summer.
Tyler the Creator, Khalid, Lewis Capaldi, Jorja Smith, and Charli XCX were among the epic line-up.
Lovebox
Sharing a similar statement to the festivals already cancelled, Lovebox organisers announced it too will not be going ahead on 12th - 14th June, promising to be back "stronger than ever" across the same weekend in 2021.
Praising their 2020 scheduled line up "the best in our history", Lovebox posted the news "with a heavy heart" on Twitter, leaving 25,000 ticket holders understandably upset, but not surprised given the current climate.
Mabel, Disclosure, Anderson Paak, Celeste, and Kaytranada were among the massive line-up.
Coachella
It's been the biggest name to have already taken measures to protect the punters, artists and crew who were set to head to the Californian desert in April- announcing they're postponing the entire two weekend event until October, 2020.
Names including Frank Ocean, Travis Scott, Lana Del Ray and Megan Thee Stallion were set to perform in the springtime, and have been taking to their social media accounts to say they're disappointed but understand the date change- unless, of course, they're Frank, who seems pretty happy about the delay!
Glastonbury Festival
Just a few days after revealing their full line-up, Glastonbury festival organisers Michael and Emily Eavis released a statement announcing it had been cancelled due to the epidemic.
They said in a lengthy and emotional post: "We are so sorry to announce this, but Glastonbury 2020 will have to be cancelled, and this will be an enforced fallow year for the Festival.
"Clearly this was not a course of action we hoped to take for our 50th anniversary event, but following the new government measures announced this week – and in times of such unprecedented uncertainty – this is now our only viable option.
"We very much hope that the situation in the UK will have improved enormously by the end of June. But even if it has, we are no longer able to spend the next three months with thousands of crew here on the farm, helping us with the enormous job of building the infrastructure and attractions needed to welcome more than 200,000 people to a temporary city in these fields."
This would have been the 50th anniversary since the festival first began – with huge names including Taylor Swift, Paul McCartney and Diana Ross set to take to the infamous Pyramid stage
200,000 people had planned set to descend on Worthy Farm this summer and event-goers are heartbroken the huge celebration has been called off.
Wireless
A central London day festival that will see more than 135,000 people attend across the weekend, in Finsbury Park, is another staple summer music event people are eager to find out will be going ahead.
Held this year on 3-5th July 2020, artists including A$AP Rocky, Skepta and Doja Cat are planning on hitting the stage – and it intends, currently, to go ahead.
BST
Held in London's iconic Hyde Park across a massive ten days from the 2-12 July, the festival is still announcing performers despite the gloomy news of Coronavirus spreading, and hasn't yet made a decision to postpone or cancel.
Taylor Swift, Little Mix and Kendrick Lamar are just a few of the names booked for the giant outdoor event, which as of yet, hasn't commented on whether it will be affected by the virus.
All in all, festivals are being left to make their own decisions regarding the continuation of their events – however, there could come a point when they are forced by authorities to take action.
> Download Our App For All The Latest Music News