Taylor Swift Drops Some SERIOUS Hints About Her Victoria's Secret Performance!
2 December 2014, 13:47 | Updated: 2 December 2014, 15:02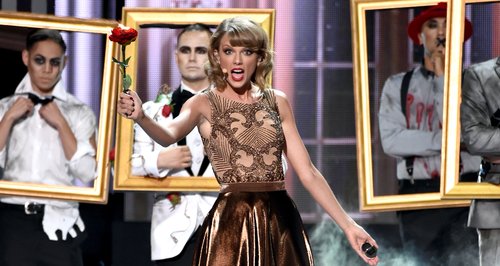 Taylor Swift stole the show at last year's Victoria's Secret Fashion Show – and she's looking to do the same again at this year's event!
Taylor Swift was definitely the most talked-about performer at last year's Victoria's Secret Fashion Show – THAT amazing Union Jack outfit, anyone? - so it's no wonder the organisers were clamouring to have her back!
It looks like Tay Tay has some pretty big plans to top last year's performance – and she has been dropping some pretty MASSIVE hints on Instagram…
Taylor took to the social media site yesterday to post some sneaky hints in the form of lyrics alluding to her possible set list, including two tracks from her new album '1989'.
Taylor shared the lyrics, "Stolen kisses, pretty lies" and "Darling I'm a nightmare dressed like a daydream" from 'Blank Space' and "I got that good girl faith and a tight little skirt" from 'Style' which she captioned, "Or maybe even… #VSfashionshow".
So it looks like we can count on at least two tracks from the new album, but as well as Taylor's performance, the crowds will also get to listen to Ed Sheeran, Ariana Grande and Hozier. VS, you're spoiling us!
You May Also Like…