"I'm Just Happy She Was OK!": Rita Ora Talks About Iggy Azalea's Stage Fall
28 August 2014, 10:33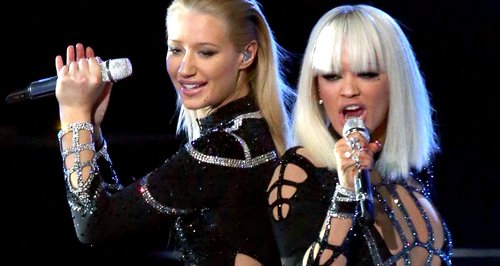 Iggy Azalea's the latest celeb to hit the deck during a performance, and Rita was worried her co-star wouldn't be able to do the VMAs
Rita Ora and Iggy Azalea's sexy joint performance at the MTV Video Music Awards almost may not have happened after Iggy fell off stage the night before – but Rita was VERY relieved her co-star carried on!
Iggy took a tumble backwards off the edge of the stage at a pre-VMAs show, but was soon back on her feet and carried on with the performance.
Iggy tweeted the video of her fall, saying, "Sorry but it would be a crime not to share this with you all, I know I laughed. #StillFinishedtheSongTho #KeptOnRapping #TheShowMustGoOn"
Rita told The Sun about her reaction to seeing the accident, "Bless her. I was just happy she was OK because, God forbid, we couldn't perform after all that. Can you imagine?"
It would have been a massive blow to both performers as they have been putting the hours in to make sure their performance was amazing.
She said, "We've been doing three performances a day together to make sure when we release this song it was about unity."
"To us, this is a duet about female empowerment. We wanted to do a song where it's two blondes coming together as a unit."
You May Also Like…