Chris Brown Has Openly Flirted With His Ex Rihanna On Instagram & Her Fans Aren't Having Any Of It
8 August 2017, 11:34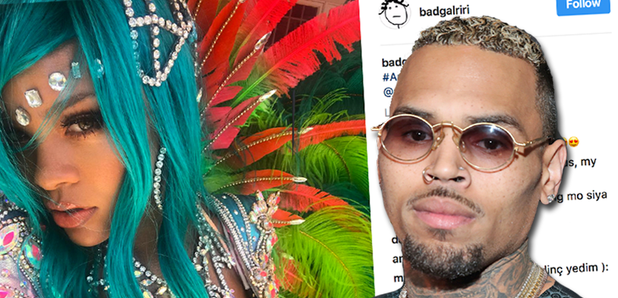 The Navy have made their feelings VERY clear...
Rihanna and Chris Brown have a long history...we all know that. After dating for several years, Chris was then convicted of assaulting RiRi and was banned from contacting her at the time as part of his sentence.
Since then Chris has had a daughter and Rihanna is reportedly dating businessman Hassan Jameel, but that hasn't stopped the 'Yeah 3X' singer from posting a flirty message on Rihanna's latest Instagram pic.
> People Are Suggesting Rihanna Needs To "Go On A Diet" Or There's A "Baby On The Way" & They All Need To STFU
The Bajan beauty is enjoying some carnival vibes in Barbados at the moment and she's posted a number of eye catching pics, with one clearly catching her former flame's attention as he posted the 'eyes' emoji in the comments section...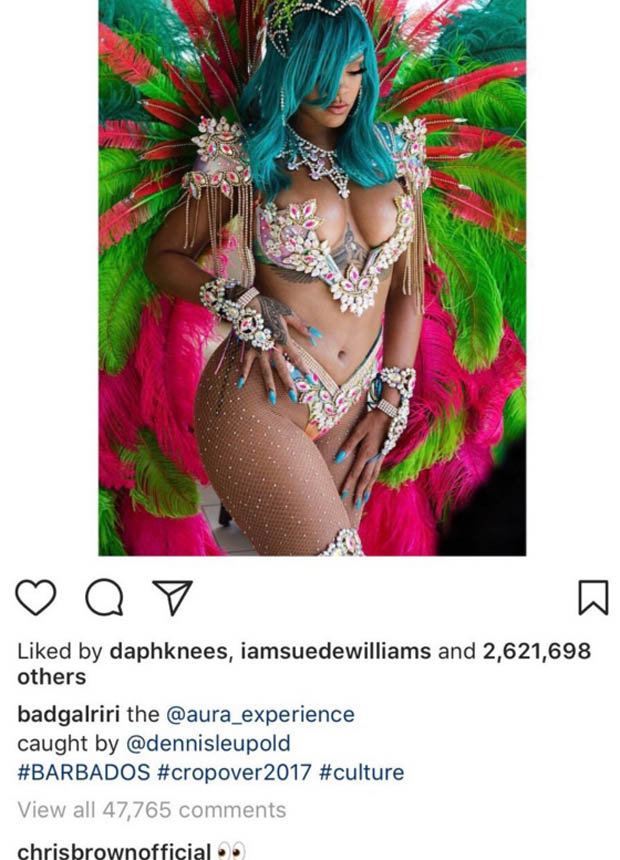 But given the troubled past the pair have had, Rihanna's fans haven't taken too well to Chris' apparent flirtation with their idol and have lashed out on Twitter, making their feelings 100% clear.
Chris Brown needs to leave Rihanna alone FOREVER.

— U COULD NEVER (@astrog1rll) August 8, 2017
Chris Brown had the audacity to comment "" under Rihanna's picture. Imagine being that bold.

— Jodie Landon (@_succcubus) August 8, 2017
Chris Brown still commenting on Rihanna's pics ex's never go tf away lmao

— Paigey (@turn_daa_paige) August 8, 2017
Why is Chris Brown commenting on Rihanna's instagram photos pic.twitter.com/GsLKFsaDwm

— Zé (@FATHERBONNET) August 8, 2017
Rihanna hasn't spoken out about Chris' public comments just yet, but given the fan backlash that has occured since, it's entirely possible that she may choose to.
We'll watch this space!
Whilst you're here, why don't you check out RiRi perform alongside Bryson Tiller on DJ Khaled's huge anthem 'Wild Thoughts'.
Dive in to the Capital app now to see all the latest from Rihanna's carnival experience and hear all the biggest music hits!