WATCH: Rihanna Performs 'Bitch Better Have My Money' & Says Sam Smith Collab WILL Happen
30 March 2015, 15:50 | Updated: 30 March 2015, 16:13
Rihanna Performs Bitch Better Have My Money @ 2015 iHeartRadio Music Awards
04:40
RiRi performed 'BBHMM' for the first time at the weekend – and says that THAT collaboration with Sam Smith is in the works.
It feels like we have waited about four billion years for Rihanna's new music to drop, and it certainly hasn't disappointed as the lady herself put on one heck of a first performance of 'Bitch Better Have My Money'.
Rih took to the stage at the iHeartRadio Awards on Sunday night emerging from an actual helicopter no less. Dressed in a green furry jacket and matching thigh high boots, Queen RiRi is DEFINITLEY back in force.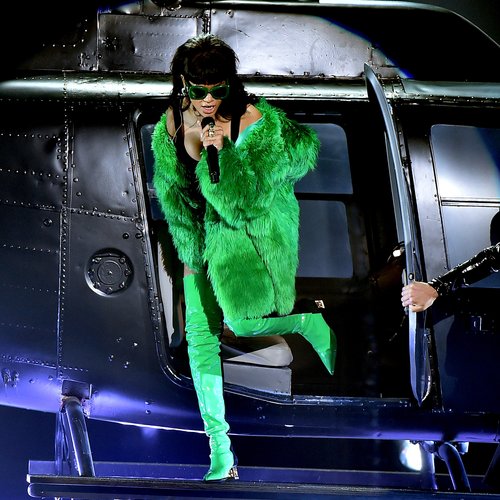 'BBHMM' is the first track we have heard from Rihanna's long-awaited new album 'R8', and has all the swagger you would expect from a song produced by Yeezy himself, Kanye West.
As well as delighting her fans with her new music, Rihanna also revealed that she is eager to work with Sam Smith and she "will make it happen".
Rih told The Sun, "He is so talented, it would be amazing to work with him. No matter how busy we are, when two artists want to work together they make it happen."
"He has such a beautiful voice, is a beautiful songwriter, but more important than that he is an absolutely beautiful person, and that comes across in his songs."
The rumours of Sam and Rihanna working together started at the start of the year when Sam revealed that he had heard some of her new music. Come on Riri, don't keep the rest of us waiting any longer!
You May Also Like: