Rihanna Shares New Bikini Snaps While Relaxing On Beach Holiday Back In Barbados
9 August 2013, 11:45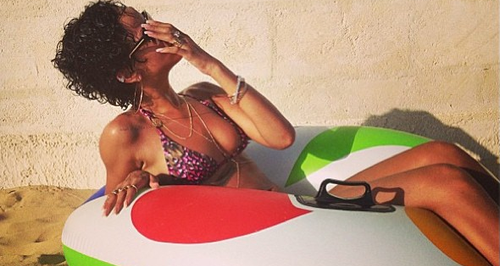 The 'Where Have You Been' singer showed off her latest bikini style while back in her homeland this week.
Rihanna continued to make fans jealous this week by posting a number of snaps of her enjoying holiday break back in her home country of Barbados.
The 'Diamonds' singer is enjoying a month-long break from her hectic touring schedule this year and has been back in Barbados this past week, sharing a number of new snaps to keep fans up to date with her travels.
Rihanna uploaded a number of new shots yesterday showing her enjoying some time off on the beach with a patterned pink two-piece bikini as she relaxes in the sand and while sat in an inflatable ring.
The 'We Found Love' star is seen still sporting the new short, curly hairstyle she unveiled earlier this month, while also wearing a necklace of her surname 'Fenty'.
Check out a picture of Rihanna enjoying her time back home in Barbados below (Credit: Instagram):
Rihanna's stay back in her homeland has also seen her enjoying the festivities of Barbados Carnival.
Rihanna resumes her 'Diamonds' world tour with a show in Macau on 13th September while she is due for a performance at the MTV Video Music Awards 2013 on 25th August.