Zayn Malik Signs Solo Record Deal And Reveals The REAL Reason He Quit One Direction!
29 July 2015, 22:53
Simon Cowell gives his music blessing as the former 1D star took to Twitter to reveal that he has signed a deal with RCA records. #realmusic
It's been brewing ever since his departure from One Direction back in March, but now fans can celebrate as Zayn Malik has finally confirmed his plans to go solo.
The former 1D star officially announced on his Twitter account that he has signed a deal with RCA Records - home to the likes of Chris Brown, Justin Timberlake and Alicia Keys.
Malik's tweet also revealed the real reason he left the chart-topping band.
I guess I never explained why I left , it was for this moment to be given the opportunity to show you who i really am! #realmusic #RCA !!

— zaynmalik (@zaynmalik) July 29, 2015
July 29, 2015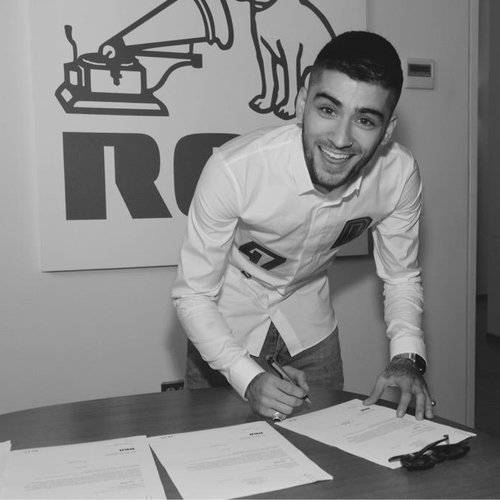 Simon Cowell gave his blessing on Twitter praising the former X Factor star and his forthcoming project.
We have been working on this for a while and I am pleased to say congratulations to @Zaynmalik on signing with @RCARecords

— Simon Cowell (@SimonCowell) July 29, 2015
I believe they are the perfect label for @ZaynMalik's solo career and I am sure whatever they release together will be special.

— Simon Cowell (@SimonCowell) July 29, 2015
Earlier this week producer Malay – who has previously worked with the likes of Frank Ocean, Alicia Keys and John Legend – posted a photo of Zayn with his daughter on Instagram alongside the caption "Benefits of the job… my daughter gets to meet my co-workers, one who happens to be one of her favorites @niazkilam what an amazing soul #zaynmalik" hinting that the pair were working on the 22-year-old solo material.
Zayn had originally been working with Naughty Boy on some solo music but their relationship was marred by controversy from the outset, with Louis Tomlinson starting a war of words on Twitter and Zayn also attacking the producer in a tweet saying they were not friends.
With new label mates such as Chris Brown and Justin Timberlake you can be sure that Zayn's solo offering will be a sure fire hit when released.
You may also like...