It's Official! Here's DEFINITIVE Proof That Zayn Malik & Gigi Hadid Are A Couple!
4 February 2016, 08:39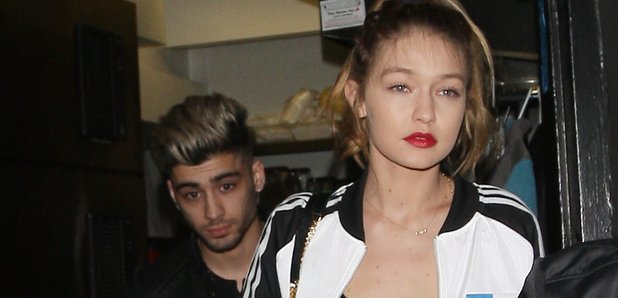 Finally we can say - without speculation - that love is in the air for these two beautiful people!
It's official then, guys! We've finally got FULL confirmation that Zayn Malik and Gigi Hadid ARE in fact boyfriend and girlfriend, and it's from the man himself this time!
For months now rumours have spread every time the pair have been spotted out together (looking EVER so cosy), and countless sources have named them the #OTP of the moment.
But until now, it was all speculation! Now, Zayn's been asked outright if Gigi is his girl, and the answers is… YES!
"Was it cool to have your girlfriend in the video [to 'PILLOWTALK']," a fan bravely asked Zayn while calling into Zach Sang & The Gang this week, to which Zayn replied: "Uh, yeah. That was cool. It was something different. We enjoyed it. It was fun."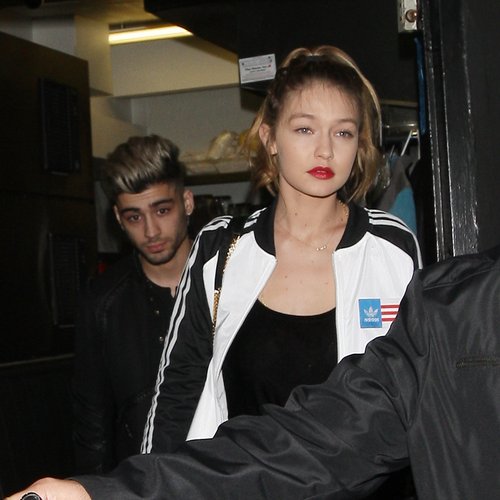 Picture: Splash
He added one final word of confirmation after the show's host joked, "no one easier to make out with than your own girlfriend, right?", with Zayn simply replying: "Exactly!"
So there you have it folks - Zayn and Gigi are officially a thing. Could this be the new super couple of the showbiz world?
Plus - just to show how clearly loved up this pair are right now - Gigi's been snapped with Zayn as her screensaver so we may as well start looking for hats right now...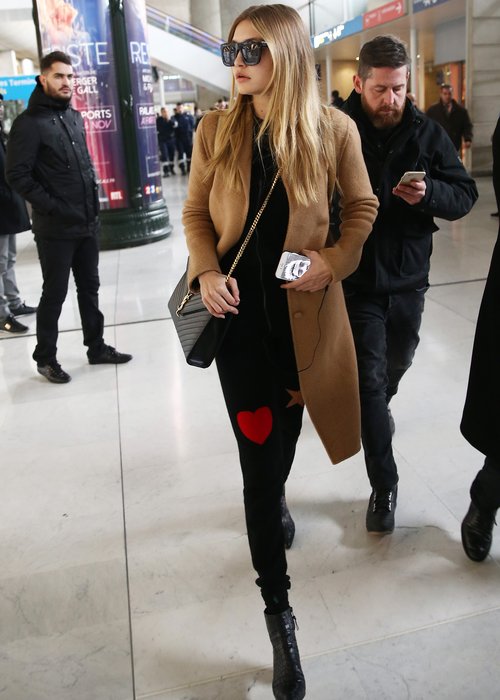 (Photo: Splash)
Gigi was caught with the photo on her phone as she arrived at Charles De Gaulle airport in Paris for Paris Fashion Week - and we can't say we're that shocked seeing as the pair have been putting on a loved up display ever since they went public as a couple.
Fans began speculating that the image may have been photoshopped onto the phone as the picture of Zayn seemed oddly bright, but they soon found video footage which proved it WAS in fact real.
For those who think the photo of Gigi's lockscreen is photoshopped. pic.twitter.com/c1RwJikxH7

— Gigi Hadid News (@GigiHadidsNews) January 19, 2016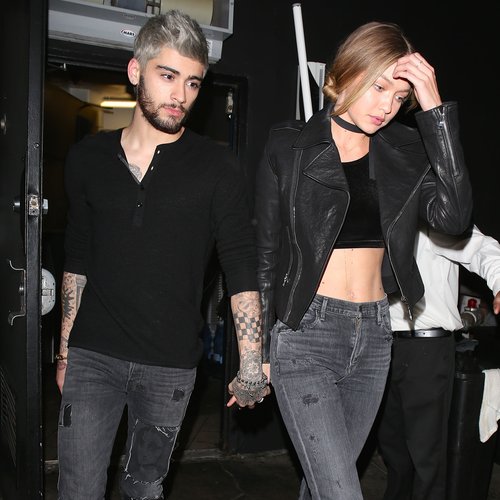 Zayn and Gigi - or Zigi, if you will - were then photographed again leaving the same venue... but this time they went public and proudly held hands in front of the waiting paparazzi.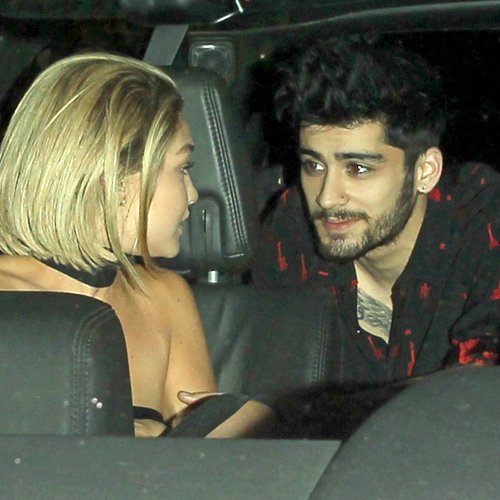 (Photo: Xposure)
To add to the general hysteria around their new romance, a fan account revealed that Gigi's ex boyfriend Joe Jonas - who she split up from around three weeks ago - has unfollowed her and Zayn on Instagram, as well as deleting the photo below of him with Mr Malik and Kanye West at Paris Fashion Week from his timeline.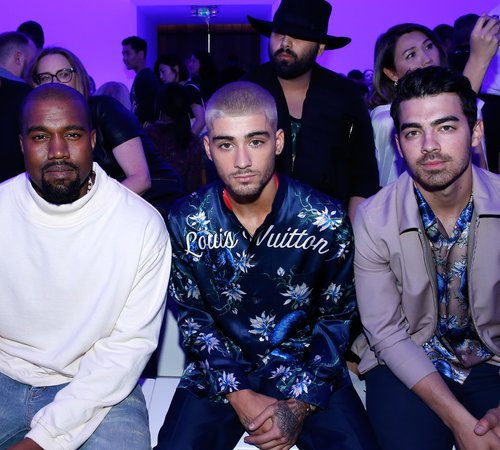 A Twitter account called Zayn Malik News leaked the photos online, and got Zayn and Gigi trending on Twitter:
#HQ | Zayn and Gigi Hadid leaving The Nice Guy in West Hollywood. #1 11.28.15 pic.twitter.com/dLs8Nuv0J0

— Zayn Malik News (@ZaynJMNews) November 30, 2015
As well as the times they've been snapped together, the pair have been spotted on a string of dates - doing their best to avoid the photographers - and Zayn even posted a photo thought to be wearing Gigi's glasses on Instagram too.
Here's Gigi in them...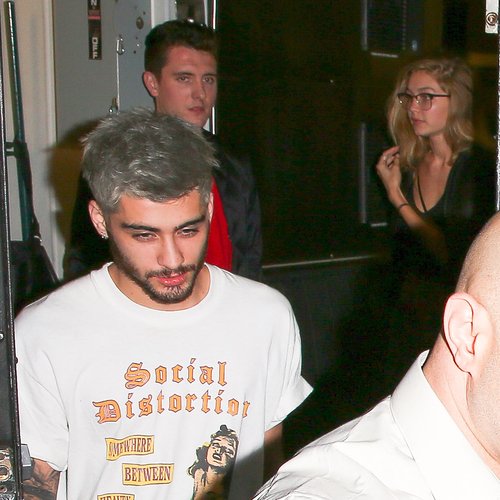 And here's Zayn...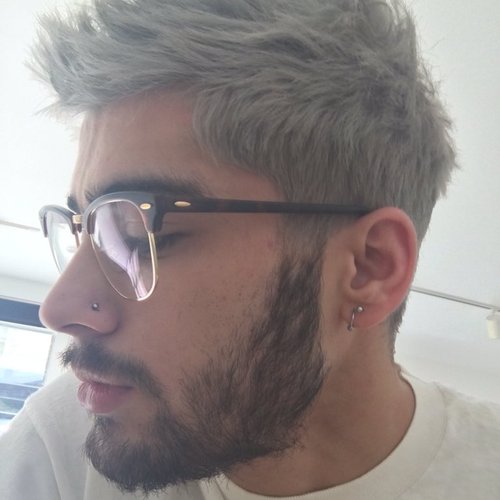 Zayn also posted a photo of a hand drawing a picture on his Instagram account... which fans were quick to deduce was likely to belong to Gigi thanks to a distinctive mole near the thumb.
Before the pictures confirmed their new romance, the fandom was divided on their thoughts about the couple. Half of the fans seemed to think the pair were just pals...
"Zayn and Gigi are dating" Me: pic.twitter.com/fwJwRK9Tcd

— Aliceee (@talice965) November 23, 2015
how do they even know if zayn and gigi are dating tho ever since him and perrie broke up he's been 'dating' 5 different girls so far lmao

— celine (@yikesniaz) November 23, 2015
i think Zayn and Gigi are friends? idk i have yet to see anything indicating they are attracted to eachother.

— if i could fly home (@inhellington) November 25, 2015
why would gigi sit on the front seat if zayn and her were dating

— marium (@befourking) November 25, 2015
everyone's freaking out bc gigi and zayn while I'm over here freaking out bc niall and zayn were at the same party

— . (@taxistyles) November 24, 2015
...while the rest expressed how much they would love to see Zayn and Gigi as a couple – let's be serious, they're both GORGEOUS after all.
Imagine Zayn's & Gigi's baby's

— Feline (@Felovski) November 23, 2015
gigi and zayn I would ship

— Yas (@hadidspurpose) November 23, 2015
ZAYN AND GIGI AKA THE HOTTEST COUPLE pic.twitter.com/DCy4MDCmvC

— ZAYN Is God MALIK (@zayntheist) November 24, 2015
zayn's hot, gigi's hot. it makes sense.

— MITAM IS SO PERF (@zjmstanx) November 25, 2015
You may also like...